We finally got to see the Sooners in action last Saturday against UTEP, a game in which they won 45-13. You can see further analysis of the game here. This week, Oklahoma faces a new challenger in Kent State. The Golden Flashes were defeated by Washington last week to a tune of 45-20. Click here for the box score. Oklahoma should be able to win in dominating fashion once again this week, although I believe that Kent State may be a better all-around team than UTEP. Without further adieu, let's preview OU vs Kent State.
Oklahoma vs Kent State Game Information
Current Records: Kent State (0-1) @ Oklahoma (1-0)
Date/Time: September 10th @ 6:00p.m. CST
Where: Gaylord Family – Oklahoma Memorial Stadium in Norman, Oklahoma
TV: ESPN+
Spread: Oklahoma (-33.5)
Over/Under: 72.5
How Will Kent State Attack?
Kent State clearly didn't get off to a hot start. However, there are a few key things to takeaway from their loss to the Huskies. The first one being that they ran the ball pretty effectively. They're best plays offensively came from their utilization of the outside zone. They were able to get some decent yardage, although they didn't rip off any big plays, as their longest run only went for 17 yards. They like to spread the love in the backfield, as they had four separate ballcarriers have eight or more touches. Their QB, Collin Schlee, is a dual threat. He took off a total of eight times for 47 yards, that being a mix of design runs and scramble drills. However, he isn't the best passer. He only threw for 178 yards and two interceptions, one of those being on the first play of the game. Junior wideout Dante Cephus was his main target, hauling in six catches for 107 yards. The Pittsburgh native was one of only two receivers to have over 50 yards receiving on the game.
Defensively, Kent State takes a bit of a step down when compared to their offense. They allowed Washington to throw for 393 yards and four touchdowns, as well as another 132 yards on the ground. Although they made a few plays on the ball, having five pass deflections, their secondary as a whole just isn't all that great. Their defensive line wasn't able to get much push, only having one sack on the game despite 44 passing attempts from Washington. Overall, this defense is bad, worse than UTEP's, and I expect Oklahoma and Dillon Gabriel to have a field day under the lights.
What Will Oklahoma's Plan of Attack Be?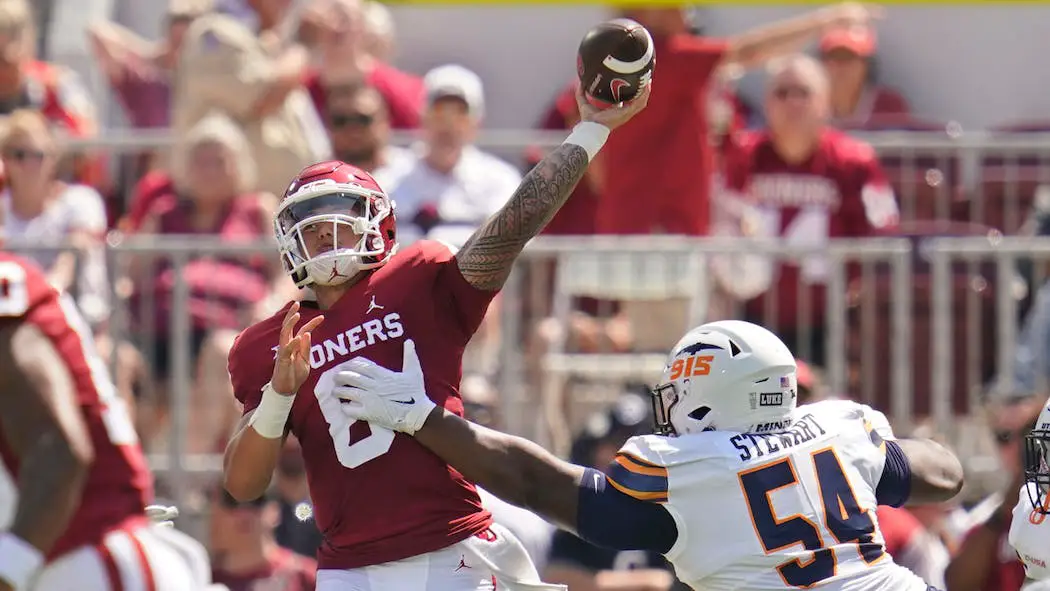 I don't expect Oklahoma to open up the playbook too much this week. We may see a couple of Jeff Lebby's more complex plays here and there, but expect the Sooners to run a very basic, vanilla offense, similar to last week. We should see a good mix of run and pass plays, and if we're lucky, we'll get to see Dillon Gabriel with the ball in his hands more often. OU should be able to do whatever they want offensively. Whether it's by land or by air, I firmly believe that OU will roll.
Defensively, I think the Sooners match up very well. Kent State's biggest asset is the run game, and if Oklahoma plays like they did last week, it simply isn't going to work. I don't think that Brent Venables and Ted Roof fully open up the playbook just yet, but I do expect to see a little more creativity. We should still see a ton of zone coverage, but I believe that it'll be much tighter than it was last week.
Prediction for OU vs Kent State
OU should roll through Kent State, and I believe that they'll look much better than last week. The most progression comes between game one and game two. Kent State doesn't have a dynamic QB like Gavin Hardison. It's going to be tough for them to put up points. On top of that, their defense is absolutely abysmal. Oklahoma should be able to impose their will, and I expect to see multiple forced turnovers. Give me Oklahoma by a big margin.
Prediction: Oklahoma 62, Kent State 17
For More Great Football Content
Follow us on Twitter at @GridironHeroics for more great content. We appreciate you taking time to read our articles. To interact more with our community and keep up to date on the latest in Football news, JOIN OUR FREE FACEBOOK GROUP by CLICKING HERE
Checkout our latest podcast!
[powerpress_playlist limit=1]