Danny Pinter is taking all of the starting snaps at right guard for the Indianapolis Colts in their 2022 training camp. This season has the potential to be a break-out year for the Indiana born lineman.
Danny Pinter is Indiana Through and Through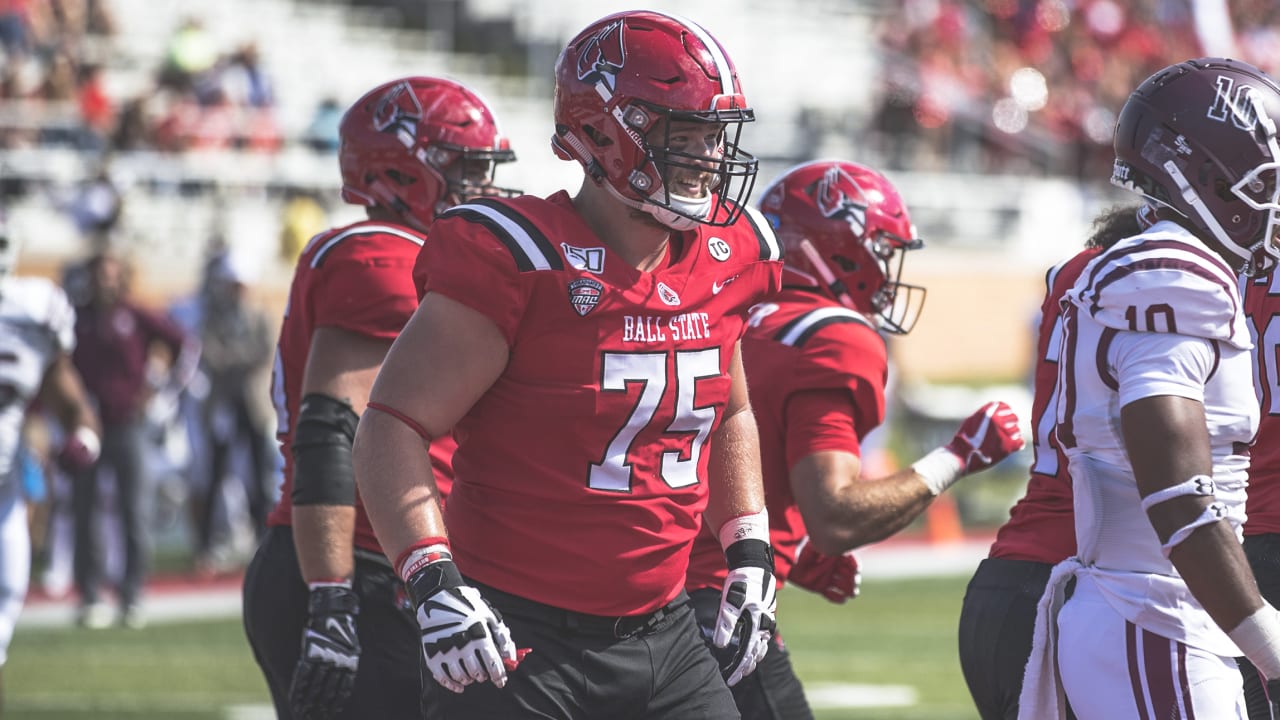 Indianapolis Colts offensive lineman Danny Pinter has spent his young life mainly playing football in the state of Indiana. He was born in South Bend and played high school football for Adams High School in the same town. Local collegiate football powerhouse Notre Dame let Pinter find his way to Ball State University, located in Muncie, Indiana. Here Pinter made the position switch from tight end to center and paved his own path to the NFL.
In an interview with Colts Audio Network Pinter attributed a lot of his success to his time in College. "I can't say enough about how good of people they are over there at Ball State," said Pinter. "I definitely wouldn't be here without that coaching staff and my teammates." This was a humble and sweet response to a question regarding the current Ball State Football program showing up at a recent training camp practice.
"I take a lot of pride in being from Ball State, for sure." Pinter believes coming from a non-power five conference can help build a work ethic that is necessary for the NFL. "I'm a big believer in just hard work, and wherever you're at hard work will get you there," Pinter continued. "And there's no place that exemplifies that more than Ball State."
Leaning On The Veterans
As a rookie coming in during COVID-19 protocols, players like Pinter and fellow Colt Isaiah Rodgers had two extremally limited offseasons when it came to practice reps. This lead to the necessity to lean on the veterans of the team even more than normal.
"We have an awesome group," Pinter stated when asked about his veteran leaders of his position group. He continued, "Guys like Ryan (Kelley) Q (Quenton Nelson), go back to Mark Glowinski and Chris Reed last year. Those guys took me under their wing and helped me. Anytime you had a question they would throw you pointers, all that type of stuff."
Pinter was a plug and play back up for the colts in his previous two seasons, he garnered knowledge from a high class group around him. "I'm extremally grateful for that opportunity, with Braden (Smith) and (Matt) Pryor too," Pinter said, referring to learning from previous and current offensive lineman. To Pinter his first two seasons are somewhat a setup for what is on the horizon.  Pinter stated, "I'm still learning from those guys, I'm young."
Feeling Like a Rookie Again
It was only right for the Colts to select Pinter in the fifth round of the 2020 NFL Draft. This was the first step in him playing at the highest level of football for the state of Indiana. Being a 2020 draft pick had its disadvantages. As I stated earlier COVID-19 protocols took away valuable time and reps. These reps are particularly important for players getting familiar with new teams, and first time NFL players. Pinter details in the interview how the 2022 offseason is the first full fledged offseason of his career.
Fellow Colt Isaiah Rodgers, who came to the team with Pinter in 2020, said "I feel like a rookie again," when asked about 2022 training camp. When Pinter was asked if he felt like a rookie again he responded, "A little bit yeah, I keep telling people its the first time I've experience a full offseason."
This offseason is specifically important for Pinter as he solidifies himself as the starting right guard. This offensive line needs to stay healthy and bounce back from some below average performances of last season.
A Beloved Piece of The Indianapolis Young Core
ESPN ranked the 2022 Under-25 Talent for each NFL Team. The Colts ranked 19th on this list. And while Pinter is 26 therefore not a part of the list, he is a third year player who looks to start at a position that is fairly new to him. For me this makes him a part of our young core of players.
As a part of the young core he is vital in the future of the organization. His hard work ethic and his great demeaner displayed in the interview has drawn the attention of his teammates on both sides of the ball. Defender Ben Banogu interrupted the interview just to say, "I love this guy," referring to Pinter. That goes to show you the support he has in Indianapolis.
For More Great Football Content
Follow us on Twitter at @GridironHeroics for more great content. We appreciate you taking time to read our articles. To interact more with our community and keep up to date on the latest in Football news, JOIN OUR FREE FACEBOOK GROUP by CLICKING HERE
Checkout our latest podcast!