New York Giants head coach Brian Daboll gave a much different answer Friday on Daniel Jone's future availability with the team this season than what he offered on Oct. 18th. Daboll said Jones' season was not over due to his neck injury in Week 6.
Brian Daboll on Daniel Jones' season: "It's not over." pic.twitter.com/Caep56H7W5

— Jordan Raanan (@JordanRaanan) October 18, 2023
On Friday, the Giants announced Jones would miss his third straight game of the season, this time coming against the New York Jets after the fifth-year quarterback was limited in practice this week.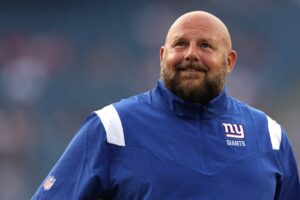 The Giants will ask Tyrod Taylor, who has played well enough for some fans in New York to want a quarterback controversy, to make his third start of the season.
The New York Giants aren't sure when Jones will play again
Daboll was asked Friday if Jones was still on track to return as the Giants starting quarterback at some point this season. According to Ryan Dunleavy with the New York Post, Daboll said he didn't have an answer to if Jones could play again this season:
"I'm not going to give you an answer that I don't have right now. He's getting better and we'll see where he is next week."
When asked a follow-up question about whether that means the Giants are less sure of Jones' availability than they were on Oct. 18, Daboll confirmed that was the case:
"Yup. I just go with the information that I get, and today he is out and getting better."
The mystery around #Giants QB Daniel Jones' neck injury just intensified. Will he back for this season?

"I'm not going to give you an answer that I don't have right now. He's getting better and we'll see where he is next week."https://t.co/sKbZLFLgdN

— Ryan Dunleavy (@rydunleavy) October 27, 2023
The information Daboll has received within the previous two weeks has changed. And it's not positive for Jones.
Would the Giants bring back Jones for a losing season?
It could be possible that Jones will be out long enough this season due to the neck injury that it wouldn't make sense for the Giants to bring him back, even if he were medically cleared to play. The Giants are 2-5 heading into their Week 8 matchup with the Jets.
The Giants could soon be out of the playoff hunt. If that's the case, it would make no sense to rush back Jones to finish the regular season and risk further injury. Jones has a history of neck injury, as he was placed on injured reserve for the final six games of the Giants 2021 season.
The Giants believed this neck injury was less severe than the 2021 injury, but the amount of missed games is piling up. That could continue if Taylor can't keep winning. And if Taylor keeps winning, that could open up another can of worms in New York.
Sports news 10/27/23:
For More Football News:
Follow me on Twitter at @JordanSig. You can also reach out to Jordan Sigler via email at jordanmsigler@gmail.com. To read more of our articles and keep up to date on the latest in college and NFL news, click here!