Following the injury to James Washington, the Dallas Cowboys fall into a pit of trouble in the wide receiver department. With the absence of Washington and Michael Gallup in training camp, Dallas possesses a shallow receiving core. Owner Jerry Jones addressed he is giving the young WRs a chance to make a name for themself.
CeeDee Lamb and Noah Brown are the only healthy pass catchers on the 90-man roster with NFL experience. Typically, a team will sign a veteran WRs to fill a hole in the depth chart. Jones is in no rush to sign a free agent.
"Let's give these young guys the incentive, our young receivers. We thought highly of them when we came out. We'll get [Washington] rehabbed … But it doesn't create an urgency for us to add a veteran receiver. We like these young guys."

-Jerry Jones
The Current WR Depth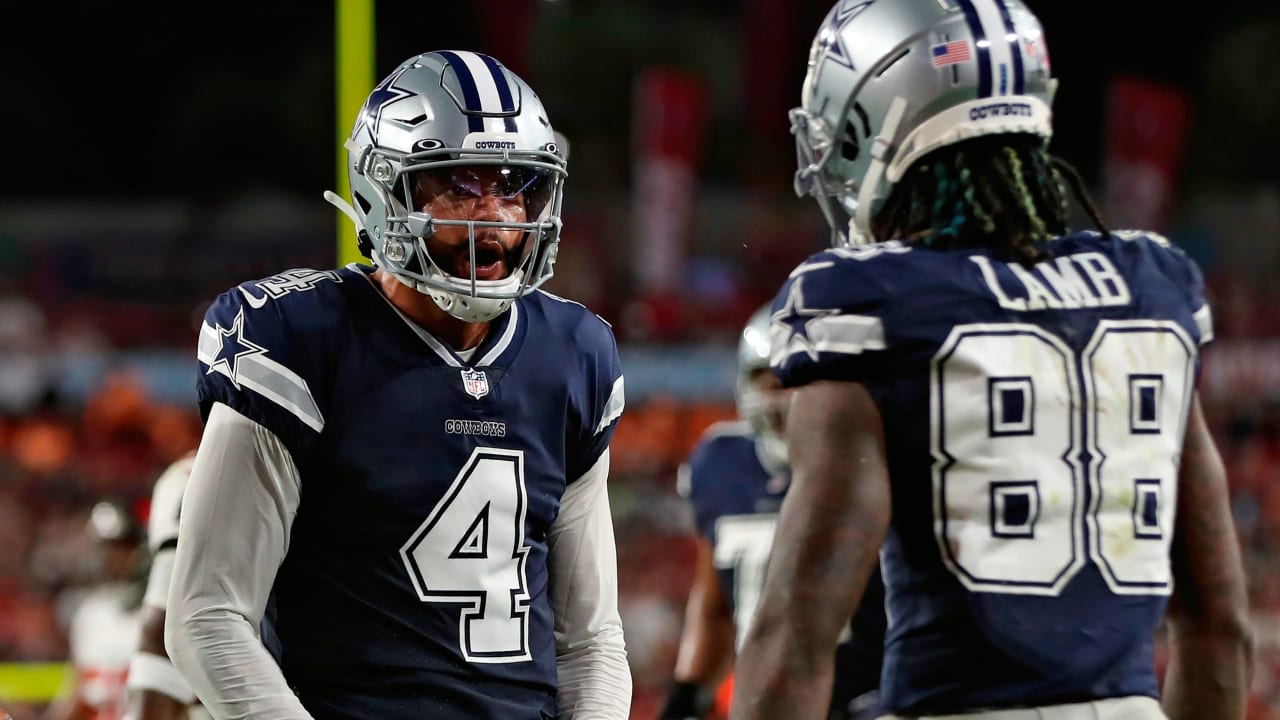 Lamb is the certified No. 1 receiver for "America's Team." The Cowboys are confident in Lamb to replace Amari Cooper. The 2020 first-round pick logged over 1,100 yards last year.  With Gallup, the No. 2 WR, on the PUP list, Washington and rookie Jalen Tolbert were battling for the second spot on the depth chart. The door is wide open for Tolbert after the veteran fractured his foot.
Brown is in his fifth season with the Cowboys and specializes as a blocking receiver. After re-signing with Dallas, he has looked sharp in Oxnard. The team recently signed USFL MVP KaVontae Turpin, who is expected to help on special teams.
The rest of the pass-catching group are rookies fighting for a spot on the opening day roster. 2021 fifth-round selection Simi Fehoko and undrafted free agents Dontario Drummond, T.J. Vasher, Dennis Houston, Ty Fryfogle, Jaquarii Roberson, and Brandon Smith are clashing for a chance to wear a star on their helmet.
https://twitter.com/FanDuelCanada/status/1553106528307134465?s=20&t=lhsi9TcCHhV5cgG6oxM9Rg
What Does A Young, Shallow WR Core Mean?
Jones and head coach Mike McCarthy like the young players. In order to get the rookies ready, they need to develop and obtain practice reps.
The absence of a true veteran means Lamb needs to take the initiative as a leader to the inexperienced wide receiver core. Quarterback Dak Prescott has new faces to throw to and build bonds with. Running backs Ezekiel Elliott and Tony Pollard could see more action in the passing game. Pollard compiled 337 receiving yards in 2021 and is a threat when schemed into space.
Surrounded by a young group of receivers, Jones has faith in the Dallas offense. Although signing a veteran is not out of the question, the Cowboys will stick with the rookies to earn their first chance in the NFL. Not just an opportunity, but the possibility to play for one of the most notorious franchises in football.
"The door is open for anybody's opportunity. And I feel like the younger guys have taken that opportunity and trying to do something with it."

-CeeDee Lamb