When you talk about the Minnesota Vikings, the conversation usually turns toward the pivotal quarterback position. There are many holes on the team that need to be filled, and many question whether or not the signal caller should be placed on that list for the 2023 draft. Kirk Cousins, statistically, has been a good quarterback these past few years while also remaining stuck in the .500 win/loss range. But this year, the Vikings are 6-1 and Cousins' performance has been statistically lacking.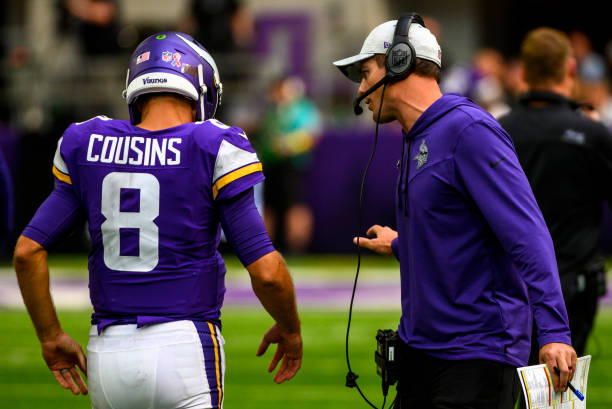 By all means, as long as the team extends its streak it doesn't matter what the stat sheet says. But if the primetime struggles continue to plague Cousins, as they did against the Eagles in their sole loss this season, perhaps they need to acquire a quarterback who won't fold under the pressure.
In their latest mock for the 2023 draft, Bleacher Report has the Vikings taking a big swing late in the first round on a player who could end up being their franchise quarterback.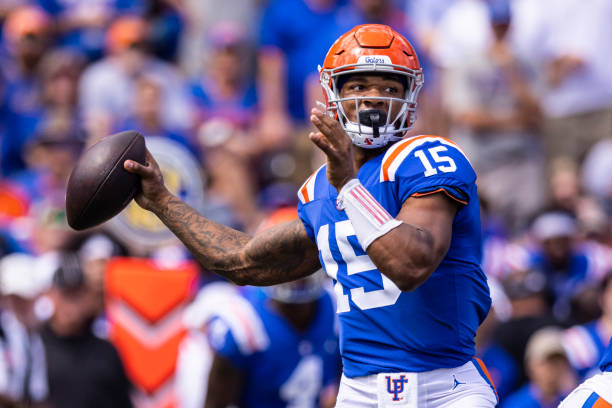 Based on the previous trades made by Vikings GM Kwesi Adofo-Mensah, it seems unlikely that he would be willing to give up a lot of trade capital in order to select any one player at the 2023 draft. But based in part on the reason Kevin O'Connell was hired as head coach because of his offensive mindset and experience with the quarterback position, if O'Connell sees a prospect that he views as too good to pass up, Adofo-Mensah may be willing to move up. And if Richardson is the one and ends up near the back half of the draft, it wouldn't be a surprise for the Vikings to trade up to get him.
Watching him play, Richardson has definitely had both ups and downs during his time with the Florida Gators. Thus far, he has racked up 2,194 yards, 14 touchdowns, and 13 interceptions through the air over his two years starting (with two attempts in 2020). Seeing only those stats, it isn't hard to see why Richardson isn't being touted as a top-ten pick and may end up waiting until day two to hear his name called, but his rushing stats merit a second glance at the prospect.
Taking off running 125 times, Richardson has rushed for 876 yards and nine touchdowns. The man is a dual threat in a way the Vikings haven't seen since Fran Tarkenton led the team to a trio of Super Bowl appearances. And yet, a category that Richardson beats out Tarkenton in is his size. While the Vikings legend in his prime was six feet tall and 190 pounds on a good day, Richardson stands at an impressive six foot four with 230 pounds. I'd ask you to imagine what it looks like to see him charge smaller DBs, but I'll let you type in "Anthony Richardson highlights" on YouTube to see him in action for yourself.
ANTHONY RICHARDSON WAS UNSTOPPABLE ✈️ pic.twitter.com/0EDr211DHI

— ESPN College Football (@ESPNCFB) October 16, 2022
He has exactly the right measurables you look for in a great starting quarterback, what he lacks is the proper guidance that can help him "play with a quiet mind". Kevin O'Connell was quoted as saying as much when discussing how he can help Kirk Cousins improve his game, and while the stats may not show Cousins' improvement, the team's record this year compared to last previous should suffice.
Should the Vikings Select Richardson in the 2023 Draft?
The most important part of the NFL Draft is shoring up weak or aged positions with new talent. There are a number of positions the Vikings need to look at both in the draft and during free agency. The spots that come to mind immediately are wide receiver, defensive line, and defensive back. A lot of those can be filled with the right signing or in later rounds of the draft. And to be honest, quarterback doesn't truly become an issue until after the 2023 season when Cousins' current contract expires.
This means that while quarterback isn't an immediate need, it certainly will be. Cousins is currently 34 years old and may end up retiring when his contract is up. So is O'Connell more interested in drafting a quarterback to start his rookie year, or in his second? That depends on his options.
Throws like this make it impossible to be out on Anthony Richardson https://t.co/glgLUniKsC

— Shervon Fakhimi (@ShervonFakhimi) October 29, 2022
Richardson is a big-bodied, dual-threat quarterback, who just needs a bit of guidance to reach that next level and become a great quarterback. Doesn't that sound a bit like that kid out of Wyoming named Josh Allen? Allen received the same criticisms coming out of college and has (in a few years) become a top-two quarterback in the NFL.
If the Vikings ended up with an MVP-caliber quarterback a year or two after drafting him, I don't think that anyone would be against having Richardson back up Cousins for a year before taking over in the following season. So when the 2023 draft rolls around, I wouldn't be surprised if the Vikings leadership decided to put their chips down on Gator blue.
Like the article? Read more of my writing here!