Yeah, yeah, I know everyone on every sports site or gambling site has "best bets".  How original, Johnny, you are just like the rest of them. What makes you think your picks are the best? You are probably just biased and don't know what you are talking about. HAHA. Just check out the Spiked College Football Show. I am college football.
You see, unlike most of my internet gambling cohorts, I don't talk out of my ass. I watch all the games, and actually bet on them. Not fake money, real picks. I have the receipts. I am documented on my podcast and YouTube show, Units Only Go Up, that I am 35-20 on the year. For everyone who scored low on the math section of the SAT's that's 64%. Oh, for all you fake gamblers, that is unbelievably freaking good.
I should not give you all my best bets for free each week, but I am a great person. I know one of the big sports books will scoop me up soon because I am just that damn good. I'll still bring you my best bets for free. I will just have sponsors covering my expenses.
Yeah, I know the video and audio versions are cute. I am extremely entertaining. I also know the x's and o's. That is why I will put the video in the blog, then break five of the games down more. I usually have a 10 or 12 card play, but ain't nobody got time to break down all those games in a blog. I'll give you my five best bets broken down so you can see not only the entertainment side with the video, but also my big-brained thinking when it comes to the picks.
Johnny's Best Bets: Favorites
Clemson -13.5 vs. Syracuse
You can ask my fiancé', every single week I have six screens on Saturdays following every game I can. My eyes never fail me and I trust them more than analysts or other people's rankings. I am telling you, just like I did two weeks ago, Syracuse is not good.  The real power in the ACC is Clemson. DJ has figured out how to lead this team and be a dominant player on this offense. Dabo also has the defense dialed in after a few games giving up long plays and too many points. This is the spot in the year where Syracuse comes back down to earth and Clemson shows you they are a real playoff team.
Texas -6.5 @ Oklahoma State
I wrote the blog a few weeks ago. Texas is back and will win the Big 12. I know people will look at the game last week and say "they barely beat Iowa State". Those are people who do not know college football. That was an obvious let down spot and good teams win let down games.  I trust the Texas defense and run game. Quinn Ewers is the real deal and to be honest Oklahoma State has not played a full game. I love Texas in this spot to show how good they are and to cover easy. Sanders has to prove he can play a full game and so does the defense.
LSU -1.5 vs Ole Miss
Again, I trust me; my eyes and my knowledge of football over analysts on other sites and networks. Just like in the SEC power rankings blog I did, I think Ole Miss is very overrated. They have not played a team in the top 50 of college football. I like Brian Kelly's defense to shut down the run game of the Rebels and force Dart to throw. I like the young, talented secondary and the fact it is in Death Valley. I think Daniels will play a brilliant game with his legs and arm. The Rebels defense has looked good this year but have not seen anyone quite like him or this offense as a whole.
Johnny's Best Bets: Underdogs
UCLA +6.5 & ML 190 @ Oregon
Now that you have liked, subscribed, shared and listened to all the episodes of the Spiked College Football Show, you know I have been on UCLA all year. I picked them to go over their win total in the preseason and to compete for a PAC 12 Championship, and here we are. DTR has really taken command over this offense and Charbonnet has run the ball super effectively. The defense has played complimentary football, forcing turnovers. As for Oregon; they are good, but they have Bo Nix and this is a big game. So I bet against that, haha.
Kansas State +3.5 & ML +136
I think my favorite conference from week to week has been the Big 12. I have stated a few weeks ago that anyone can beat anyone in this conference. I really like Kansas State coming off a bye to beat TCU outright coming off a tough game vs. Oklahoma State. I know Duggan has been good and Dykes has his defense making plays, but I trust Adrian Martinez and Deuce Vaughn to make enough plays to win this game and get more of the national media talking about the Wildcats and the little apple. Gimme the points and the out right win!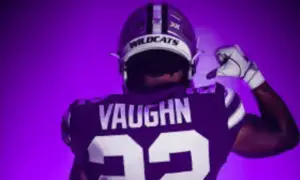 Boom… There you have it. My best bets for week 8. If you do not take them, you are a fool. 64% is better than most of y'all ever did on an algebra test. Let's be honest. I am the smartest gambler that does not have sponsors on the internet. Also if you have someone who wants to sponsor I will throw you love back on twitter haha. Remember, Saturday's Are For The Boys and Are For Gambling!!!
For More Great Football Content
Follow us on Twitter at @GridironHeroics for more great content. We appreciate you taking time to read our articles. To interact more with our community and keep up to date on the latest in Football news, JOIN OUR FREE FACEBOOK GROUP by CLICKING HERE
Checkout our latest podcast!
[powerpress_playlist limit=1]