The fifth ranked Clemson Tigers played host to the tenth ranked NC State Wolfpack on Saturday night and came out with a 30-20 victory. Death Valley was rocking from kickoff to the final whistle proving once again why Clemson has the longest current home winning streak in college football, now at 37 wins in a row. It was a tightly contested game all throughout as NC State gave Clemson all they could handle. Ultimately the Tigers were able to do what they have always done under head coach Dabo Swinney which is make the adjustments at the half and find ways to put teams away.
Where The Game Was Won and Lost
There was never a comfortable lead for either team during this game until the late minutes of the fourth quarter. However, the game seemed to take a turn in the second quarter after NC State put together a 75 yard touchdown drive to go up 10-6 with 1:51 to go in the first half. A drive that featured some controversial penalties in the eyes of Clemson fans that lead to NC State being able to take the lead. One of which was a targeting call on safety Andrew Mukuba, who is the captain of the Clemson secondary and missed last weeks game against Wake Forest. A large reason why the secondary struggled like it did last week. At this point, NC State looked like they were able to limit Clemson's offense when they needed to and had all the momentum on their side. With NC State set to get the ball at the start of the second half, Clemson knew that they needed to come away with some points going into halftime.
Quarterback DJ Uiagalelei once again proved himself putting together an impressive two minute drill going 3-4 for 46 yards including rushing in the go ahead touchdown with 31 seconds left to give the Tigers a 13-6 lead going into the half. The Tigers could have easily folded at this point with seemingly nothing going their way in the ballgame. Most teams would have, but thats not who Clemson is, and thats not what championship teams do. All the momentum was back on the Tigers side. They had their sold out crowd back, and they knew the opportunity they had in front of them.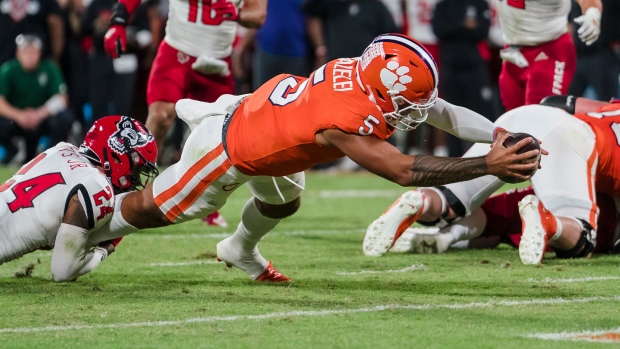 At the start of the third quarter, the Clemson defense picked up right where the offense left off. They promptly shut down the Wolfpack's opening drive with a three and out including two sacks. One of them by linebacker Barrett Carter, who stepped up in the win with star defensive tackle Bryan Bresee out. Clemson then wasted no time scoring in under two minutes as Uiagalelei lead another drive for a touchdown capped off by a seven yard reception by tight end Jake Briningstool. It did not feel like it at the time, but this is where Clemson won the game. NC State was only able to put up three more points while the game was still in question as they had their spirit crushed by Clemson. The defense was able to continue to feed off the crowd and would put together its best performance of the season.
Proving They Belong
From top to bottom, this was without question the best game Clemson has played. DJ continued his solid play from the weekend prior and looks to be coming into his own. For DJ to be able to have the performance he had against a NC State defense that was giving up an average of 12 points a game going into the contest says a lot about how far he has come since last year. Finishing with a stat line of 21/30 209 yards and a touchdown, a solid performance against a top ten team.
The defense responded in a big way coming off of their performance last week, especially in the secondary. Not to mention a defense that is still not at full strength yet, they were able to find ways to get off the field and come up with stops in key situations. All this being said, Clemson still isn't playing the best football that they can play. With the offense becoming more consistent and the defense starting to show some depth, there is a lot of room for improvement for this Clemson football team overall. The Tigers just put the ACC on notice that they are back. It's time for the rest of the country to take notice of them too.
For More Great Football Content
Follow us on Twitter at @GridironHeroics for more great content. We appreciate you taking time to read our articles. To interact more with our community and keep up to date on the latest in Football news, JOIN OUR FREE FACEBOOK GROUP by CLICKING HERE
Checkout our latest podcast!
[powerpress_playlist limit=1]