The Cincinnati Bengals and Joe Burrow suffered a brutal loss to the Baltimore Ravens on Thursday Night.  After Joe Burrow missed more than half of the game, the Bengals lost 34-20 to their division rival.  The loss dropped the Bengals to 5-5 on the year and desperate for wins going forward to keep in the Wild Card race.
However, the Bengals may have bigger concerns than one Thursday Night loss.  Star quarterback Joe Burrow suffered an injury to his wrist while attempting a pass.  The pictures afterwards did not look good.
Gruesome Closeup Of Joe Burrow's Hand After Injury Had Cincinnati Bengals Fans Worried
Social media is buzzing after Bengals quarterback Joe Burrow appeared to injure his hand. The situation only worsened after footage showed him struggling even gripping a football afterwards.
Ravens edge rusher, Jadeveon Clowney, knocked Burrow to the ground during a drive in the second quarter, jamming his hand into the ground.  His hand looked horribly swollen in that second quarter: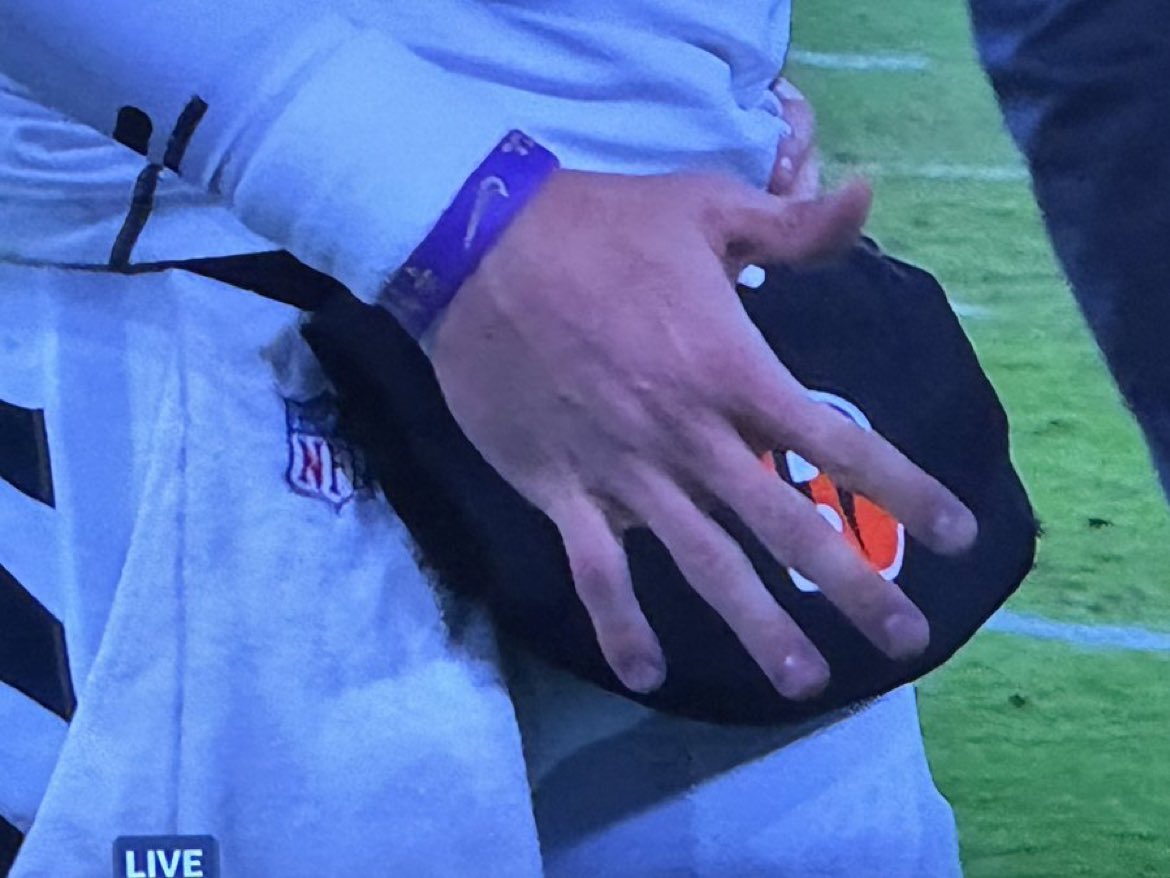 Bengals coach Zac Taylor told the media after the game that Burrow appeared to have sprained his wrist, but he didn't say how severe the injury was or whether he expected his quarterback to miss any time.  Whether Burrow plays next week, or multiple weeks from now, one thing is certain: he will be dealing with a pretty significant amount of pain moving forward.
The Bengals will take on the 6-3 Pittsburgh Steelers next weekend at 1:00 pm EST in Cincinnati.
Our Partners
Mayfield Sports Marketing
Call Mayfield Sports Marketing at 262-366-8188 to schedule Green Bay Packers players or alumni for your corporate appearance or product promotion.  Our booking agents will work on your behalf to get you the best price for your desired sports speaker. Mayfield Sports Marketing has earned a reputation of being the one to call for booking top athletes to speak at events and trade shows. To learn more about Packers players or alumni appearance costs and booking fees, please call us today. www.MayfieldSports.com.
Radtke Sports
Wisconsin Sports Heroics is proud to partner with Radtke Sports to offer autographed memorabilia. Brett Favre, Rob Gronkowski, Giannis Antetokounmpo, and MORE Guaranteed Authentic Collectibles and Memorabilia, including signed jerseys, photos, and more at www.RadtkeSports.com USE promo code: WSH for FREE SHIPPING on your purchase. Some restrictions may apply.
For More Of My Content
Follow me on Twitter at @mcquadewarnold.  Reach out to me personally at mcquadewarnold@gmail.com.  To read more of our articles and keep up to date, click here!  –  JOIN OUR FREE FACEBOOK GROUP by CLICKING HERE
'