Christian McCaffrey has finally made it. He will now be playing for offensive mastermind Kyle Shanahan, who is a wizard when it comes to utilizing running backs. I'm here to tell you why you should shop Christian McCaffrey and take advantage of your smitten league-mates. The All-Pro goes from arguably the worst offense in football to one of the best. McCaffrey managers are taking victory laps as I type this.
Let me begin by saying that I would shop Christian McCaffrey more actively if I have a losing record. You will likely be able to obtain multiple players who would be weekly starts in exchange for McCaffrey. The allure of a potential top-5 back will draw heavy interest from the more competitive managers in your league.
CMC is currently the RB3 in PPR formats and has been very consistent. He has three touchdowns and  670 total yards from scrimmage. He was essential to the Panthers' offense as the only means of moving the football. This is the primary reason why it makes sense to shop Christian McCaffrey and cash in.
Reason #1 to shop Christian McCaffrey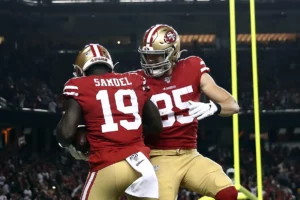 The new tailback will no longer be as essential to team success in San Francisco. With Deebo Samuel, George Kittle, Brandon Aiyuk, and incumbent Jeff Wilson Jr., Jimmy Garrapolo can spread the ball around. Volume is king in fantasy football and McCaffrey could very well see the least of his career.
Reason #2 to shop Christian McCaffrey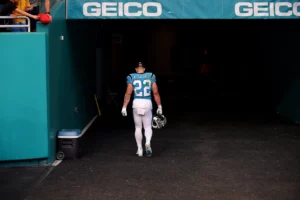 Another reason to shop McCaffrey is is injury history. He only played in 6 games in 2020 and 2021 combined. It remains to be seen if he can stay healthy for a full season. What if he is injury-prone? You certainly don't want to be caught holding the bag knowing that Jeff Wilson Jr. is already rostered by an opponent.
Reason #3 to shop Christian McCaffrey
There is also the matter of essentially dealing with two bye weeks. Kyle Shanahan said that McCaffrey could be in on goalline packages. With the running back arriving in the bay area on Friday, there is little chance McCaffrey will have a grasp on the offense and is likely to see very limited work, if any. This combining with a bye in three weeks can put managers in a tough position.
I'm not here to say that there will be a huge dip in production, but the art of trading in fantasy is to sell an asset at peak value. If you are a contending team, you may see fit to hold as the rest of your lineup may be top-notch. But if you are struggling, you know that McCaffrey hasn't helped you enough to this point anyway. The hype for Christian McCaffrey to take the leap to the overal RB1 is through the roof and there may be no better opportunity to improve your roster.
For More Great Football Content
Follow us on Twitter at @GridironHeroics for more great content. We appreciate you taking time to read our articles. To interact more with our community and keep up to date on the latest in Football news, JOIN OUR FREE FACEBOOK GROUP by CLICKING HERE
Checkout our latest podcast!
[powerpress_playlist limit=1]