Just when you think it was all over, with only a minute to go – the Chargers keep playoff hopes alive with a gutsy 2-point conversion. While it may seem dramatic, or sensationalist – the reality of the Chargers' salvation does hold a bit of merit; as a 5-6 record in a Wild Card hunt with two teams who won (Jets, Bengals) becomes a lot harder to do. And let's call a spade a spade – it was by no means the prettiest of wins for the Bolts. But they won, and that's all that matters.
Games like these (unfortunately) aren't uncommon, as we Chargers fans have seen the Bolts in these one-possession affairs on what seems like a weekly basis… for the past 5 years. And yet, how sweet it was for the Chargers to win one – on a 2-point conversion, at that. While a win against the shaky, inconsistent Cardinals may not seem like a lot – it goes a long way for a Chargers team that's just now starting to find their footing more than halfway into the season.
Sure, this game exposed a few of the Chargers' weaknesses (run defense and protecting the quarterback, to be particular) – those were by no means a secret. What we saw was a team that was able to overcome those weaknesses with their strengths. And what is their strength exactly? Justin. Herbert.
The Weaknesses
It's been a constant theme for as long as I can remember (a la Adrian Peterson's 296-yard game in 2007) – and a current joke of the league; the Chargers' run defense. However, as of late, there's been something funky going on, a phenomenon if you will – as the Chargers have specifically been able to stop rushing attacks for one half. You saw it against San Francisco and Atlanta in the second half. And we saw it again in this game in the second half.
In the first half, James Connor (aside from the fumble) was unstoppable, and Kyler Murray even to busted off a couple of impact runs. It was painful to watch – like a scary movie you've seen millions of times, yet it still gives you the creeps. Not only were the holes there, but James Connor was running through tacklers like they were a group of JV players who won a prize to play in the NFL. Yeah, it was that bad.
And this also applies to the screens and check downs, which, due to the Chargers' tackling (or lack thereof) – were able to go for 5-7 yards on a consistent basis. Then, in the second half – the defense came alive. James Connor was held at bay, and Kyler Murray wasn't having a spectacular day through the air already, so once the defense was able to stop the run and make him one-dimensional – sure enough, the Cardinals were stopped.
The Chargers' offensive line is tricky – they've been an up & down gang, which has become even more inconsistent due to injuries. However, for most of the season, they've done their part. Sure, they haven't been perfect by any means – but with a rookie stepping in for pro bowler Rashawn Slater, the group has done enough. Maybe it's because opponents weren't blitzing enough? Maybe it's just incredible scheming?
Whatever the reason was for success, was missing on Sunday. The Cardinals were consistently getting pressure, without pressuring on what seemed like every play. Granted, J.J. Watt is almost undoubtedly a Hall of Famer, but he's seen better days. Markus Golden is no laughing stock, but he's sure not on the same level as Myles Garrett – who the Bolts were able to bottle up. Add a couple of Jamaree Salyer penalties into the mix, and it was really just a recipe for disaster for the Chargers' offensive line.
The Strengths
As eluded to earlier – this one is a bit easier to transcribe at surface level. It's number 10. The 3rd year gunslinger out of Oregon. Justin Herbert. Throughout the course of the season, Herbert has been limited for multiple reasons: early on with the rib injury, and Weeks 1-Present with injuries; whether it be Rashawn Slater, Keenan Allen, or Mike Williams (or all). So, the game plan turned into a dink-and-dunk west coast that was largely ineffective with the exception of superb play by Austin Ekeler.
However, what we all saw on Sunday was different. The game plan was originally to go out there and throw the ball downfield (at least mid-level) – while also trying to establish the run. But, neither of those worked. Arizona was getting pressure with only a 3 or 4-man rush. The running game was laughable. So? To counter the pressure, Lombardi and Herbert resorted back to the west coast style offense – and it worked! Look no further for the perfect example of this than the last 3 plays of the game.
As a side note – let's also give credit to De'Andre Carter – who very well could be deemed the season MVP for the way he's stepped up in the absence of Keenan Allen (and now Mike Williams). While he hasn't had a list of game-breaking plays; his impact has been tangible when the Bolts needed it most.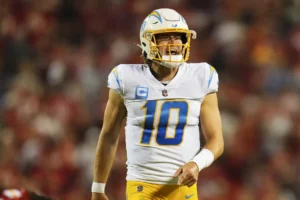 So, what's the strength aside from the franchise quarterback? Look no further than the All-Pro player on the other side of the ball… Derwin James. Sure, the interception will get its place on the highlight shows, but it was all of the impacts away from that play that deserves the credit. Which, by the way, James also did have a forced fumble against a quality ball carrier in James Conner. The impacts of both of those plays are both tangible – as the Chargers most likely won't win without those turnovers, but they also ignite the passion in a team and inspire an extra burst of energy, motivation, and will to win.
Now, while an additional 8 tackles and a pass defended to add to those highlight statistics are commendable, it's his leadership that really takes the cake. The offense has had an immense amount of injuries, no doubt – but the defense has definitely gotten the worse of the wear. Not only did the D lose Joey Bosa and J.C. Jackson – but also Otito Ogbonnia, Christian Covington, Austin Johnson, AND Nasir Adderley. For Derwin James to be the vocal leader he is, as well as his lead by example – is truly remarkable.
Conclusion
It's not often where a win against the Arizona Cardinals means this much – but both the circumstances and the game itself say it all. A loss would've not only meant a 2-game deficit from the Bengals and Jets in the Wild Card race – as well as a total demoralizer which would've sucked the air right out of the season. And yet… they won. In a close game. Against a top-10 QB. Without Mike Williams, Joey Bosa, and even Trey Pipkins. The tides may be turning in Los Angeles…
Let's be realistic – there's still a lot of work ahead, and in today's NFL – no Sunday is ever a cakewalk. So while this game might've felt like the Chargers clinching a playoff berth, they're still a ways away. Speaking of which, the Chargers will be facing the Raiders next week – and while their record indicates otherwise, they're by no means an easy win… especially considering the performance the Bolts saw from Davante Adams in Week 1. With the playoff hopes still alive, next week will say a LOT about this team.
But, for now… the Chargers are still in it… And, oh, does it feel so good to be on this side of a close game.
For More Great Football Content
Follow us on Twitter at @GridironHeroics for more great content. We appreciate you taking time to read our articles. To interact more with our community and keep up to date on the latest in Football news, JOIN OUR FREE FACEBOOK GROUP by CLICKING HERE
Checkout our latest podcast!
[powerpress_playlist limit=1]