The Chargers Offense is a high-powered unit that is loaded with talent. Although, a lot of people would say that the unit is not living up to its potential. Offensive play caller Joe Lombardi has been heavily scrutinized on his decision making through the first two weeks. Playing not to lose instead of playing to win, Lombardi seems to be one of the few weak points this offense has. Here we will breakdown, and grade this Chargers Offensive attack.
Offensive Grade: A-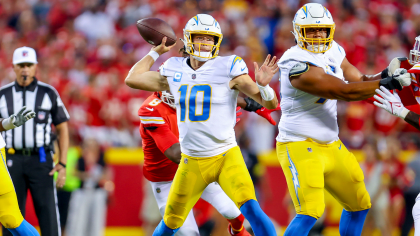 Likely a grade that will be catapulted by the superstars that the offense is filled with. Third year quarterback Justin Herbert leads the pack. His decision making and ability to fit balls into tight windows some would say is second to none. However, his pocket movement seems to be the most improved this season through two weeks. Herbert has only been sacked twice through two weeks and he was the fifth most pressured Quarterback in week one. He was pressured on 42.9% of his snaps per TruMedia against Las Vegas, and lost two key offensive linemen against the Chiefs, one being All-Pro Center Corey Linsley.
This guy @lightningstrk12 has been a grossly underrated addition to our offense. He's provided huge value to our tight end room and already seems to be one of Herbert's favorite targets. @chargers #Chargers #boltup pic.twitter.com/l7vXvsfZWC

— David Oliver (@BoltMan173) September 22, 2022
Another stand out player on this Chargers offense has been newly acquired Tight End Gerald Everett. Although his controversial route on the Pick 6 against the Chiefs has been highly scrutinized, Everett has put up great production through the first two weeks. Catching 9 targets for 125 yards and a touchdown, Everett seems on track to finally have the breakout season people have been waiting for.
Offensive rookie standout: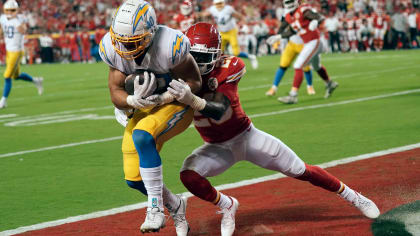 Fullback Zander Horvath has been a welcome addition to this Chargers offense. The 7th round pick out of seems to be budding into a great goal line threat for the Chargers and no, its not because of his legs. When you're a 7th round draft pick the odds are against you to even make the team. However, Horvath has caught two touchdown passes on goal to go situation through the first two weeks of the year. Look for him to continue to develop in this high-powered offense.
Needs Improvement:
The biggest takeaway from watching the Chargers offense these first two weeks is their play calling. Offensive Coordinator Joe Lombardi has started this season with a very slow paced, predictable offense.  Lombardi tries to protect a lead for too long in games when the Chargers are up big. This conservative approach has led to the opposing offenses getting themselves back into the game. Although the Defense bailed them out in week one against the Raiders, they weren't so lucky the second time around in Kansas City.
Another spot for improvement for this Offense would be their running game. Austin Ekeler was an absoulte force last season, totaling over 1500 all purpose yards on top of 20 touchdowns. The Chargers have yet to get him involved in the  offense like they did last season, giving up on the run early in games. Although, third year running back Joshua Kelley has seemed to leave his problems in the past. Kelley has shown real improvement this season, starting off the year with zero fumbles, and he is averaging just over five yards per carry.
Stay tuned for our grades for the Chargers Defense and Special Teams!
Check out these takeaways from the Chargers week 2 matchup! Chargers Fall, Key Pieces Go Down