It's week four for college football and all eyes are on Knoxville. This week, the Florida Gators are traveling to Neyland Stadium for their first road test this season. The rivalry battle will play out in front of a packed house. The Tennessee vs. Florida matchup is the CBS Game of the Week. And, for the first time since 2016, ESPN College Game Day is headed to Knoxville. Kick off starts at 3:30 PM EST on Saturday.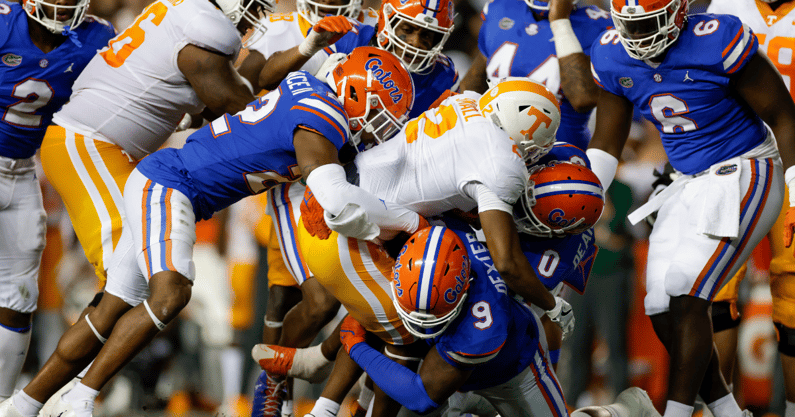 Tennessee vs. Florida: A Brief History
Tennessee and Florida have a long history. The schools' first matchup was in 1916 and they've played each other 50 times since then. Right now, Florida is 31-20 on the series. Over the years there's been plenty of fuel added to the Vols' hate fire, but it really all started in the early 90s.
In the 90s and early 2000s, both Tennessee and Florida were playing peak football. At the time, the winner of this game almost always had the "inside track" in the SEC East, sometimes leading to things like competing for national titles. While Tennessee's rivalry with Florida isn't quite to the level of their rivalry with Alabama, it's close. There is no love lost between the Vols and the Gators.
Tennessee has lost 16 of its last 17 games against the Gators. Every year Vols fans flood the stands hoping this time will be different but this year, there is a real chance.
Saturday in the South: What to Expect
This is Josh Heupel's second season at the helm for the Vols. The team is accustomed to his style and has adapted to it quite well. In the offseason, Heupel was candid about his style and emphasized that he coaches from expectations rather than beliefs. He is developing a squad that's learning to play to expectations, too. This game is a big one and the Vols are ready for the competition.
Tennessee is going into Saturday powered by a wave of momentum the Gators don't have. Tennessee is 3-0 right now; the Gators are 2-1.
The Vols defeated the Ball State Cardinals and the Akron Zips with ease. The Pittsburgh Panthers were tougher than expected but the Vols pulled it out in the end. Facing the challenge of Pitt early in the season was good for the Vols. They showed they can show up to play and beat tough, physical teams, a good sign as they geared up for quickly approaching SEC play.
Florida opened the year with a huge win against Utah but they've struggled to replicate that success since. After a loss to Kentucky in week two, they defeated the South Florida Bulls by the skin of their teeth last week. And, all of their games have been at home so far. On paper, a win on Saturday wouldn't be that difficult for the Vols to pull off.
Florida is in a transition period with a new coach and some new additions to the roster. However, its veteran players have played against Tennessee football and despite improvement to the Vols' game, that's not something to take lightly.
Tennessee vs. Florida: Gators to Watch
The Vols will need to be especially mindful of the Gators' outside linebackers. While Hendon Hooker has improved in the pocket, Florida could still exploit what is a weaker area for Hooker and the Vols. Guys like Trey Dean III and Amari Burney have been here before and will be waiting in the wings for the chance to bring down Hooker and stop any big plays from the Vols QB.
The Vols' defense will be called on to stop sophomore RB Montrell Johnson, one of the players Coach Napier brought with him from Louisiana. Johnson was a star RB last year and joining the SEC hasn't slowed him down; in fact, he's improved. Tennessee had trouble stopping the run at Pitt and gave up a huge run early in the game. They can't afford to make that kind of mistake again, especially in this game.
Given this is the Tennessee vs. Florida game, the Florida quarterback can't go unmentioned. It doesn't matter how bad they've been or will be, Florida quarterbacks are known for making the Tennessee game their breakout game. Gators QB Anthony Richardson hasn't been playing well but if the Gators choose to use his legs instead of his arm for this game, that will be a major test for the Vols' linebackers.
Tennessee vs. Florida: Vols to Watch
Hendon Hooker is a dual threat quarterback. This is great for Tennessee and terrible for Florida. Hooker has spent the season trying to throw more from the pocket. But, Florida is struggling against dual threat quarterbacks and against running backs. With a bye week on the horizon for Tennessee, if there is a game to utilize Hooker's arm and legs, this is it.
Assuming Florida continues to use Richardson's arm, Tennessee's answers are Kamal Hadden and Aaron Beasley. Richardson was picked off by cornerbacks against Kentucky and USF, and Hadden is capable of the same disruption. Senior LB Beasley is the best at staying in position and is having a little bit of a breakout season; he's great at getting pressure off the edge and will be critical for Tennessee whether Florida relies on Richardson's arm or reverts back to using his legs more instead.
With Jabari Small out due to injury, Jaylen Wright is Tennessee's best option at RB. Wright and Small are pretty similar in terms of playmaking and if this game follows the trend, Vols RBs are going to have a huge day against Florida. So far, every starting RB to face Florida has averaged at least five yards a carry. Regardless of style, Florida's defense is struggling to respond against running backs. Tennessee's running backs should be set to make it a long day for the Gators.
Can the Vols Change the Narrative?
The Vols have lost this matchup 16 of the last 17 times the two teams have met. They can't take the game lightly and this team will be tougher than any they've faced so far but as for their ability to change the narrative?
Yeah, they can get it done.
Pre-Game Spotlight: Bru McCoy
Tennessee's offense is lightning fast but this week, they need a strong contingency plan. The usually lethal combination of Hendon Hooker and Cedric Tillman is in question as Tillman exited last week's game in the first half with an injury. It's still not known if he'll be back for Florida which means this could be Bru McCoy's time to shine.
McCoy was flagged for pass interference twice last week. Those are mistakes that can't be made this week but they don't negate the good work he's done, with eight catches and 109 yards already this year. There is a very real possibility that McCoy will fill in for Tillman this week, and this is the time to prove that all the paperwork in the offseason was worth it.
Jalin Hyatt and Ramel Keyton will be of tremendous benefit to the Vols on Saturday, but it's up to Bru McCoy to prove his position this week.
Tennessee vs. Florida: Vegas Odds
Tennessee has risen to No.11 in the AP Poll and No.12 in the Coaches Poll.
Florida is ranked No.20 in the AP Poll and No.22 in the Coaches Poll.
The Gators have had a rocky start but they're still a top 25 team with a talented roster. Mostly, their struggles stem from a lack of depth plus general growing pains as they transition into the Billy Napier era.
Tennessee is heavily favored to win, per FanDuel Sportsbook. Tennessee is past due for a win in this game but that doesn't mean it'll be easy.
As I write this, the spread on TN is -10.5. The moneyline is -385 and the over/under is -110. The over/under total score is 62.5.
If you're betting the spread, bet Florida +10.5. If you're betting the moneyline, bet Tennessee -420. The Vols will win this game but they won't cover the spread this week. Florida will come to play ball, after all.
If you're betting the over/under, I would take the under. I expect a brawl but not a 62.5 point blood bath.
See Y'all Sunday!
For a post-game, post-gamble recap, check out the University of Tennessee on Gridiron Heroics on Sunday. GBO!
For More Great Football Content
Follow us on Twitter at @GridironHeroics for more great content. We appreciate you taking time to read our articles. To interact more with our community and keep up to date on the latest in Football news, JOIN OUR FREE FACEBOOK GROUP by CLICKING HERE
Checkout our latest podcast!