After four weeks of the college football season, the Tennessee Volunteers are blazing hot. With the recent win in Neyland Stadium over the Gators, Tennessee has moved up the ranks to the #8 spot. This is the first time the Vols have started a season 4-0 while beating 2 ranked opponents since 1998. This being the year the Vols went undefeated and won the national championship. History tends to repeat itself, but there are 4 more blue bloods standing in the way of Knoxvilles cinderella story: LSU, Alabama, Kentucky, and Georgia.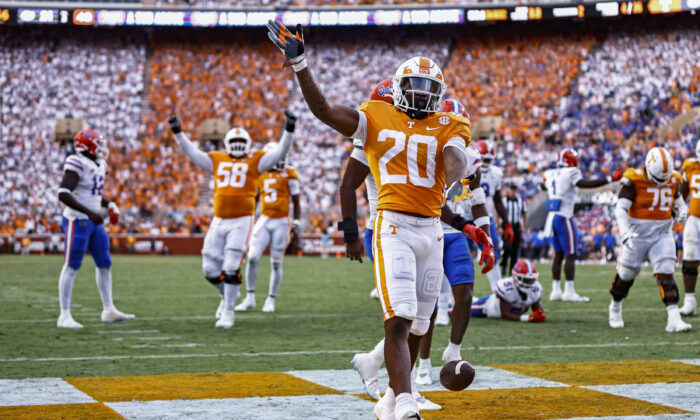 In just two short weeks, the Volunteers face off against the LSU tigers in Baton Rouge. LSU is currently 3-1, with their only loss being against ranked opponent Florida State. Of course, winning in Death Valley is no easy task. The Vols haven't won a game at Tiger Stadium since 2005 when Rick Clausen helped bring the team back from a 21-0 halftime deficit. Tennessee won that matchup 30-27 in overtime.
In 2005, the Vols erased a 21 point halftime deficit against LSU behind a strong second half performance from Rick Clausen, which was capped by a game winning TD in OT from Gerald Riggs pic.twitter.com/KuSne5fBiR

— zach ragan (@zachTNT) October 14, 2021
Luckily for the Vols, LSU takes on Auburn in a tough road game the week before. Tennessee has multiple edges in this game, a much better quarterback, a deeper receiving core, coming off a buy week, and a ton of momentum. This will certainly be a challenge for the Volunteers, but it's clear that they are the better team, and I am confident they will come back to rocky top with the victory.
It has been 5,822 days and six head coaches for the Volunteers since they last beat Alabama. Is this the year for the tide to change? I think yes. There is a firepower behind this Tennessee offense that no defense can keep up with. While this game is going to be awfully close, Neyland is going to be no match for the crimson tide. Quarterback Bryce Young has 5 true road starts as a starter for Alabama. Four of those games were decided by 3 points or less. Sure, Bryce Young is really good, but has he really faced a team this hot, in a stadium that will be shaking, against another heisman candidate, with playoff chances on the line? I will answer that for you, No. Tennessee is going to shock the world on October 15th, and move into the top 5 on the polls.
Kentucky are a bunch of frauds. Yep, you heard me, Frauds. The wildcats have arguably one of the easiest schedules in the SEC, and are ranked #7 for no good reason. They have yet to beat a ranked team this year, and have a huge test coming up this upcoming week against ranked Ole Miss. We will know all we need to know after the wildcats face off against Ole Miss.
Personally, this is the only game I can see the Vols losing this year. Georgia is a different breed, and playing in Athens will not be easy. If all goes according to plan, this game will be between two top 3 teams, and likely the bulldogs get the best of them. However, I don't think this will be the last time these two teams meet this year.
I have the Volunteers finishing the season 11-1, with their only loss against the unbeaten bulldogs. This is a special year this year, and I think the Vols have a real chance at making a run into the playoffs. Get your popcorn Knoxville, the vols are going to shock the world.
For More Great Football Content
Follow us on Twitter at @GridironHeroics for more great content. We appreciate you taking time to read our articles. To interact more with our community and keep up to date on the latest in Football news, JOIN OUR FREE FACEBOOK GROUP by CLICKING HERE
Checkout our latest podcast!
[powerpress_playlist limit=1]