Can Notre Dame upset number 16 Syracuse? Of course they can, anything can happen. Especially when it comes to the Fighting Irish – a team filled with talent who just needs to get their feet beneath them. Can they beat Syracuse? Of course they can. Especially when you take into account that this team (minus Tyler Buchner) was number 5 in the AP rankings coming into the season. Well, that was before they saw Notre Dame actually play…
Which brings up the more important question – WILL they beat Syracuse. The answer? Probably not. This year has been full of anger, disappointment, and finger pointing. But beneath all of that, the reality is that this team just isn't Notre Dame's best… by any means. It's a transitional year, if you want to put it nicely. A transition into a new coaching era – if Freeman makes it long enough to be called an "era". It's a transition into a new style of College Football – one filled with RPO's, mobile QB's, and run & gun dominance. Lastly, it's a transition along the chase of a seemingly never-approaching light at the end of the tunnel. 
How it Started vs How It's Going for Notre Dame
That light? To ultimately return to the throne where Notre Dame once stood. And yet, in a time where Alabama, Georgia, and Ohio State stand at the top looking down at everyone else – the hope is that Notre Dame could at least compete, right? And they did just that in Week 1 against Ohio State. Sure, that was before everything seemed to disintegrate before our very eyes – but it happened, didn't it? Absolutely. And yet, that seems like a lifetime ago before the laundry list of problems ensued.
The Marshall loss…
Tyler Buchner got injured… 
The Defensive Backs went invisible… 
The lack of Wide Receiving talent became evident…
Players & recruits de-committed & entered the transfer portal… 
It was obvious Michael Mayer needed to carry the whole Offense…
And that's just to name a few of the problems us fans have seen. It's been a rough year, to say the least. But, that's not to say that the Fighting Irish are absolute trash, or a dumpster fire – I'd say that's an overstatement, considering they're in the middle of a season with a fist year Head Coach, a back up Quarterback, and without the star glue of their defense (Kyle Hamilton, via draft). 
So, Now What for Notre Dame?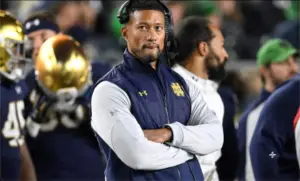 While Notre Dame certainly hasn't been playing to the par of… well, Notre Dame – let's cut the Irish some slack. Any team aside from Alabama, Ohio State, or Georgia would have a rough going in a year like this. The truth of the matter is – Notre Dame isn't getting the caliber of talent as they are. It's a trend, a guarantee'd ticket to the draft for High Schoolers to go to the SEC (or OSU). You can call it unfair, you can call it skewed – but the fact of the matter is, it's true!
And yet – how do those teams land those recruits? By being, flat-out, damn good. But were they always this good? Sure, they're all historical programs; but they've all had their down years. Let's look at Alabama, for example. In 2003, the Crimson Tide went 4-9. Yup, you read that right. The next year? 6-6. Then… 10-2. Turnarounds can be quicker than many think – it's only a matter of a handful of key recruits that can change a whole program… Like Demeco Ryans and Roman Harper who lead their defense to glory. 
Maybe that's just where Notre Dame has been for the past few years. I mean, geez, look at just last year, where the Irish finished 11th. Bad seasons happen. Sometimes a minor rebuild occurs. Brian Kelly's first year, the team went 8-5. This isn't the year all of us Irish fans hoped or expected, but it's not the end of the world. You either get your sh*t together, or even more changes will need to happen – and as we all know – Notre Dame doesn't stay "bad" for too long…
Why All of This Matters Against Syracuse
And finally, let's bring it full circle – the Fighting Irish will find themselves playing number 16, only, that number 16 is Syracuse. We''re not talking about Georgia, Alabama, Oregon, Texas, Oklahoma, or even Florida. It's Syracuse. That's no disrespect to their program – sheesh, they've had a much better year than Notre Dame has. But, on the other hand, the strength of recruits alone should carry ND to a victory. Sure, that's not what we've seen throughout the year – but these Young Men have had much more time to glue, much more Coaching, and have a bit more confidence than the 0-2 team we once saw. You just have to believe that Notre Dame has something to prove.
And will they go out there and show it? Maybe, maybe not. Whichever way it goes – this will truly show a lot about where this program is headed, and what needs to happen. Either way, it'll tell a lot about the state of the program. And as a fan, I can't wait to see.
For More Great Football Content
Follow us on Twitter at @GridironHeroics for more great content. We appreciate you taking time to read our articles. To interact more with our community and keep up to date on the latest in Football news, JOIN OUR FREE FACEBOOK GROUP by CLICKING HERE
Checkout our latest podcast!
[powerpress_playlist limit=1]