BYU Injury Report
BYU moves into the bowl game with some questions and more to come on who will play in this game as a starter for their position? BYU has some tough players out this week against SMU. This week's information comes from interviews from this week's game preview from the Coaches.
Offense
This offense will be depleted today as they take on the Mustangs. With the big one being the starting quarterback.
Jaren Hall
Hall is out after he suffered a right ankle sprain against Stanford. He was seen arriving with the team in a boot and on a scooter.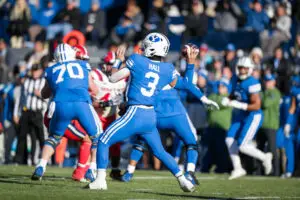 Puka Nacua
Is out today against SMU.
Lopini Katoa
Katoa is out today for the running back core.
Harris Lachance
LaChance who has been a big guy for the offensive line is also out for todays matchup.
Masen Wake
Masen Wake joins other major offensive stars as not playing today.
Kody Epps
Epps is out for the season after taking a blow in the Liberty. The Cougars will be without their top wide receiver and quarterback there are many questions about what this offense will look like.
Jackson McChesney
McChesney left in the South Florida game and hasn't returned this season.
Lane Lunt
Lunt a senior tight end announced he was done for the season on his Instagram.
https://www.instagram.com/p/CjrJbS2Pp_a/?utm_source=ig_embed&ig_rid=3f5f68f4-2321-47ec-8d27-b8a2567200f7
Gunner Romney
Romney has only played in two games which is unfortunate as he has had a great career.
Mason Fakahua
He hasn't played since East Carolina there has been no update on his condition.
Defense
This BYU defense has been depleted all season and they have been able to continue to play to a point.
Payton Wilgar
Wilgar has been out with a high ankle sprain since the Arkansas game.
Max Tooley
Tooley is also out for the season with an undisclosed injury.
Chaz Ah You
Ah, You join the list of many who have been out for several games and are done for the season.
Ethan Slade
He left the ECU game early and hasn't returned
Carter Krupp
Krupp also left the ECU game early and hasn't played another snap this season.
Malik Moore
Moore is done for the season after he suffered a hand fracture against Wyoming.
Josh Larsen
Left early with an undisclosed injury and is done for the year.
D'Angelo Mandell
Left in the Wyoming game and hasn't returned this season. He is out for tonight.
Check out More BYU Content
https://gridironheroics.com/byu-top-5-nfl-draft-prospects-kaleb-hayes/
BYU Transfer Portal Guide for Players Leaving the Program in 2022