BYU Game 13 View from the Midwest – The New Mexico Bowl BYU vs. SMU
Running Game Carries Cougars to a One-Point Win Over SMU
We are the ones who knock 😎 pic.twitter.com/csxpOts15o

— BYU FOOTBALL (@BYUfootball) December 18, 2022
For those of you who are first-time readers, welcome! Here is a link explaining my process of how I recap the Cougars' games while paying respect to the rich historical tradition of the BYU Cougars I love.
Cougars Overcomes Losses
8-5 looked like a long shot after BYU's loss to ECU, their fourth straight. Injuries had hobbled the Cougars all year and the New Mexico Bowl would be no different. The Cougs made some changes after their loss to ECU. Coach Sitake began working directly with the defense more for their last four games and it paid dividends quickly as the Cougars won a big road game against Boise State. Victories over Utah Tech and Stanford showed improvement, as the nearly non-existent Cougar pass rush showed up to beat Tanner McKee and Stanford.
Star quarterback Jaren Hall went out late in that win with a bad ankle. It wasn't known until kickoff was near who would start at quarterback in Albuquerque. It wouldn't be Jacob Conover who transferred to Arizona State. Puka Nacua being injured, along with Gunner Romney and Max Tooley, and Keenan Pili being in the transfer portal along with others both injured and in the portal, the Cougars would be playing some new faces against SMU.
BYU-Turn
I gave Coach Kalani Sitake a lot of grief over that four-game losing streak, so I'm going to give him just as much love for their four-game winning streak. How he rallied this program behind him after so much adversity is a testament to not only his exceptional coaching ability but the character of the man. One thing I feel very confident of, and he could go 0-12 in 2023 and I'd still believe this, and that is that Coach Sitake is a good man who cares about his players and sees and treats them like family.
I think that's why they rallied around him to beat a good, 10-win, Boise State team on the road on the blue turf, beat a scrappy Utah Tech to go out on top at home, and beat Stanford on the road in the regular season finale. It was no different in their match up against SMU.
This was a fantastically coached game by Coach Kalani Sitake. With freshman Sol-Jay Maiava-Peters making his first start in the cold against a dangerous SMU team Coach Sitake changed his offense up to utilize his young quarterback's skills. He put in a monster lead blocker in Houston Heimuli in to lead the way, got behind the big offensive line and had Maiava-Peters, Chris Brooks, and Hinckley Ropati run the football almost like the service academies at Army, Navy, and Air Force do.
To throw another wrinkle at SMU, the Cougars took a page out of the Mustangs play book and ran up tempo at times. This was brilliant and I hope BYU keeps it up going forward. This kept the SMU defense on the field, kept them tired, kept them unable to adjust to the new look running game, and kept the initiative with BYU and their offensive line.
Coach Sitake adjusted the offensive attack to go nearly exclusively on the ground against SMU who was 121st in rushing defense coming into the game. This influenced his decision to go for it on fourth and goal at the one. Great call on that first touchdown by the Cougar offense! Lots of movement and lots of good blocking. This was your LaVell Edwards Call of the Game.
another view from the TV cam 📺 pic.twitter.com/pu1HSc7zZt

— BYU FOOTBALL (@BYUfootball) December 18, 2022
Jan Jorgensen-Jim Herrmann Sack of the Game: John Nelson
. @johnnelson_65 brings him down for a loss of 11-yards on the play pic.twitter.com/ziY3tr8RPL

— BYU FOOTBALL (@BYUfootball) December 18, 2022
John Nelson had a huge sack about five minutes into the second quarter. The Cougar pass rush which had been a vulnerability for a very long time found life behind John Nelson. It was the stopper of what looked to be a a decent drive for the Mustangs, too.
Payne Brothers Special Teams Player of the Game: Jake Oldroyd
Cougs tie it up with a 31-yard field goal. pic.twitter.com/4d1VsWJF3m

— BYU FOOTBALL (@BYUfootball) December 18, 2022
Jake Oldroyd became the all-time leading scorer in BYU football history with 338 points, His field goal in the first half was his 50th made career field goal. Oldroyd had a tough stretch too this season so it was good to see him get this record and go out on top of his game.
Ty Detmer Heisman Play of the Game: Ben Bywater
Ben Bywater made the biggest play of the game. Like Max Tooley had done earlier in the year. Bywater read the play perfectly, snagged his third interception of the season, and returned in 76 yards while breaking a tackle or two for a touchdown.
HOUSED. pic.twitter.com/eQF9GMvShe

— BYU FOOTBALL (@BYUfootball) December 18, 2022
Bart Oates Blockers of the Game: Heimuli, Freeland, LaChance, Barrington, Pay, and Suamataia.
Sound clip from the @KSLSportsZone on @BYUfootball's bowl game win last night.

Told ya'll I'm gonna be insufferable… at least 'til the New Year then I'll be done. #MakeFullbacksGreatAgain 🏴‍☠️ https://t.co/4sLt1BPcR3 pic.twitter.com/hTO0HtsL55

— Hemā Heimuli Jr. (@x_hems) December 18, 2022
Connor Pay, Clark Barrington, Blake Freeland, Harris LaChance, Kingsley Sumataia, Houston Heimuli and the Cougars run blocking had their best season showing. They made their good blocks when they mattered the most. To keep drives alive and open holes for touchdowns. It didn't even matter that the Cougars didn't complete a pass in the second half. These guys paved the way for 209 yards and two touchdowns on 42 carries.
Luke Staley-Tyler Allgeier Rusher of the Game: Chris Brooks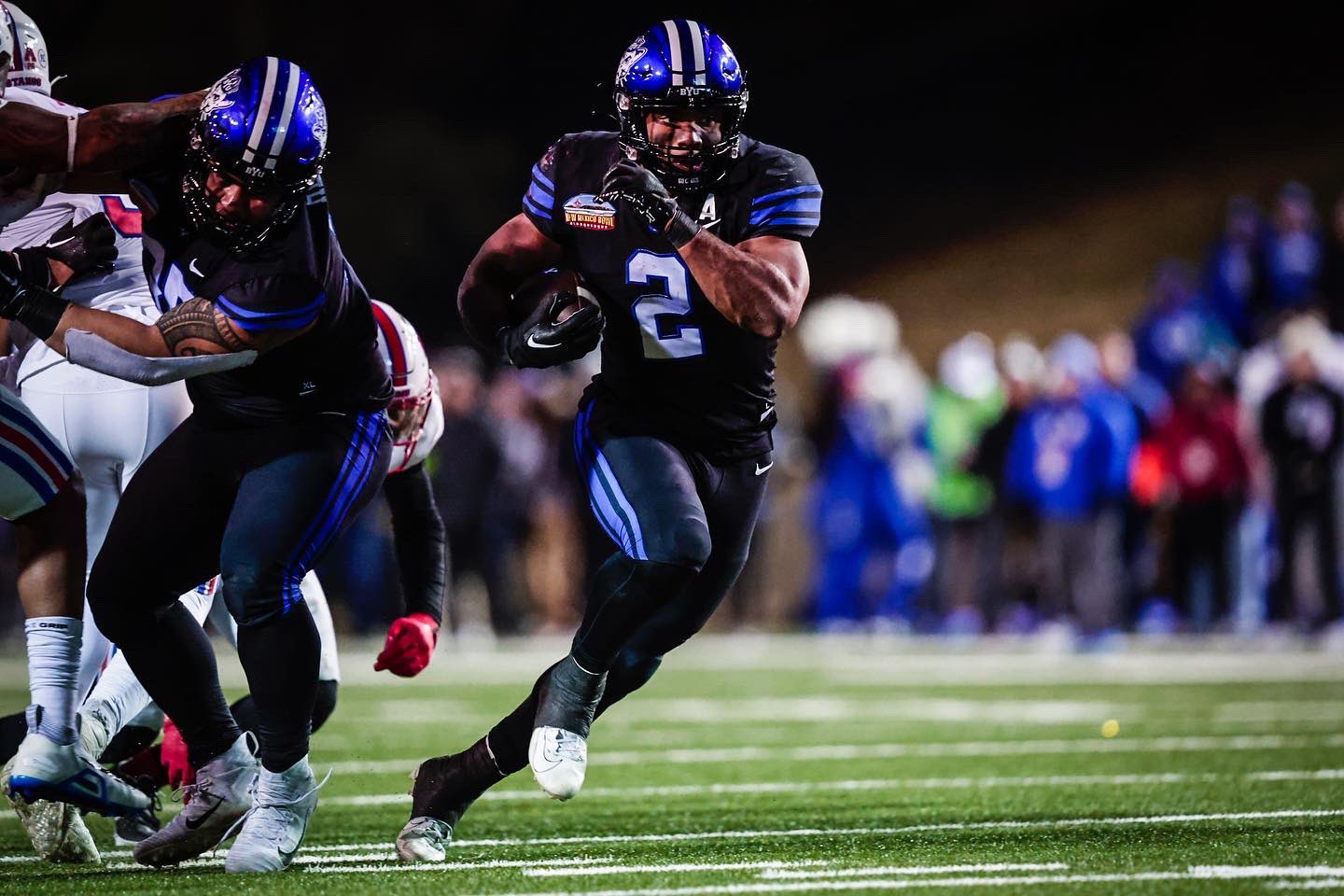 Sol-Jay Maiava-Peters running plays wouldn't have been there without Chris Brooks making the hard runs up the middle to keep the Mustangs defense honest and focused on him. Brooks ran harder as the game went on and finished with 19 carries for 88 yards and a touchdown. The Cougars leaned heavily on him on his scoring drive, running the ball on every play. His tough touchdown was the Harvey Unga-Jamaal Williams Run of the Game. 
BEAST MODE 😈 pic.twitter.com/C87sMNtEq0

— BYU FOOTBALL (@BYUfootball) December 18, 2022
Steve Young-Curtis Brown Dual Threat of the Game: Sol-Jay Maiava-Peters.
THE KEEPER!! pic.twitter.com/8xUvUd7JHW

— BYU FOOTBALL (@BYUfootball) December 18, 2022
Sol-Jay Maiava-Peters was most effective on the ground, but did just enough passing to keep SMU from loading the box and only defending the run. 7 of 12 for 47 yards isn't going to catch any attention but his 14 carries for 96 yards and a touchdown going with it was good for Maiava-Peters and enough to make him the Tanner Mangum Freshman of the Game.
John Beck Player of the Game: Sol-Jay Maiava-Peters
We already talked about what Maiava-Peters did but check out this run. He looked like another guy by the name of Taysom Hill. This was the game's most athletic play, and he looked just like Taysom Hill.
a little hurdle action @jay_4QB pic.twitter.com/AIVxZopqWv

— BYU FOOTBALL (@BYUfootball) December 18, 2022
Fred Warner Defensive Player of the Game: Ben Bywater
Bywater had 11 tackles to go along with his Kai Nacua Pick Six of the Game. With Pili and Tooley both out of this game, Bywater stepped up in a tremendous way that made the difference in the game for the Cougars.
Andrew George-Jonny Harline Game Winning Play: Jakob Robinson.
One on one.@jakobrobinson87 called game. pic.twitter.com/W31VjxZr3E

— BYU FOOTBALL (@BYUfootball) December 18, 2022
Jakob Robinson made a great open field tackle to preserve the lead and win the game for them. Robinson had nine tackles but none were bigger than stopping Tanner Mordecai from getting into the end zone. Robinson is 5'11" and 165 pounds and Tanner Mordecai is 6'3″ and 214 pounds and has two rushing touchdowns to his name in 2022. Robinson was able to stop him short of the goal line for the win in a tremendous tackle showing the Heart of a Mountain Lion.
Adieu, 2022!
The 3 worst things about football:
1. Injuries
2. The offseason
3. When a season ends.
2022 was an up-and-down year for #BYU but how they were able to pull themselves out of the mire and win 4 straight at the end unconventionally, looks good for 2023, year one in the Big 12. https://t.co/FreoAMyduT

— Phillip Riggs (@phillipriggs85) December 18, 2022
Rise and Shout Again: Big 12
👋 @Big12Conference pic.twitter.com/K7OJhCAaYh

— BYU FOOTBALL (@BYUfootball) December 18, 2022
When the dust settles more I'll follow this up with a look at 2022 and how that will affect the Cougars heading into the Big 12 and in 2023. It had its ups and it's downs but once again BYU games brought me more happiness than heartache this season. Rise and Shout! Goooooo Cougars!!!
Thanks for reading! Give me a follow on Twitter and Facebook!
Read about all the Cougars games this season!