BYU Game 11 View from the Midwest – BYU vs Utah Tech
For those of you who are first-time readers, welcome! Here is a link explaining my process of how I recap BYU games while paying respect to the rich historical tradition of the BYU Cougars I love.
Jaren Hall the Spanish Fork Sharpshooter was the John Beck Player of the Game.
Jaren Hall was what you would expect him to be and more against Utah Tech. I expected about 350 yards and four total touchdowns. He went above and beyond with 469 total yards and six total touchdowns. All of his five touchdown passes were good enough to be the Jim McMahon Throw of the Game. I also love that he was willing to run a little. You don't want your quarterback having too many carries and getting banged up, but a few that are just enough to be one more problem for a defense are great and that's what made Hall the Steve Young-Curtis Brown Dual Threat of the Game.
Hall had a fantastic game, going 23 of 35 for 456 yards and five touchdowns passing while adding 13 yards and a touchdown rushing. It was a great performance in what I think was a going-away gift to BYU Nation and LaVell Edwards Stadium. I don't have any "insider information," but I think Hall will declare for the draft. On the year he is 241 of 365 for 3,078 yards and 29 touchdowns passing with only six interceptions. He's added 75 carries for 277 yards and two touchdowns on the ground. In his four seasons at BYU, he is 461 of 707 for 6,081 yards and 50 touchdowns with only 11 interceptions. He has 170 carries for 727 yards and eight touchdowns.
Another look at that @jarenhall3 TD. pic.twitter.com/KkAaESooKN

— BYU FOOTBALL (@BYUfootball) November 19, 2022
Austin Collie Receiver of the Game: Keanu Hill
Keanu Hill had just as great of a game as Jaren Hall did. They had three touchdown connections in the game! Hill had 6 catches for 137 yards and three touchdowns. Hill had been a bit quiet after a good start to the season. On the year Keanu Hill has 35 catches for 570 yards and seven yards.
Hill has had an interesting journey this year. In the first five games this season Hill had 16 catches for 329 yards and four touchdowns. In the next five though he fell off the radar with 13 catches for only 104 yards and no touchdowns. His massive bounce-back game not only makes him the receiver of the game but the Loyal, Strong, and True Bounce Back Player of the Game.
that's two thus far. pic.twitter.com/4ABc4v9bcy

— BYU FOOTBALL (@BYUfootball) November 19, 2022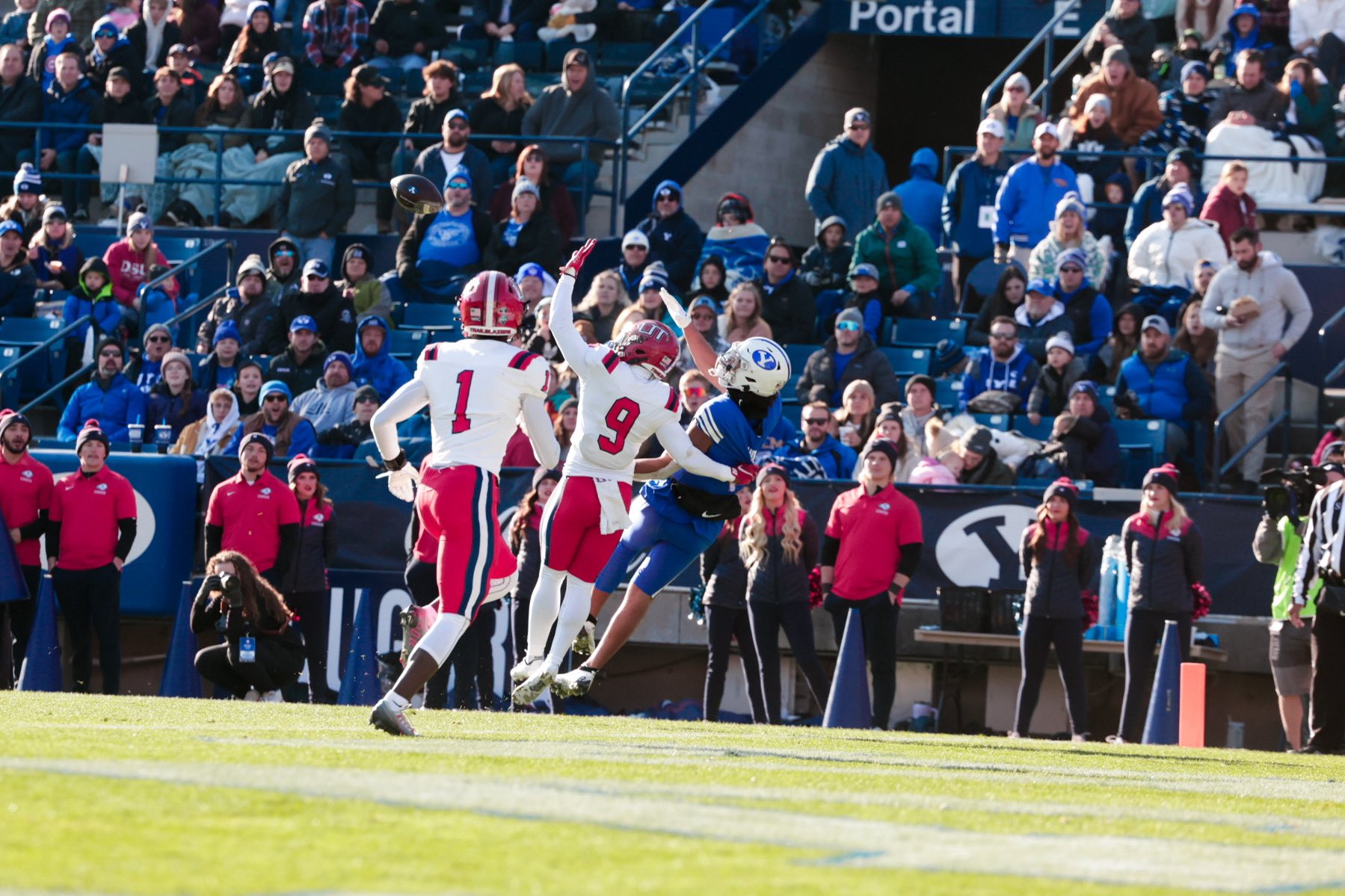 ALL THE WAY🏁 pic.twitter.com/6nBB71sQXy

— BYU FOOTBALL (@BYUfootball) November 19, 2022
Luke Staley-Tyler Allgeier Rusher of the Game: Chris Brooks
Brooks had 12 carries for 102 yards. I felt like BYU had the better approach to this game than in many others this year. It seemed like they passed to open up the run and led by Brooks the running game had a good outing too. The team had 41 carries for 220 yards and two touchdowns. On the year Brooks has 88 carries for 565 yards and five touchdowns. It really feels like BYU's passing game can open up the running game but it seems the team struggles the most when they try to do it the other way around.
Payne Brothers Special Teams Player of the Game: Hobbs Nyberg
I wanted to give Nyberg a shout out as he has been solid this season and a little unsung. The most recent in-game picture I could find was from two years ago but Nyberg played well in the home finale. He had seven kick and punt returns for 115 yards and no turnovers. On the year has 25 returns for 451 yards.
Dennis Pitta TE Play of the Game: Isaac Rex
There has been a lot of hoopla about BYU's use of tight ends this year and it was great to see Isaac Rex have a good catch, run, and diving touchdown. Rex had four catches for 60 yards and the already-mentioned touchdown. Rex has 19 catches for 249 yards and four touchdowns on the season. He is a very good tight end and should be utilized more because he creates mismatches.
32 YARD TOUCHDOWN!!

Cougs lead 42-20. pic.twitter.com/WrwY05QyFT

— BYU FOOTBALL (@BYUfootball) November 19, 2022
Kai Nacua Pick of the Game: Jakob Robinson
Robinson did something that is a must in the NFL yet is very often not seen in college football and that is he looked back for the football to make a play on it, and he made a big play in forcing the interception. Robinson is a redshirt sophomore transfer from Utah State who is doing a lot of growing as a player and will be leaned on more in BYU's final two games and next season. This was his first interception of the year with 35 tackles and five passed defended.
INTERCEPTION JACOB ROBINSON ‼️ 🔁#BYUSN pic.twitter.com/wmPEjddbQa

— BYU Sports Nation (@BYUSportsNation) November 19, 2022
Zach Wilson Freshmen of the Game: Chase Roberts and Terence Fall
IN STRIDE 💨@jarenhall3 🤜🤛 @chase_roberts11 pic.twitter.com/SM3MAZRURK

— BYU FOOTBALL (@BYUfootball) November 19, 2022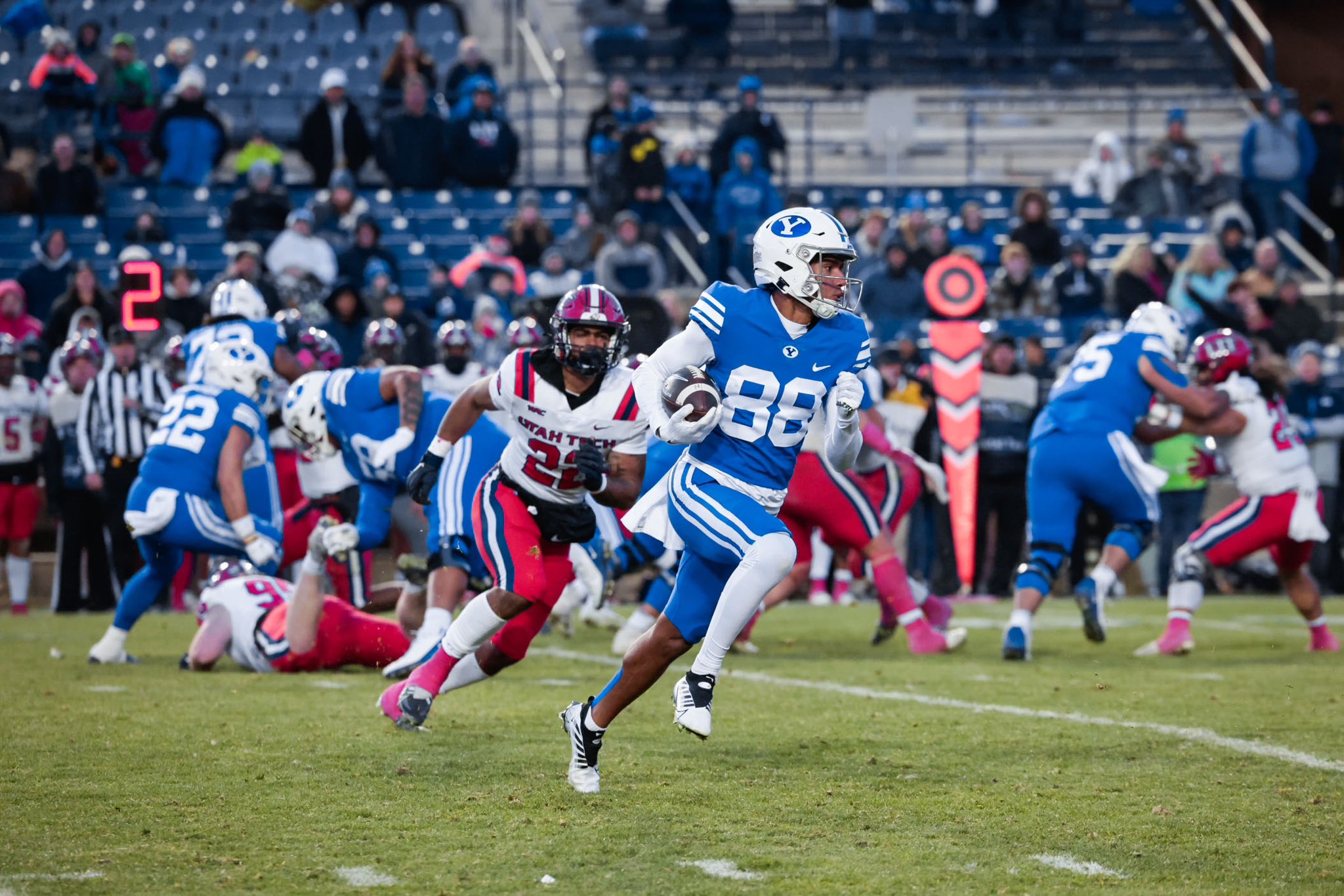 HOUSE CALL @TerenceFall 🏠 pic.twitter.com/tv4KXjWNdd

— BYU FOOTBALL (@BYUfootball) November 20, 2022
The Cougars' deepest position looks like it is their receivers. Freshman Chase Roberts and Terence Fall each had big touchdowns as seen above. Brayden Cosper, Chase Roberts, Keanu Hill, Terence Fall, Puka Nacua, Hobbs Nyburg, Gunner Romney, and Kody Epps have all shown games of brilliance for the Cougars. Add in Isaac Rex and guys like Masen Wake and others out of the backfield and BYU should be a pass-first offense.
I know Coach Sitake's style is to be a physical run first offense with at best being pro-style in passing and being balanced, but maybe BYU needs to get back to their roots. Their offensive line play is better at pass blocking than run blocking, and Jaren Hall is as good as any Cougar quarterback in the last 30 years. It may be against Coach Sitake's preference and his identity but a good coach needs to go to what he has the pieces for, even if it isn't his style.
Resume Watch:
The Cougars are bowl-eligible and during that four-game losing streak, a bowl looked very doubtful. Finishing with a win at Stanford and a bowl victory would have BYU (from Coach to water boy, from box suites fans to cheap seats fans) feeling a lot better about the future of this program going into the Big 12 next season. I was among those wondering if big changes were going to be made first. I hope a win over Stanford, a bowl victory, and a four-game winning streak going into next year will have me eating a healthy plate of a crow before November ends.
Rise and Shout Again:
Stanford and a bowl remain. I heard some hope and joke that if they can beat Stanford they may meet Utah in a bowl game like the Las Vegas Bowl. While that would be fun, I'm not sure the Cougars could pull off a win like they did last year but if that were the match up and they did, that would make the five in 8-5 worth it. But first, chop the trees, and beat a Stanford team with nothing to lose, and playing their final game of the year.
Heart of a Lion: Jaren Hall and the 2022 BYU Cougars
I talked about Jaren Hall's season and career stats earlier and it can't be said enough how great he has been and what a good player he is. That has been the most frustrating part of this 6-5 season the Cougars are having. It feels like a bit of a waste of a season (and likely the final season) of a fantastic quarterback. With a quarterback throwing 29 touchdowns and over 3,000 yards in 11 games and only six interceptions, you should have a record of 9-2, not 6-5. After 11-1 in 2020 and 10-3 in 2021 and finally beating Utah, expectations are higher now.
They aren't just expectations really, they are what the culture has become at BYU. Winning seasons aren't good enough anymore. Nine to ten wins a year are. Even if the Cougars win their last two games, this season is still below what is acceptable with the culture of this program. BYU Nation and the players have embraced the higher standard and I believe the coaches have too, but they need that help from the administration.
BYU has built its program to be one of love and high character and quality football over the years and the school and administration need to commit now to achieving that next step with improvements everywhere they can make them. It's a good investment because as the old saying goes if you build it they will come. BYU already has a great and loyal fan base and it will only grow as they are allowed to grow going forward.
Thanks for reading! Give me a follow on Twitter and Facebook!
Read about all the BYU games so far this season!
For More Great Football Content
Follow us on Twitter at @GridironHeroics for more great content. We appreciate you taking time to read our articles. To interact more with our community and keep up to date on the latest in Football news, JOIN OUR FREE FACEBOOK GROUP by CLICKING HERE
Checkout our latest podcast!
[powerpress_playlist limit=1]