BYU Beats Utah Tech for the sixth win of the season beating the Trailblazers 52-26. This makes them bowl-eligible for the 11th time in 12 seasons as an independent school. With only two more games to go before becoming Big 12 next season. The final ride for many players at Lavell Edwards Stadium ends on a high note and also gives a proper send-off to so many seniors. The Cougars put up seven touchdowns yesterday those who put those touchdowns on the board are; Terrence Fall, Jaren Hall, Chase Roberts, Isaac Rex, and Keanu Hill put up three himself just in the first half.
Players with a Great Game
Chris Brooks
Brooks rushed for 102 yards on 12 attempts at the game yesterday for the Cougars. He hasn't played great all season but after yesterdays showing he is going to finish out his season being a productive running back for the Cougars.
Ben Bywater
Bywater has really been the leader of the defense all season he has just been doing it quietly. With only three tackles and one pass deflection yesterday he was still flying all over the field trying to help the Cougar defense out.
Keanu Hill
Hill caught 137 yards on six receptions for three touchdowns in the game. Brought some more life into the Cougar Offense as they were without Kody Epps.
Players who Stood Out
Hinckley Ropati
Ropati stepped in when BYU was without Davis and Brooks and has done a great job at proving he can be a great running back for years to come. He rushed for 43 yards on 16 attempts.
Hobbs Nyberg
Nyberg the Cougars kick returner had some nice returns yesterday and helped give BYU some great field position.
Jakob Robinson
Robinson had two tackles, two pass deflections, and one interception for the Cougar defense. He has come a long way this season and I see him being one of the guys the defense continues to look for when they need another leader.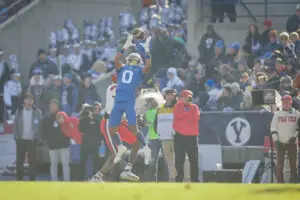 Players who Struggled
Lopini Katoa
Katoa had a hard last home game with just nine rushing yards and a fumble that was recovered by the defense.
Puka Nacua
Nacua was also quiet as he could have played his last home game at LES. He only had 53 receiving yards and 14 rushing yards with no touchdowns.
Kaleb Hayes
Hayes was quiet as he had two tackles, and one pass deflection when usually he is flying all over the ball with some of the other defenders.
Takeaways
Offense
The Offense started slow and then just woke up and couldn't be stopped from putting points on the board. Hall had another over the 400-yard game and the offense overall had over 600 yards on the field. This is finally turning in the right direction for BYU to win maybe one more game depending on who they play in a bowl game.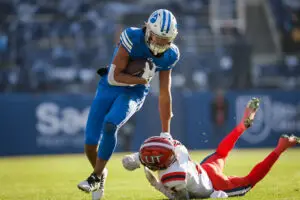 Defense
Without their leaders, the Cougar defense allowed 26 points and 340 yards but played a good game. After all their struggles and games to where they got run over this is one of their better ones this season. So look for some more guys to step up and learn and get ready for next year. With the move to the Big12, they will need to tremendously step up their game.