These power rankings will be all over the place after the craziness of this past week. To be honest, it was not a good week if you want a PAC 12 team in the college football playoff. There is only one real contender left that the committee would consider. They never show this league the love it deserves and it is my opinion that USC is out already, which is bullshit.
#1 UCLA
The only real playoff contender left in the PAC 12. That's not my opinion, that's just what history has shown. The PAC 12 doesn't get much love from the National Playoff Committee. I don't think they would take a one-loss PAC 12 team in the playoff unless a lot of other teams lose. I love how UCLA is running their high tempo offense efficiently and their defense is coming up with big stops at big times. DTR is a real Heisman contender even though Hendon Hooker is running away with it. While the running game with Charbonnet is running on all cylinders as well. If they can run the gauntlet, they're in the playoff.
#2 USC
First, let me start off by saying I'm a Notre Dame fan and I hate the boys from Troy. But I am an unbiased college football analyst and USC was robbed at Utah this past week by the refs. Terrible calls costing them valuable possessions. No excuses though, they should have won. I think Lincoln Riley will have the boys buzzin' the rest of the season and Caleb Williams really showed his leadership that entire game. I think this conference will come down to UCLA versus USC.
#3 Oregon
While I still can't get the Georgia game's taste out of my mouth, this team has looked pretty damn good after that game blowing out most opponents except for a Wazzou; but Pullman is tough to play at. A win there means something. We will see this week if Oregon is a real deal contender for the PAC 12 if they can knock off UCLA. But I believe Bo Nix will Bo Nix.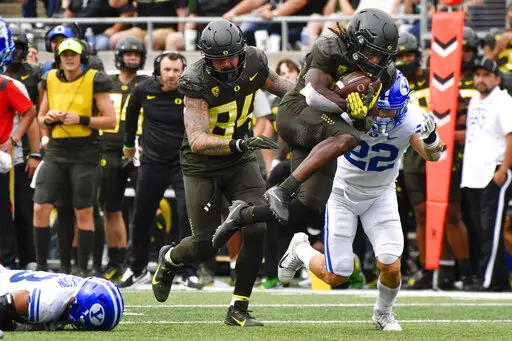 #4 Utah
If Utah played all their games at home they would be number one in everyone's power rankings. But good for everybody else, they have road games which they never win. Cam Rising somehow usually fumbles away or throws an interception to lose games on the road. I put them at 4 because nobody can win in Utah, but I think they're overrated.
#5 Oregon State
If they played the Utah game in Corvallis, they would have won. This is a gritty Beaver team who will take out a few more PAC 12 opponents and I believe will win the Civil War at the end versus Oregon. I want this team higher ranked in the power rankings but I have to keep integrity and they have to show it on the field.
#6 Washington State
Johnny, why the fuck do you have the 10th place team in the standings at number 6 in the power rankings? Well, because their only losses in the PAC 12 are to the teams right above them. They will beat every other team below them and Cam Ward is legit.
#7 Arizona State
Again, Johnny, this high in the power rankings? They're a 2-4 team. Yeah, but they lost to teams higher ranked in the PAC 12 and a good loss to Oklahoma State and they beat Washington; so they're better than them in the Power Rankings. I can't in good conscience put them ahead of them. Firing Herm was the best thing they ever did. Do I think they're a good team? I think they're average and they should win four more conference games. They're not great, though.
#8 Washington
You can't lose to Arizona State when they just fired their coach. You would be much higher ranked in the Power Rankings if you didn't do that. I actually think they're a good team and if they win out they'd be higher ranked. I just don't trust the Huskies.
#9 Cal, Colorado, Arizona, Stanford
Nobody cares. All these teams could probably beat Notre Dame, though, There's always next year. Y'all don't deserves pictures either.
I might be the smartest man in college football. If you watch the Spiked College Football Show and Units Only Go Up, you would know this. I tell you the truth, I'm unbiased. My Twitter feed will show that and so will my takes. These are the correct Power Rankings, and I'm the only one qualified to say that. If you don't like it, you have the Twitter handle. None of you are clever enough to change my mind anyway.
For More Great Football Content
Follow us on Twitter at @GridironHeroics for more great content. We appreciate you taking time to read our articles. To interact more with our community and keep up to date on the latest in Football news, JOIN OUR FREE FACEBOOK GROUP by CLICKING HERE
Checkout our latest podcast!
[powerpress_playlist limit=1]