The Dallas Cowboys revealed one major injury after practice on Wednesday. The Cowboys released their Week 2 injury report after their first practice as the team prepares for the New York Jets.
The Dallas Cowboys listed Brandin Cooks as a DNP on Wednesday
One wide receiver was labeled by Dallas media as a surprise name to show up on the report. According to Ian Rapoport, wide receiver Brandin Cooks did not participate in practice Wednesday due to a knee injury.
Two important injuries to watch:
— #Giants LT Andrew Thomas (hamstring) did not participate in practice.
— #Cowboys WR Brandin Cooks (knee) did not participate.

— Ian Rapoport (@RapSheet) September 13, 2023
LP Cruz, with Blogging With the Boyz, considered Cooks' injury as a surprise, as the Cowboys did not report the injury after their Week 1 blowout of the New York Giants:
"Wide receiver Brandin Cooks was a surprise DNP as he was withheld from practice with a knee injury. This is a surprise considering the Cowboys didn't have any new injuries to report following their game against the New York Giants."
Cooks didn't have a major role in the Cowboys' 40-0 win over the Giants. But he and the passing game weren't needed after the Cowboys scored their first two touchdowns on defense and special teams. Cooks finished the game as the Cowboys second-leading receiver with 22 yards on two catches.
The Cowboys might need Cooks to have a larger role in the offense against an elite New York Jets defense with Sauce Gardner in the secondary.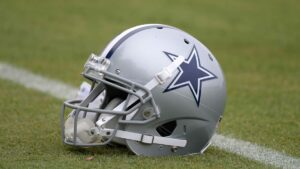 For More Football News:
Follow me on Twitter at @JordanSig. You can also reach out to Jordan Sigler via email at jordanmsigler@gmail.com. To read more of our articles and keep up to date on the latest in college and NFL news, click here!