Big Ten Players of the Week – Week 12
Author's Note: These are not the official Big Ten Players of the Week, but my Big Ten Players of the Week as a writer for Gridiron Heroics.
Offensive Player of the Week:
Dallan Hayden, Ohio State, Running Back, Freshman
Dallan Hayden bailed the Buckeyes out in a big way against Maryland. The Ohio State offense was stagnant until he came in and took over in the second half. Hayden had 27 carries for 146 yards and three touchdowns. With all their other running backs banged up, Hayden found lanes and ran hard for Ohio State. If they want to beat Michigan, they should go with Hayden from the start of the game.
Defensive Player of the Week:
Zach Harrison, Ohio State, Defensive End, Senior.
Another Buckeye who no one but fans knew about saved the day for Ohio State. Zach Harrison had five tackles two sacks and 2.5 tackles for a loss. Both of his sacks came on back-to-back plays as Maryland had the ball, down six points and ready to rock. Harrison's second sack jarred the ball loose and it was recovered and taken to the end zone by Buckeye linebacker Steele Chambers to seal the win, 43-30.
Special Teams Player of the Week:
Jaylin Lucas, Indiana, Running Back, Freshman.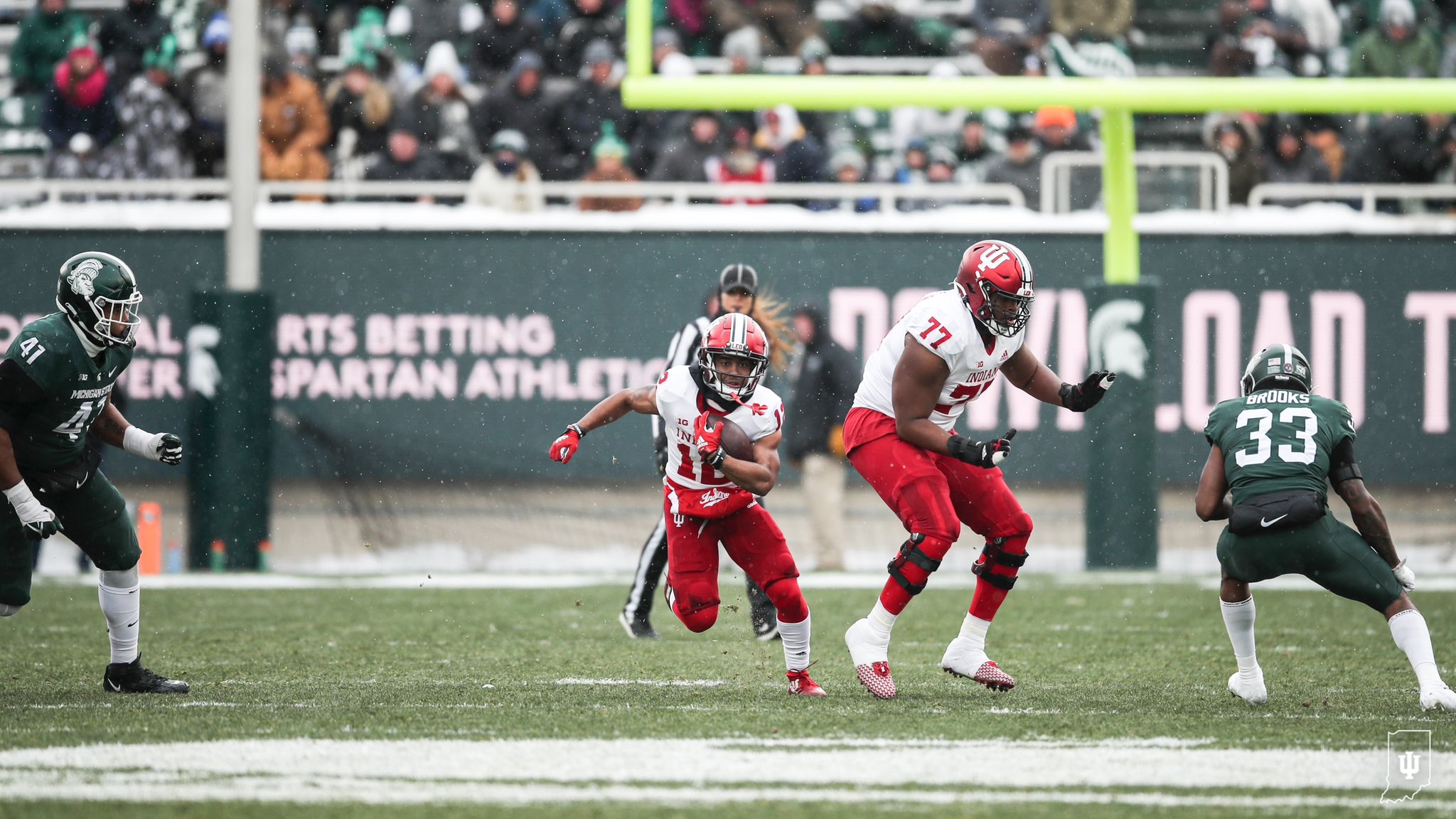 Lucas had 9 touches for 192 total yards including an 88-yard kick return for a touchdown. The speedster from Louisiana gave the Hoosiers a much needed boost in their double overtime win over rival Michigan State.
Honorable Mention:
Mohammed Ibrahim, Minnesota, Running Back, Junior.
Ibrahim and the Gophers fell to the Hawkeyes 13-10 but none of that blame can be laid at Ibrahim's feet. He had 39 carries for 263 yards and a touchdown in the loss.
Blake Corum, Michigan, Running Back, Junior.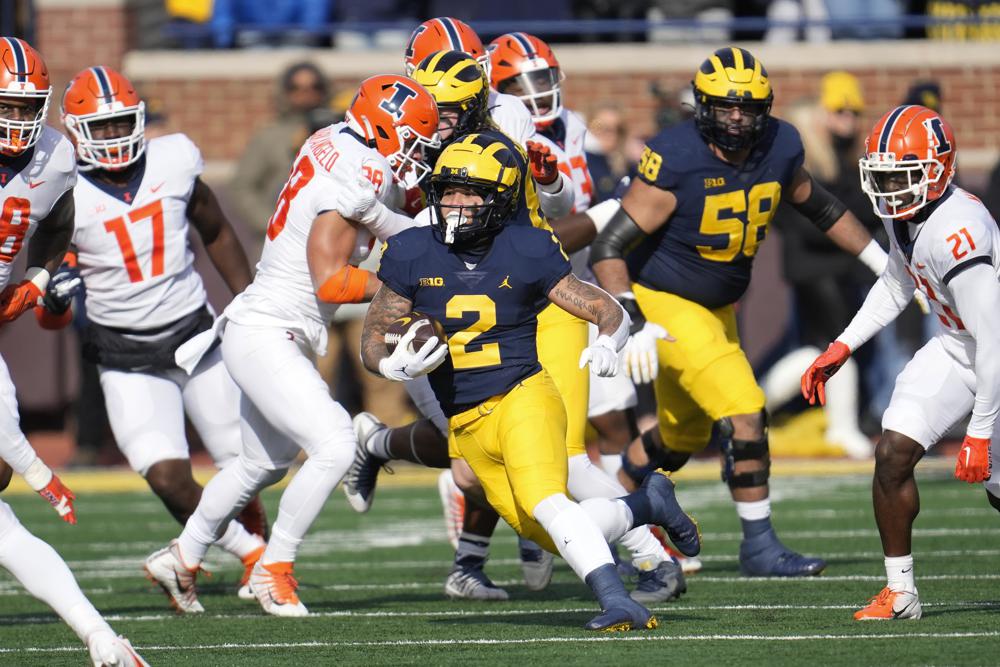 Corum was having a great game until he had to leave with injury near halftime. He had 18 carries for 108 yards and a touchdown and two catches for 41 yards before he took a blow to his knee and missed the rest of the Wolverines 19-17 victory over Illinois.
Nicholas Singleton, Penn State, Running Back, Freshman.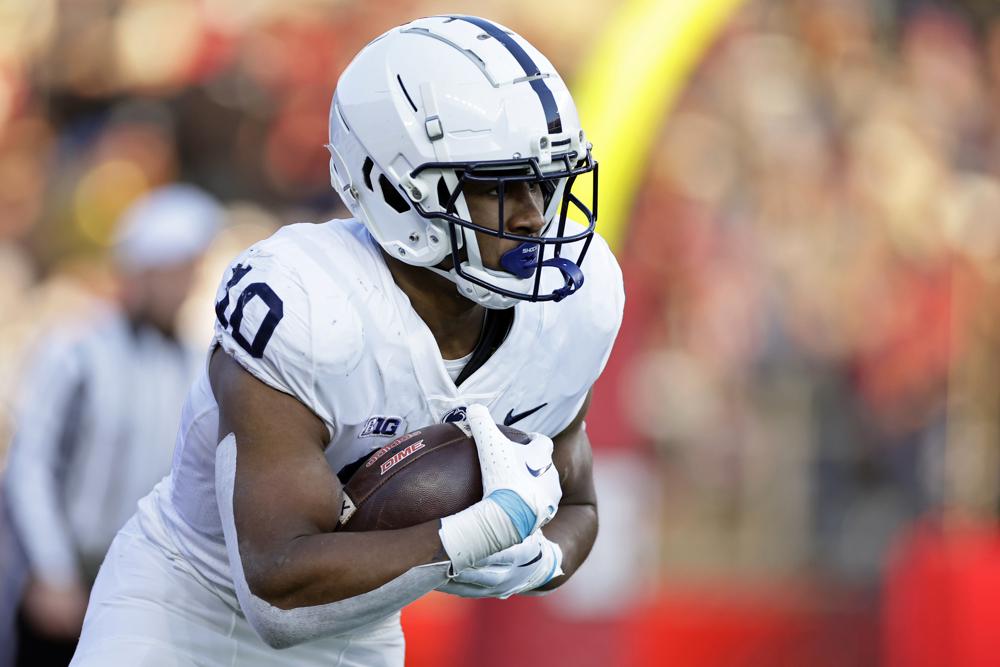 Singleton had 10 touches for 168 yards including a 100-yard kick return. He did have a fumble that didn't end up hurting his team in the end but made Jaylin Lucas Special Teams Player of the Week. This young man is following in the footsteps of Penn State greats Saquon Barkley and Mile Sanders and has meant a ton to the Penn State offense this year.
Big Ten Player of the Year Watch: 
C.J. Stroud, Ohio State, Quarterback, Junior.

Stroud and Corum are still the two leaders in this race because of how well their teams are doing, but whoever has a better game Saturday will be the Big Ten Player of the Year. Stroud has the advantage of being a quarterback because let's face it, they get the advantage over running backs as far as awards go. Stroud is 204 for 307 for 2,991 yards and 35 touchdowns on the year for the Buckeyes. He'll need a big game to get the Buckeyes to 12-0.

Blake Corum, Michigan, Running Back, Junior.

Michigan running back Blake Corum (2) runs the ball as Illinois defensive back Xavier Scott (14) defends in the first half of an NCAA college football game in Ann Arbor, Mich., Saturday, Nov. 19, 2022. (AP Photo/Paul Sancya)

As of this writing there is no update to severity of Corum's injury. He of course would take a hit in the individual awards but it could be an impact felt across the nation in college football. Corum is an elite running back. His numbers do not lie. He has 245 carries for 1,457 yards and 19 total touchdowns. He is third in the nation in rushing behind only Chase Brown and Mohammed Ibrahim.

Chase Brown, Illinois, Running Back, Junior.

Chase Brown gets it done on the ground again. (Photo by Illinois Athletics)

Brown is a record setter for Illinois. He set a school record with his 10th 100-yard game of the season. He tied a school record with 16 100-yard games in his career and he is still leading the nation in rushing yards with 1,582 yards rushing. He has 12 total touchdowns and about 200 receiving yards to go along with his rushing attack. An Illinois legend is playing tough every week.

Mohammed Ibrahim, Minnesota, Running Back, Senior.

Ibrahim runs against Iowa. (Photo by Minnesota Athletics)

Another great running back in the Big Ten. Ibrahim has 19 straight games with over 100 yards and has 277 carries for 1,524 yards and 19 touchdowns, a school record, all while missing a game this season. Minnesota has had it's share of problems but a running back ain't one.

Marvin Harrison Jr., Ohio State, Wide Receiver, Sophomore.

Marvin Harrison Jr. makes another catch with a defender all over him. (Photo by Kyle Robertson/Columbus Dispatch)

Harrison was supposed to have Jaxon Smith-Njigba play with him this year and to see Harrison's numbers you would think JSN was playing and taking coverage away from Marvin Harrison Jr. The opposite is actually happening with teams focusing on Harrison with JSN out with injury. Still he has 65 catches for 1,037 yards and 11 touchdowns this season. He'll need a game with at least 100 yards and at least one touchdown for the Buckeyes to win The Game.
Thanks for reading and don't forget to check out which Big Ten players are making noise in the race for the Heisman. Also, check out here to see the official Big Ten Players of the Week and compare them! Give me a follow on Twitter and Facebook!
Check out my Big Ten Players of the Week so far this season!
For More Great Football Content
Follow us on Twitter at @GridironHeroics for more great content. We appreciate you taking time to read our articles. To interact more with our community and keep up to date on the latest in Football news, JOIN OUR FREE FACEBOOK GROUP by CLICKING HERE
Checkout our latest podcast!
[powerpress_playlist limit=1]