Author's Note: These are not the official Big Ten Players of the Week, but my Big Ten Players of the Week as a writer for Gridiron Heroics.
Big Ten Players of the Week – Week 10
Big Ten Players of the Week
Offensive Player of the Week:
Kaleb Johnson, Iowa, Running Back, Freshman.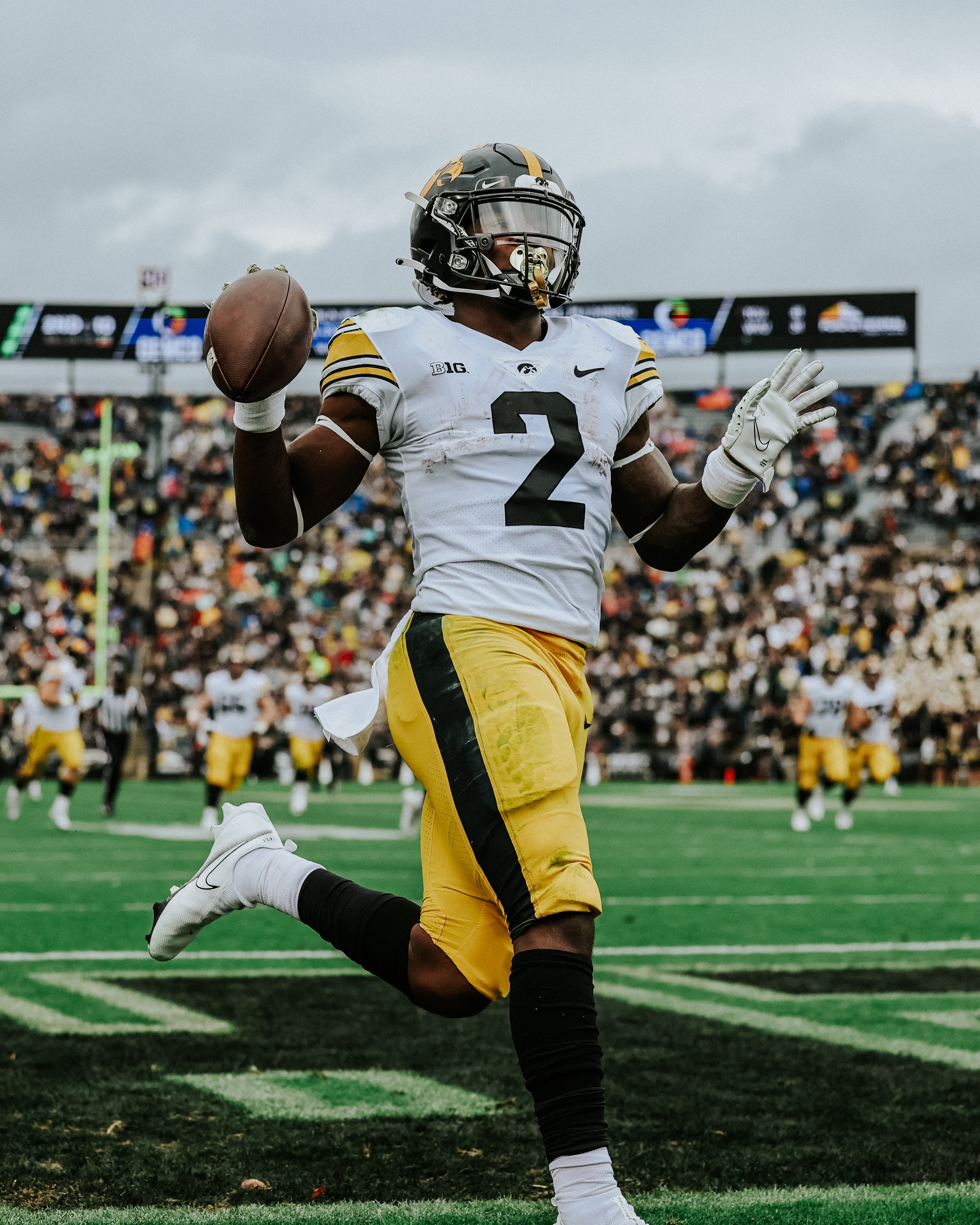 The freshman from Hamilton, Ohio, and Butler County, Ohio's own had a fantastic game for the Hawkeyes. He had 22 carries for 200 yards and a touchdown rushing and had a pair of catches for 17 yards receiving. He is the brightest spot of light the Hawkeyes have had offensively all season.
Defensive Player of the Week:
Michael Barrett, Michigan, Linebacker, Senior.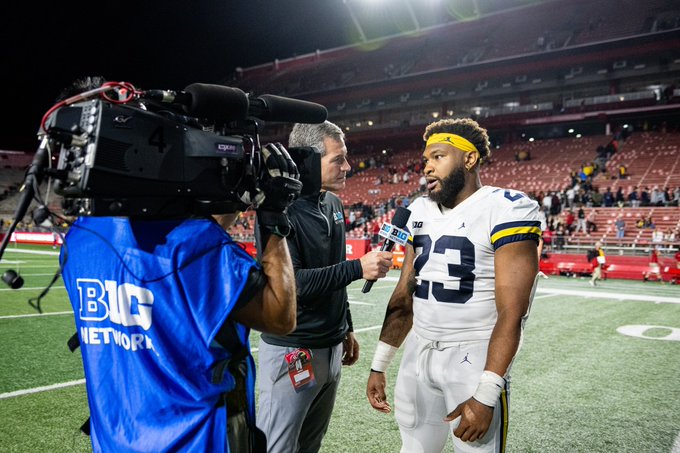 The senior from Valdosta, Georgia had four tackles and two interceptions, one of which he returned for a touchdown in the Wolverines' blowout win, 52-17, over Rutgers.
Special Teams Player of the Week:
Jesse Mirco, Ohio State, Punter, Sophomore.
Jesse Mirco had a very good game for Ohio State in one of the craziest weather games you'll see for a long time. With sustained winds of up to 50 miles per hour, the forward pass was almost completely grounded, which led to an old-school run, run, run, and punt Big Ten game. Mirco had seven punts for 352 yards, averaging 50.3 yards per punt, netting 41.7 per punt, and pinning Northwestern inside their own 20, twice.
Honorable Mention:
Mohammed Ibrahim, Minnesota, Running Back, Senior.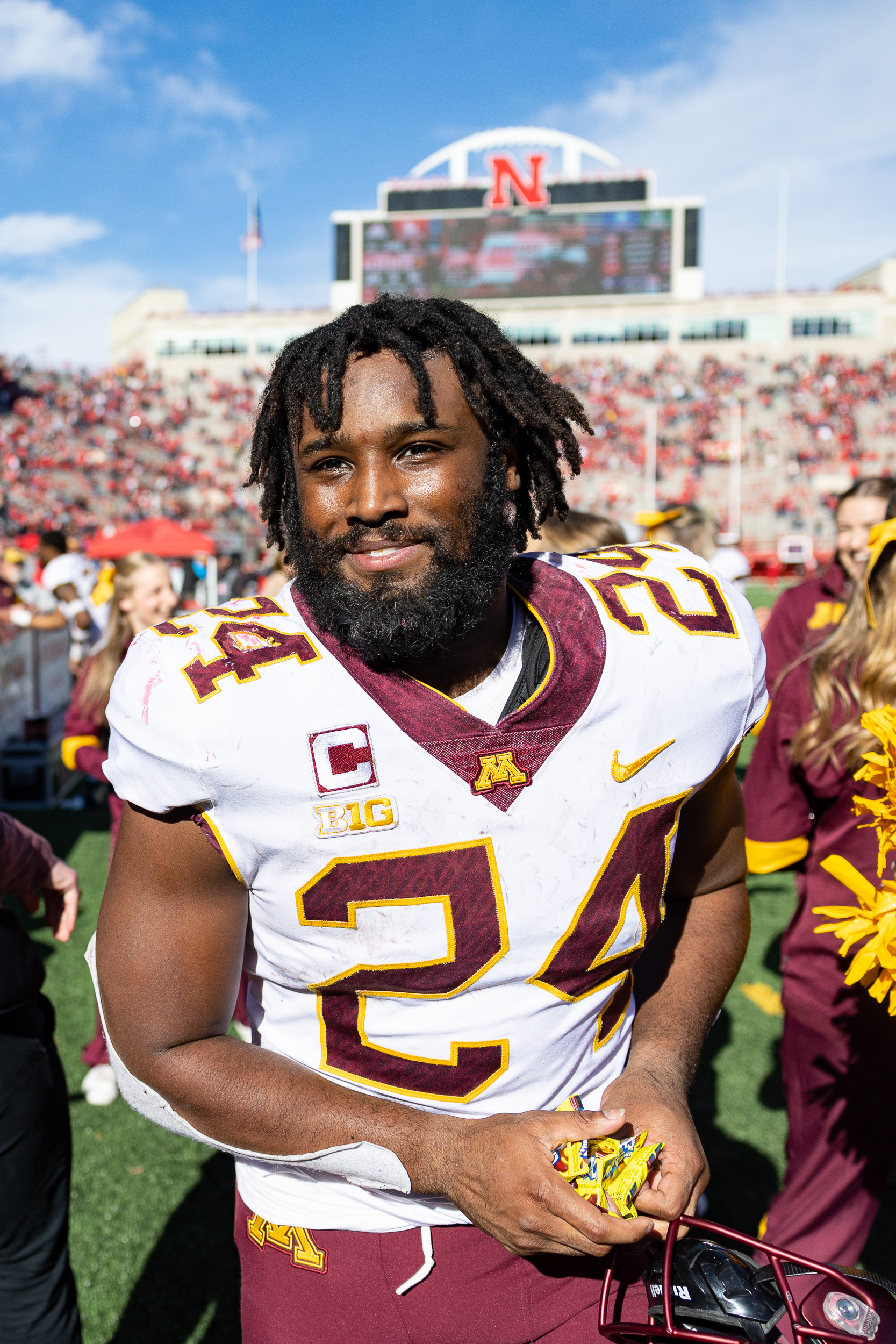 Another game and another minimum of 100 yards and a touchdown for Mohammed Ibrahim. Ibrahim had 32 carries for 128 yards and two touchdowns in Minnesota's 20-13 win over Nebraska.
Miyan Williams, Ohio State, Running Back, Junior.
Miyan Williams was the lone bright spot for the Buckeyes on this dreary day. Williams had 26 carries for 111 yards and two touchdowns in the grind-it-out win in the wild wind for Ohio State.
Big Ten Player of the Year Watch: 
Blake Corum, TTUN, Running Back, Junior.

Blake Corum fights his way toward the end zone. (Photo by Michigan Athletics)

Corum has 199 carries for 1,187 yards and 17 total touchdowns for the Wolverines on the season. He's been the most consistent and most dominant player in the Big Ten this year to this point.

C.J. Stroud, Ohio State, Quarterback, Junior.

Stroud rushes the football. (David Banks-USA TODAY Sports)

Stroud had his first game as a starter without a touchdown. It wasn't his fault. Peyton Manning couldn't have had his game go on the same with those winds. But the game did happen and even though Stroud was crucial to his team winning and no one could have done better, it was a tough enough game to allow Corum to jump him. For now.

Chase Brown, Illinois, Running Back, Junior.

Chase Brown (2) of the Fighting Illini of Illinois. (Photo by Illinois Athletics)

Chase Brown might have hopped Stroud after his bad day had he not had one himself. He had 136 yards on 33 carries but had a fumble in the close loss to Michigan State. Still, with Illinois in control of their own destiny in the Wild Big Ten West, Brown is still in the thick of being the Big Ten's best player. On the season he has 257 carries for 1,344 yards and eight total touchdowns.

Mohammed Ibrahim, Minnesota, Running Back, Senior.

Mohammed Ibrahim. (Photo by Minnesota Athletics)

Ibrahim's steadiness in every game he's played for the Gophers is what has him on this list. On the season he has 202 carries for 1,083 yards and 15 touchdowns. Averaging 135 yards and nearly two touchdowns a game.

Tommy Eichenberg, Ohio State, Linebacker, Senior.

Tommy Eichenberg stuffs Evan Hull. (Photo by Adam Cairns-The Columbus Dispatch)

Tommy Eichenberg had 13 tackles on the day (10 solo) and a tackle for a loss in the Buckeyes' win over Northwestern. On the season he has 85 tackles, eight tackles for a loss, 2.5 sacks, four quarterback hurries, two passes broken up, and an interception returned for a touchdown.
Thanks for reading and don't forget to check out which Big Ten players are making noise in the race for the Heisman. Also, check out here to see the official Big Ten Players of the Week and compare them! Give me a follow on Twitter and Facebook!
Check out my Big Ten Players of the Week so far this season!
For More Great Football Content
Follow us on Twitter at @GridironHeroics for more great content. We appreciate you taking time to read our articles. To interact more with our community and keep up to date on the latest in Football news, JOIN OUR FREE FACEBOOK GROUP by CLICKING HERE
Checkout our latest podcast!
[powerpress_playlist limit=1]