A magical season of Illinois football is winding down to an end. That means it's Big Ten Awards season — Big Ten media and Coaches vote on players of the year at each position, coach of the year, and All-Big Ten honors and the Fighting Illini cleaned house this year.
All-in-all, 19 players brought home all-conference awards, the most in program history. A season that was for the record books led by the second best defense in the country was rewarded this week with B1G time hardware. In coach Bielema's two years he has developed a total of 31 Big Ten Honorees – the most ever in a two year span according to Illini sports info. The record-setting amount of accolades will be a great recruiting tool used by Bret Bielema and Co.
Big Ten Awards – Defense
First Team – Defense:
CB Devon Witherspoon – "Spoon" led the nation in forced incompletions while allowing zero touchdowns in coverage this season according to PFF. The senior cornerback gave up no more than 35 yards while in coverage against the opposing team's number one receiver in 11 games this season. His three interceptions (two in the season finale against Northwestern) rank 35th in FBS. PFF graded out Witherspoon as number one in the country among all power-five cornerbacks.
Witherspoon, who was named honorable mention last season has plenty to add to the trophy case this year. First-Team All-Big Ten, Illiinois' first Jim Thorpe Award finalist, and the school's first Tatum-Woodson Award winner (Defensive Back of the Year). Quite the banner season for the Fighting Illini's lockdown corner that should figure to raise his draft stock.
Witherspoon projects to be selected in the first three rounds of the 2023 NFL Draft and a handful of networks have him as high as a first round draft pick. That would be the first Illini to be selected in the first round since Whitney Mercilus (26th overall) and A.J. Jenkins (30th overall) in 2012. Incredible testament to the Illinois coaching staff for finding and developing a zero-star recruit that signed just six days before camp started in 2019 into the nation's top corner.
DL Johnny Newton  – The 6-2, 295lb defensive tackle led the team in tackles for loss (13) and sacks (5.5) in 2022 leading him to receive first-team honors in the Big Ten and PFF's All-American first team. Newton is a force to be reckoned with and was the anchor of a formidable defensive front that was second in the nation in points allowed and third in total yards allowed in 2022.
The former three-star recruit out of Clearwater Central Catholic is PFF's ninth graded defensive player in the country and led all of college football with 10 QB hits and his 50 pressures were good for fourth. Weighing in around 300lbs, Newton has incredible strength and explosiveness — which shouldn't come as a surprise considering he played some running back in high school.
S Sydney Brown – The Senior safety from Ontario, Canada is tied for the national lead in interceptions with six on the season. Brown had two games this season in which he recorded two interceptions, the last of which in the season finale against Northwestern he became the first player in over a decade to record two interceptions, an INT returned for a touchdown, and a fumble recovery for a td in the same game.
Mid-season Sydney Brown received a fifth or sixth round draft grade by DraftScout. I imagine his stock will be going up after his explosive second half of the 2022 campaign. He will have a bowl game and the Reese's Senior Bowl to give scouts the last bit of game film before the offseason.
Second Team – Defense:
CB Quan Martin – Tallying three interceptions on the season and 14 pass defenses, Martin was an integral key to the Illini's success on the back end of their defense. Much like his fellow secondary members he had a nose for the ball and found himself in the right place at the right time more often than not. As well as his coverage skills, the DB was one of the top tackling corners in college football receiving the second highest tackle grade (90.9) among cornerbacks by PFF for the second consecutive year.
Another success story of a low-star recruit being flipped into a nationally recognized player. Martin, on top of being selected second-team all-Big Ten, was chosen to participate in the Reese's Senior Bowl alongside three other Illinois players, including Sydney Brown.
Third Team – Defense:
DL Keith Randolph – If a defender was snubbed, it was Keith. Fifth on the team in total tackles (51) and tied for second with 4.5 sacks, the sophomore had himself a year. The case could be made that at worst Keith should have been selected for second team honors. His 13 pressures this season are good for second in the Big Ten with one more game to go before the offseason kicks off.
Randolph is draft eligible after this year, but it remains to be seen if he will decide to stick around for another year. With Calvin Avery out of eligibility and Newton likely declaring for the draft after the season it would be beneficial for Illinois to have him hang around for another year and solidify himself, but that doesn't necessarily mean it would be as beneficial for himself.
Honorable Mention – Defense:
LB Gabe Jacas – Jacas finished 22nd in the Big Ten in sacks, recording 4.0 in his freshman campaign. His four sacks as a true freshman are second to only Simeon Rice (9.0) in Illinois history. The former three star recruit was selected for All-Big Ten Honorable Mention by the media.
LB Seth Coleman – Coleman was seventh on the team in total tackles (42) and tied for second in sacks with 4.5. The redshirt sophomore was voted by the media for All-Big Ten Honorable Mention.
LB Tarique Barnes – Barnes was eighth on the team in total tackles with 40, amassed 1.5 sacks, and two passes defended.  The Junior was a unanimous selection for All-Big Ten Honorable Mention.
LB Isaac Darkangelo – Darkangelo led the nation's second best defense in tackles with 67, including 29 in his final four games of the season. The former Division II standout captured a unanimous All-Big Ten Honorable Mention in his final year of eligibility.
S Kendall Smith –Smith was third in the Big Ten with four interceptions. The receiver turned standout safety was all over the field in his final year in Champaign totaling five passes defended and added 34 tackles — earning him a media selection for All-Big Ten Honorable Mention.
K Caleb Griffin – Griffin made 13 of his 17 field goal attempts this year and converted on all 31 extra point attempts. The Junior out of Danville, IL earned the coaches vote for All-Big Ten Honorable Mention.
Big Ten Awards – Offense
Second Team – Offense:
RB Chase Brown – Second in college football with 1,643 yards rushing, and third in all-purpose yards with 1,883 total yards (first in Big Ten in both categories) didn't seem to resonate with media or coaches of the Big Ten. The Doak Walker finalist was the odd-man out between himself, Michigan's Blake Corum, and Minnesota's Mo Ibrahim despite leading the Big Ten in all-purpose yards per game with 161.4ypg.
Leading all Power-five running backs with 27.3 carriers per game – Brown was Illinois' workhorse and no back was more vital to an offense's success than he was in 2022. With one game remaining, the twin brother of Sydney Brown should more than likely break the Illinois school record in single-season rushing yards (1,697) set by Mikel Leshoure in 2011.
Brown is a do-it-all running back — ranking fourth in the country in missed tackles (78) forced and fifth in yards after contact (935) according to PFF. His 1,238 rushing yards in Big Ten play was tops in the conference and was the first Big Ten running back to rush for 100+ yards in the first nine games of a season since Ezekiel Elliott in 2015 according to Illinois Stats and Info. Assuming he declares, the Ontario native projects to be a 2nd-3rd round pick in the 2023 NFL Draft.
C Alex Pihlstrom – The 2017 walkon started all 12 games at Center for the Fighting Illini this year. In his career Pihlstrom has played at every position across the offensive line, including a game at tight end his sophomore year. Projecting as a 7th round to High Priority Free Agent in the coming draft, no lineman will have a broader scope of knowledge across the line. Pihlstrom is just one of five Illinois offensive linemen to receive All-Big Ten honors.
T Alex Palczewski – The Big Ten's leader in most career games started (63) collected All-Big Ten honors for the second consecutive season (Honorable Mention in 2021). The Former No. 2 offensive tackle in the state of Illinois' choice to stay home paid off in a big way, becoming the fifth lineman to receive all-big ten honors and also is projected to be a Seventh round draft pick come April of 2023.
Palczewski would become the fifth lineman drafted since 2019, and coach Bret Bielema's third in two years (fourth if Pihlstrom gets the call).
Third Team – Offense
G Isaiah Adams – The Garden City Community College transfer made an immediate impact and solidified himself as one of the best guards in the Big Ten this year. Playing left guard majority of the year, he was given an opportunity to show his versatility sliding to left tackle in Julian Pearl's absence against Indiana.
It remains to be seen if Adams will declare after the season, but hope is in Champaign that he will stick around and anchor a young OL in 2023 with at least two others declaring for the NFL Draft.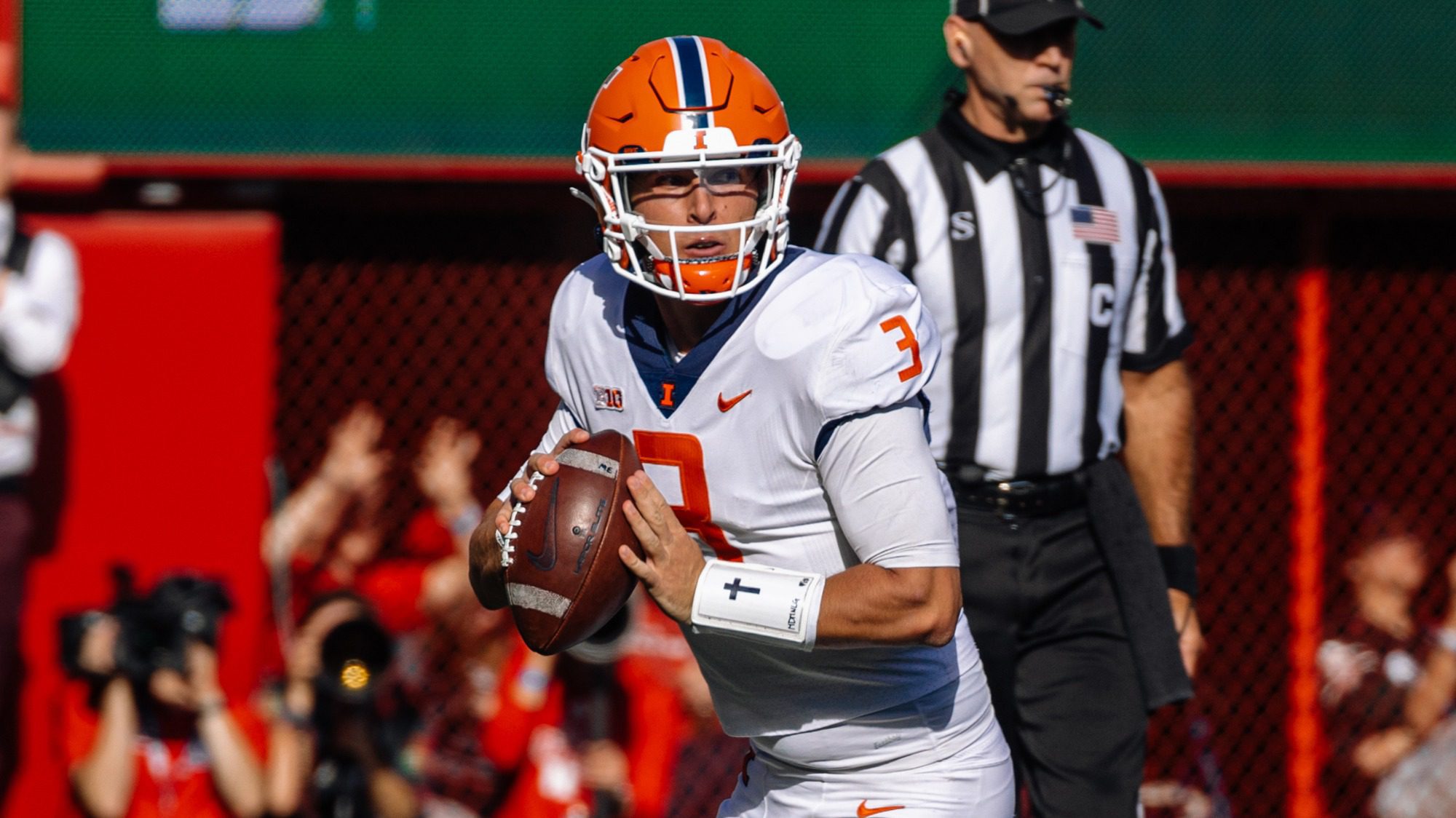 Honorable Mention – Offense
WR Isaiah Williams –Williams was the spark plug for Illinois' offense. His 539 yards after catch were good for third in the country among power five receivers. He ranked third in the Big Ten with 72 receptions. Out of his 595 receiving yards, only 56 yards were through the air – meaning 91% of his yardage came after the catch. The former quarterback's elite playmaking ability earned him unanimous selection for All-Big Ten Honorable Mention.
QB Tommy DeVito – DeVito proved to be the perfect signal caller for Bret Bielema's offense. The Syracuse transfer did exactly what was asked and more. Having one of the most efficient seasons in Illinois football history. His 69.9% completion percent ranks third in the country (first in Big Ten). DeVito threw the second fewest interceptions (four) in the conference behind only JJ McCarthy's two ints.
Illinois will be looking for their next Tommy in the transfer portal with so many underclassmen quarterbacks on the roster. There is a slight chance of DeVito possibly being granted another year of eligibility, but that is minimal at best. The New Jersey native will likely be testing the NFL waters this upcoming spring.
T Julian Pearl – Pearl started 11 of 12 regular season games in 2022 anchoring the blindside for quarterback Tommy DeVito. The Danville native has started in 22 games over the course of the past two seasons and earned a unanimous selection for All-Big Ten Honorable Mention.
G Zy Crisler – Last, but not least of the lengthy list of Illini earning Big Ten hardware this season; Crisler was the definition of consistency for Illinois this season. The highly touted JUCO recruit didn't disappoint helping clear the path for the Big Ten's leading rusher. Crisler was rounded out a offensive line group that saw all five positions take home All-Big Ten honors. Crisler was voted by Big Ten coaches for honorable mention.
Next Up
Illinois will find out what Bowl Game their magical season will culminate in on December 4th at 12pm Est on ESPN.
For More Great Football Content
Follow us on Twitter at @GridironHeroics for more great content. We appreciate you taking time to read our articles. To interact more with our community and keep up to date on the latest in Football news, JOIN OUR FREE FACEBOOK GROUP by CLICKING HERE
Checkout our latest podcast!
[powerpress_playlist limit=1]