Every week of college football is another week closer to the end of the season. It also means it is time for Monday's Big 12 Power Rankings. Each and every week SpikedJohnnyB has his power rankings out for the PAC 12, SEC, Big 10, Big 12 and ACC. The host of Spiked College Football Show and Units Only Go Up ranks every single power five team. Where did your team fall this week?
Big 12 Power Rankings: Title Contenders
#1 TCU
I am bending the knee finally to the Horn of Frogs. The Super Toads won me over finally and I can no longer deny their claim to the throne of the Big 12 power rankings. This team just wins games. Last week it was their defense shutting down a top 5 running game, while simultaneously shutting down a very dangerous air attack. There are no more words. This team is a team of destiny. Credit to me for admitting I was wrong.
#2 Kansas State
This team is the last hope to save the college playoff from allowing a team in TCU to go and get blown out. Kansas State can save the Horned Frogs from embarrassment by beating them in the Big 12 title game. I know I just admitted that TCU is the team of destiny, but they can't actually win a playoff game. Howard at QB had this team up 28-10 in the third quarter versus the Horned Frogs before going out with an injury. I think they do indeed beat TCU, even though I just admitted to bending the knee. I love the backstabbing in Game of Thrones and I just did it again to TCU. They will not go undefeated. Kansas State is just better.
Big 12 Power Rankings: Are They Good?
That was an embarrassing performance out of your offense last week. You couldn't run the ball or pass the ball. Although, your defense did play very well. Are you good? Is Ewers the guy, or is he hurt? This team is so Jeckyl and Hyde. From game to game you never know. I don't know, I think they deserve this spot still because of who they beat. But what do I know in this conference? I have been so off predicting who are the big boys in the Big 12 this year. Maybe because every team is really just 8-4 with different records.
#4 Baylor
I think this team is marginally better at this point in the season. I know they just were blown out to Kansas State. Most teams lose to them. Before that, though, they were on a three game winning streak. And this conference is the biggest pain in the ass week to week to power rank these freaking teams. I hope the Bears do the unthinkable and beat the crown holders, who I really don't like, but have to bend the knee to. Please Baylor, you will be on top of the Big 12 power rankings if you pull the upset. I promise that.
#5 Oklahoma State
I mean, maybe I should have them ahead of the Longhorns and Baylor in the Big 12 power rankings because they did beat them. I just really can't shake the Kansas State dismantling of this team a few weeks ago followed by a 20 point loss to Kansas the week after. Again, they are a good team sometimes, and sometimes they look terrible. They have just been trending down the last three weeks and power rankings are week to week.
#6 Texas Tech
The most perfect position in the middle. They are the most .500 team in the conference. They are always a tough game for everyone, and sometimes they win; sometimes they lose. But they always compete. It is literally win one week then lose the next and that is their whole season; like ping pong.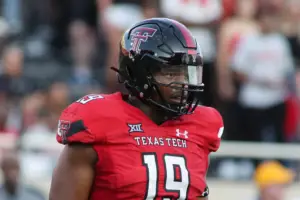 #7 Kansas
In year one Lance Leipold has Kansas relevant all year and bowl eligible. Yes, this past week was ugly. It happens. And now they get to make up for it again this week. Their season is already a success and they have been the story of the year besides TCU in the Big 12. Rock, Chalk, JayHawk, K…U.
Big 12 Power Rankings: Bad Teams
#8 West Virgina
I have been telling you for weeks, the only thing holding this team back is coaching. The talent is there in Morgantown, but coach Brown gets in his players' way. He is not the guy. The team won last week versus the Sooners despite him. With the new AD in this past week, a coaching change is coming and the Mountaineers will be at the top of the Big 12 power rankings next year. Great win for the players in that program.
#9 Oklahoma
Is Venables really the guy?
#10 Iowa State
Lost to Oklahoma. Is Matt Campbell really the guy, or is he leaving y'all for greener pastures?
Well there you go, college football fans, I have delivered yet another unbiased and spot on article of where these teams stand within their conference, Be sure to follow on Twitter and come hang out during the Spiked College Football podcast. Tell us your thoughts on all things college football and let us know who you're rooting for.
For More Great Football Content
Follow us on Twitter at @GridironHeroics for more great content. We appreciate you taking time to read our articles. To interact more with our community and keep up to date on the latest in Football news, JOIN OUR FREE FACEBOOK GROUP by CLICKING HERE
Checkout our latest podcast!
[powerpress_playlist limit=1]