Well this is a novelty. It's not often you get to head into week one of the college football season with some tape to watch. Normally, you're scraping around for how the previous season ended, particularly against an FCS opponent. But this year, things are different. Because Auburn's first opponent of 2022 – Mercer – have already played a game of football…
Week 0 is something of a new phenomenon for Saturday football. But it's growing. And Mercer helped raise the curtain on the 2022 CFB season last weekend, trouncing Morehead State 63-13. That impressive performance sees the Bears begin the year at #14 in the FCS rankings. And they head to Jordan-Hare this Saturday with their tails up. With that in mind, we break down what Auburn can expect from their first opponent of the year:
Pound The Rock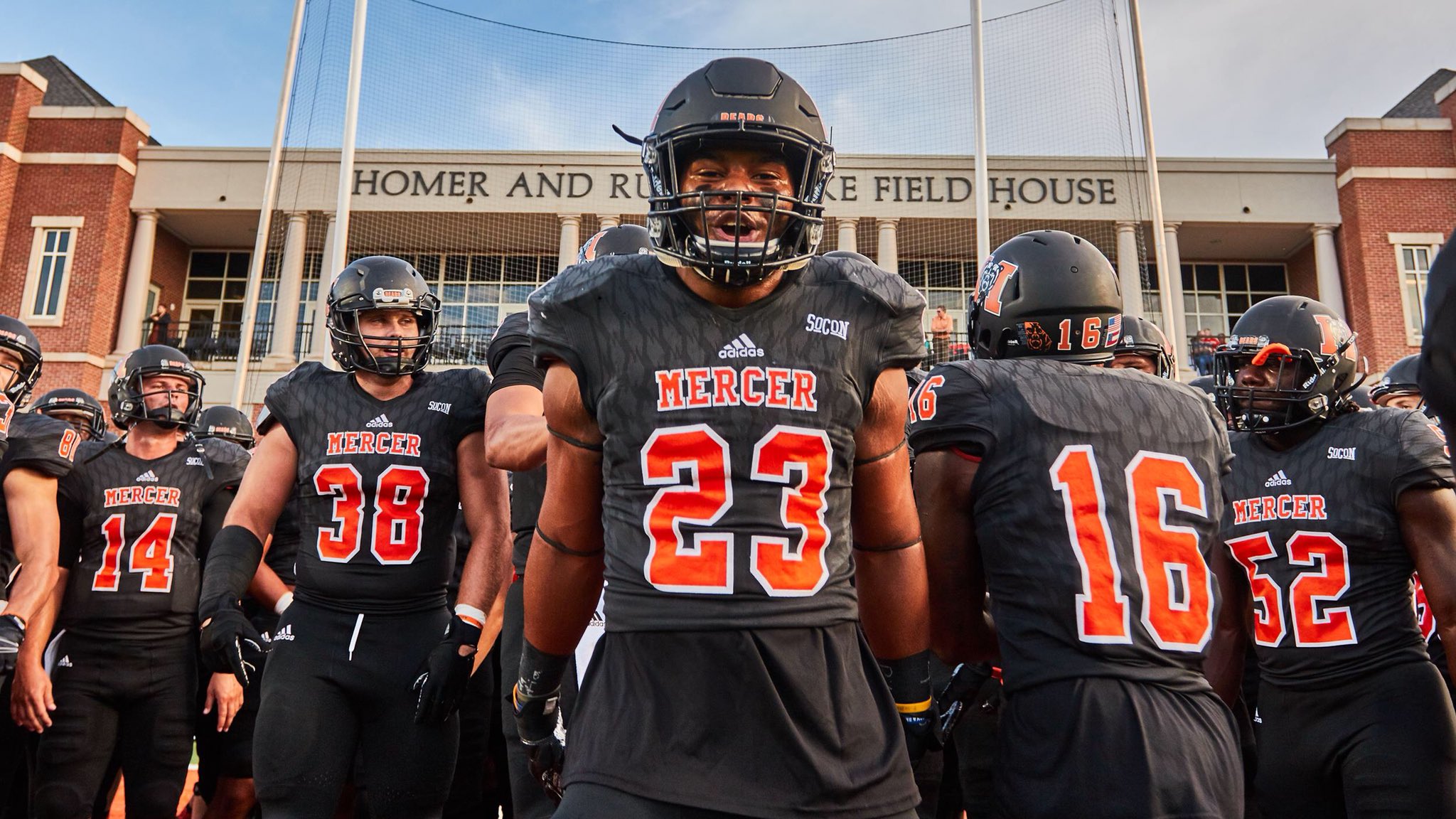 Jeff Schmedding best be readying his run defense. Against the Eagles on Saturday, Mercer ran the ball on 66% of their snaps – racking up an incredible 359 yards on the ground. Austin Douglas was the chief contributor off just five carries, registering 140 yards and a pair of touchdowns. A diverse ground attack saw ten different players carry the football, averaging 9.4 yards per carry.
Conversely, Mercer only threw the ball 20 times, for 266 yards. This doesn't tell us much, considering the game was well in hand early. Mercer keeping the ball on the ground helped chew the clock and not embarrass their opponents – too much. When they do air it out, the secondary will do well to focus on Ty James, The Bears' leading receiver. If James seems familiar to you he should be – the pass catching weapon used to be with the Georgia Bulldogs before transferring to Mercer last year. James already holds the three highest single game receiving totals in school history. And his recent performance earned him FCS player of the week. James will certainly draw the attention of The Tigers coaching staff ahead of Saturday.
A weakness Auburn will look to exploit on defense is in the trenches. Mercer's o-line is undersized and looks ill-equipped to match up with the likes of Derrick Hall and Colby Wooden. If The Tigers can reset the line of scrimmage, Mercer's explosive offense is likely to splutter.
Riding The Tank
Based on everything we;ve learned this offseason, Bryan Harsin wants to lean on the run game in 2022. Tank Bigsby is set to improve on his gaudy 2021 numbers, and against Mercer should be able to feast. Auburn's offensive line should simply control a quick but small Mercer defensive front. And if the five guys open holes up front, Bigsby should get a healthy workload. Expect him to go big early, and perhaps let others get some carries if the score is comfortable in the second half.
TJ Finley won the starting job this offseason and will hope to set the standard in the season opener. Should things go well, we should also see a smattering of Zach Calzada and Robby Ashford as the coaching staff wants to be sure they have the right guy under center before Penn State comes to town. Ultimately, all three gunslingers should be wary of Mercer's star cornerback, Cam Simms. Simms transferred to Macon from Georgia State this spring, and looked dangerous against Morehead State. The redshirt sophomore recorded an interception and locked down one side of the field. Quick, nimble and alert to a big play opportunity, Sims will want to shine against an SEC powerhouse
Special Teams Ace
Games against FCS opponents shouldn't be problematic. But many powerhouse football programs have been caught out before. Small schools often rely on big momentum-changing plays to stand a chance. And for Mercer, they have a serious weapon on special teams who could provide such a moment…
Devron Harper spent his early collegiate career at Gardner Webb. But the speedy receiver transferred to The Bears last season. As well as contributing with a touchdown on offense, Harper also excelled as a returner. He recorded 123 return yards on just three kickoffs against Morehead State – one a 93 yard scamper. Agonizingly close to taking it back for a TD, Harper may look to go one better against The Tigers on Saturday.
Thoughts From The Head Coach
In his recent press conference, Head Coach Bryan Harsin had some interesting words to say on his upcoming opponent:
"As far as the game goes, Mercer scored 63 points and had 625 total yards. That's hard to do. We looked at them last year and you see it this year again, they're well-coached. Coach Cronic does a great job with that group. They play hard, they're physical, and they're very balanced when you look at them in all three phases. They had a kickoff return for a touchdown. And they certainly have our attention when it comes to getting prepared this week and having a game to watch. I think that's something we're going to take advantage of is being able to watch their first game and then get our guys prepared, ready to go out there and play."

"Most importantly for us, it's a chance to go out there and get ready for a game. There are no more scrimmages and there's no more spring games. We have a deadline and it's this Saturday. We get a chance to go out there and play, and I'd say everybody that sits in this room is excited about that. You get to a point in camp where you're just tired of hitting each other and doing the same things, and now we get a chance to go out there and play somebody else and to be at home in our stadium, which we're all looking forward to that."
Prediction
As a football fan you are taught to respect every opponent. And based on their performance last week, Mercer certainly should not be overlooked. But this one shouldn't even be close folks. The Tigers look set to dominate the trenches on both sides of the football, which is always critical to victory. And whilst The Bears bring speed and diversity on offense, Auburn has the talent throughout their defense to combat it.
But The Tigers need more than just a win. They need a good, competent performance. And they need to win comfortably. Any suggestion that the outcome may be in the balance will feed into the anti-Harsin narrative. Look for Bigsby to demoralize Mercer early, for TJ to get in the groove, and for the backups to pour it on in the second half. A shutout may be too much to ask for, but the 2022 season starts off with a bang at Jordan-Hare. WDE!
Prediction: Auburn 45 – 10 Mercer