Every week of college football is another week closer to the end of the season. It also means it is time for Monday's ACC Power Rankings. Each and every week SpikedJohnnyB has his power rankings out for the PAC 12, SEC, Big 10, Big 12 and ACC. The host of Spiked College Football Show and Units Only Go Up ranks every single power five team. Where did your team fall this week? 
ACC Power Rankings: Who Is Your Daddy? 
Notre Dame
Johnny, Notre Dame is not in the ACC. Yeah I know, guys, this is obviously me just trolling the whole conference. The Irish have made a living out of dominating the best in the ACC. Beating North Carolina and Syracuse handedly on the road; then collapsing the Clemson dynasty this past Saturday in South Bend. All of the other ACC teams should be happy the Irish are independent and not in the league to destroy them, too.
ACC Power Rankings: Bowl Teams
#1 North Carolina
The Tar Heels don't always make it look pretty, but they keep on winning. The offense again put up 30 points for the third straight game and seventh time this year. Drake Maye, in my eyes, is a legit Heisman contender. Look at the stats. If he were at other schools like Ohio State or Georgia he would be, but the national media is still not showing Maye love. The defense will be the downfall of this team. They allowed 28 points to a very bad UVA team and it is the fifth time in eight games their opponents have scored at least 28 points. Chizik, just tighten up a little; stop making your offense win you every game.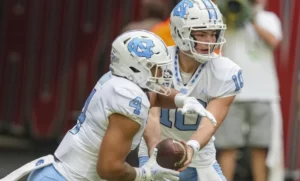 #2 Clemson
Even though they were embarrassed and physically dominated by the Irish, they are still number 2 in the ACC power rankings this week. If they can just figure out their offense, the Tigers might be ok and still win the ACC championship. It is not just the QB, the WR can't get open and the line is not allowing any running room for the backs. It is almost like Dabo shouldn't have just promoted people within the program and should have hired experienced coaches from the outside.
#3 NC State
The Wolfpack shocked me and I will say I was wrong. I thought Wake would go in and be able to shut down their freshman QB and out score them. Again, credit to me for admitting I was wrong. The Wolfpack have the best defense in the ACC and if MJ Morris keeps balling out like he did the last two games, this team might actually be the scariest in this conference.
#4 Florida State
Remember, these are the ACC power rankings and it is week to week. That being said, I think the Noles finally have it together; well at least the last two weeks. I know that Georgia Tech isn't good and Miami is terrible when you embarrass your rival on their home field, in primetime it says something. It says that you are buying into what Norvell is preaching, even if the media doesn't portray that. I love the Jordan Travis to Johnny Wilson connection; and the defense has been great the last few games.
#5 Louisville
This is the second hottest team in the ACC, winning their last four games. Their defense is holding those teams to an average of only 14.5 points per game. While Malik Cunningham and the Cardinals offense is scoring just over 33 points in those same four games. After a shaky start to the 2022 season, Scott Satterfield's team is showing fight and making plays.
#6 Wake Forest
In a huge fall from grace in my ACC power rankings, the Deacons find themselves at number 6. They just can't win on the road and either the offense is just not running together or the defenses have figured out the slow mesh. Sam Hartman is getting sacked and pressured more than ever the last two games. I really love this team's offense when it is right, and playing the bad Tar Heel defense this week might help. This could be a hell of a shoot out. And it is a home game for Wake. I feel a bounce back and possibly a big upset in Winston Salem.
#7 Duke
The Blue Devils are on a two-game winning streak in the division and overall. They have a relatively difficult schedule coming up, but they have already secured a bowl appearance for 2022. Mike Elko has had a tremendous first year. Getting them eligible and knocking off Miami is a huge win for the program. Big things coming for the Blue Devils next year? Maybe they can be a basketball and football school.
Johnny, this seems low for a team who a few weeks ago was third in the ACC power rankings. Well, they have lost three straight games and I only see the Boston College game at the end of the year as a winnable one for this team. Next year, next year, next year. They are very young at the skill positions with Tucker and Gadsden, and the emergence of Del-Rio-WIlson at QB could be amazing next year with experience and spring ball. They will go bowling, and good for Dino having the Orange relevant for most of this year. Next year, I am telling y'all.
ACC Power Rankings:Mid Teams
#9 Pitt, Georgia Tech, Virginia 
This conference is either so good every team beats each other or they are all just mid tier teams. Somehow the teams in this tier are worse than the ones above. They are all the same. Pitt one dimensional, Georgia Tech needs a coach, Virginia has a good basketball team. These three teams are just so averagely bad it hurts, and they don't deserve to be talked about individually. They are not so bad that they are at the bottom, but they have nothing exciting to talk about so I can't individually rank them. This was hard to even come up with the bullshit I just typed before this sentence. 
ACC Power Rankings: Bottom Of The Barrel 
#12 Virginia Tech 
They are only ahead of Boston College in this week's ACC power rankings because that is one of the Hokies two wins. At least they have Enter Sandman.
#13 Boston College
They lost to the team above. They have injuries on top of injuries on top of injuries. 
ACC Power Rankings: Did You Fire Josh Gattis Yet?
#14 Miami
Well, Mario, did you? Or do you want to be fired as well? You are an absolute embarrassment to the Hurricanes name and tradition. Your team doesn't want to play for you. They don't tackle, they don't block, they don't catch. You better have a 75% turnover in roster from recruiting and transfers if you want to do anything in Miami. YOU NEED TO FIRE GATTIS BEFORE HE GETS YOU FIRED. HE IS PATHETIC AND CAN'T CALL A GAME. HIS SCHEMES ARE OUTDATED AND BORING!
For More Great Football Content
Follow us on Twitter at @GridironHeroics for more great content. We appreciate you taking time to read our articles. To interact more with our community and keep up to date on the latest in Football news, JOIN OUR FREE FACEBOOK GROUP by CLICKING HERE
Checkout our latest podcast!
[powerpress_playlist limit=1]