Aaron Rodgers may be done for the season. This is after the New York Jets star quarterback had to be carted off the field in the first quarter of their Week 1 matchup against the Buffalo Bills. It was later revealed that the four-time NFL MVP ruptured his Achilles, which could very well be a season-ending injury.
Zach Wilson Looking to Step Up Amid Aaron Rodgers Injury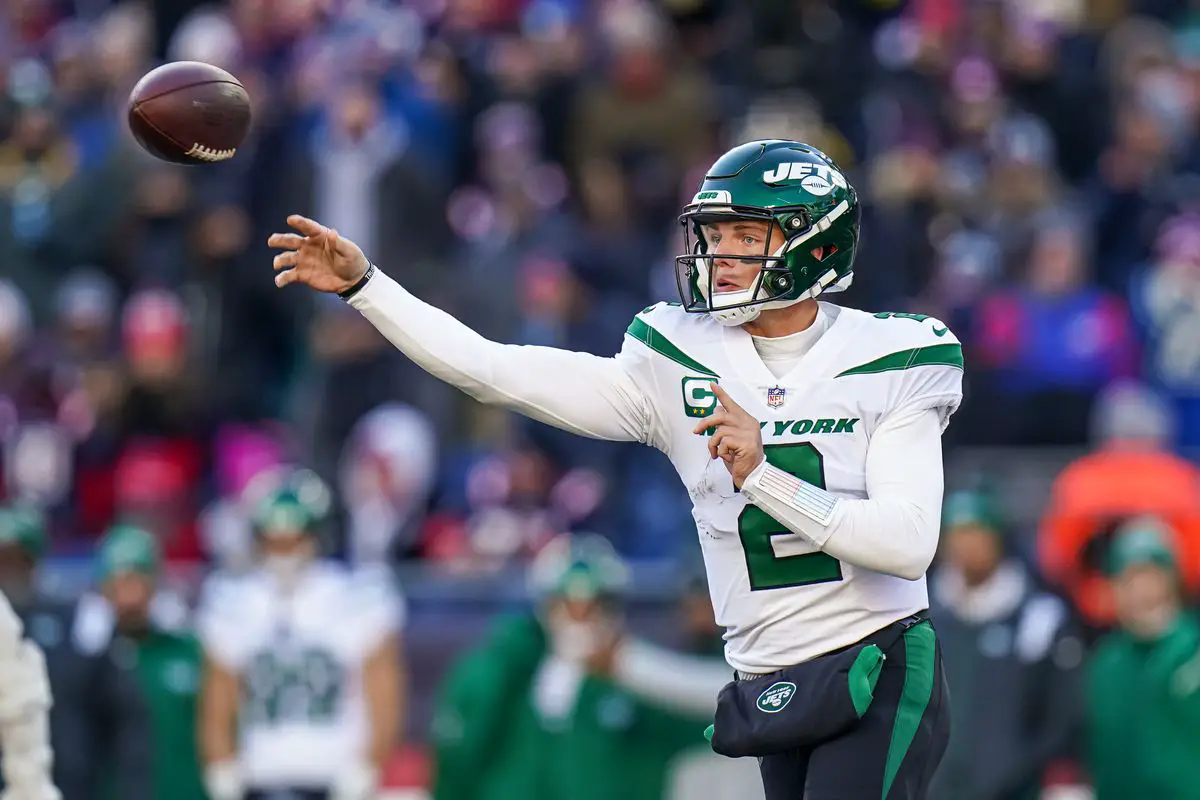 Zach Wilson is the next man up for New York. The 24-year-old was subbed in after Rodgers left the game, and he is now set to take over as the Jets' QB1 with A-Rod expected to be out for an extended period.
For his part, however, Wilson could not hide his disappointment following Rodgers' devastating injury in the 39-year-old's disastrous debut:
"My heart goes out to him," Wilson said, via Michael David Smith of PFT. "It's tough. It hurts us as a team."
Wilson will need to set his feelings aside, though. He has a massive opportunity ahead of him now that he's going to be New York's top QB (again) for the foreseeable future. Wilson lost his starting gig to Rodgers this summer, but after an unfortunate turn of events, the young quarterback has another chance to prove himself. He is not backing down.
"My job as quarterback is I've got to step up," Wilson said. "I've got to be as efficient as I can in that offense. A lot of emotions. Week One, opening day, trying to learn as much as I can from this guy, but I've also got to make sure I'm ready to go. Lot of emotions, you've got to be able to try and stay calm and go out there and try and perform the best you can."
Robert Saleh Gives Zach Taylor Vote of Confidence
While there has been some talk about the Jets potentially adding another quarterback via free agency, head coach Robert Saleh made it clear that it's going to be the Zach Wilson show in New York. After the game, Saleh said that Wilson is going to be "the guy" for the Jets now that Rodgers is out of the picture.
Wilson, who the Jets selected as the No. 2 overall pick in 2021, hasn't really lived up to all the hype in his first two seasons in the NFL. New York seemed intent on moving on from him when they brought in Rodgers in the offseason, but all of a sudden, Zach Wilson finds himself with another shot at establishing himself as one of the top young quarterbacks in the league. Whether he's going to be able to do so, however, is an altogether different conversation.
For More Of My Content
Follow me on Twitter at @PaoloSongcoNBA. You may also reach out to me personally at pao.songco@gmail.com.