With the Vikings season starting in five days, I figure it would be a good time to look at their defense. With the new coaching staff, Ed Donatell is taking the reins as the new defensive coordinator and will be running a 3-4 style defense. The Vikings have added some new pieces to their defense this offseason in Harrison Phillips and Za'Darius Smith. The Vikings also have veteran players in Eric Kendricks, Patrick Peterson, Harrison Smith, and Danielle Hunter. With that, let's take a look at what the Vikings defense will look like and what to expect this season.
Defensive Line
The Vikings defensive line will look different this season. For starters, Danielle Hunter is now at outside linebacker. Ed Donatell will implement a new 3-4 defense (three linemen and four linebackers). The Vikings also added nose tackle Harrison Phillips. The starting lineup for the defensive line should be Dalvin Tomlinson (DE), Jonathan Bullard (DE), and Harrison Phillips (NT).
Defensive End
Starting defensive ends will be Dalvin Tomlinson and Jonathan Bullard. The Vikings signed Tomlinson last season, and it looks he will continue to make a good impression in 2022. Tomlinson did very well against both the run and pass last year and is very consistent. Tomlinson will also be rotating with Phillips at nose tackle, allowing the Vikings to do some pre snap movement with the two. Bullard had a really good camp, appearing to be a leading cause in Armon Watts being released. Backing them up will be Ross Blacklock (acquired from the Texans this offseason), James Lynch, and Esezi Otomewo.
Nose Tackle
The only nose tackle on the depth chart is Harrison Phillips. Phillips was one of Kwesi Adofo-Mensah's big signings this offseason. The former Buffalo Bill only played 55% of the team's snaps last season, mostly due to the depth of their defensive line. Phillips only had 1.5 sacks last season, but that was because the Bills used him primarily on rundowns. While not a great pass rusher, Phillips should get some better production, playing a lot more than he did with the Bills last year.
Linebackers
The Viking linebacking core has some familiar and new faces in it. Danielle Hunter will be moved from defensive end to outside linebacker. Minnesota also signed former Green Bay Packer Za'Darius Smith and former Philadelphia Eagle Jordan Hicks.
Outside Linebacker
With Danielle Hunter being moved from defensive end to OLB, it will be interesting to see how he does at his new position. Hunter has looked fantastic at camp, taking to the new position well. He will be paired with newcomer Za'Darius Smith. Fans can't wait to see the two together as they are hoping they can create chaos for opposing offenses this season. Backing them up will be Patrick Jones II, D.J. Wonnum, and Luiji Vilain.
Middle and Weak Side Linebackers
At MLB we will see the veteran Eric Kendricks. Kendricks has been a phenomenal linebacker for the Vikings. He's been great in coverage, almost cornerback like, and is a tackling machine. Backing up Kendricks will be Troy Dye. At WLB will be Jordan Hicks, another linebacker signed this offseason and an underrated one at that. Hicks is a great run defender and is outstanding at blitzing the quarterback. He is the perfect player to pair with Kendricks as he is not as good in the pass game, but picks up were Kendricks lacks in the run game. Backing up Hicks will be Brian Asamoah II.
With Kendricks and Hicks in the middle and Smith and Hunter on the outside, this linebacking group looks to be a force to be reckoned with. It's hard to see teams stopping them, especially if Tomlinson and Phillips are pushing the offensive line around.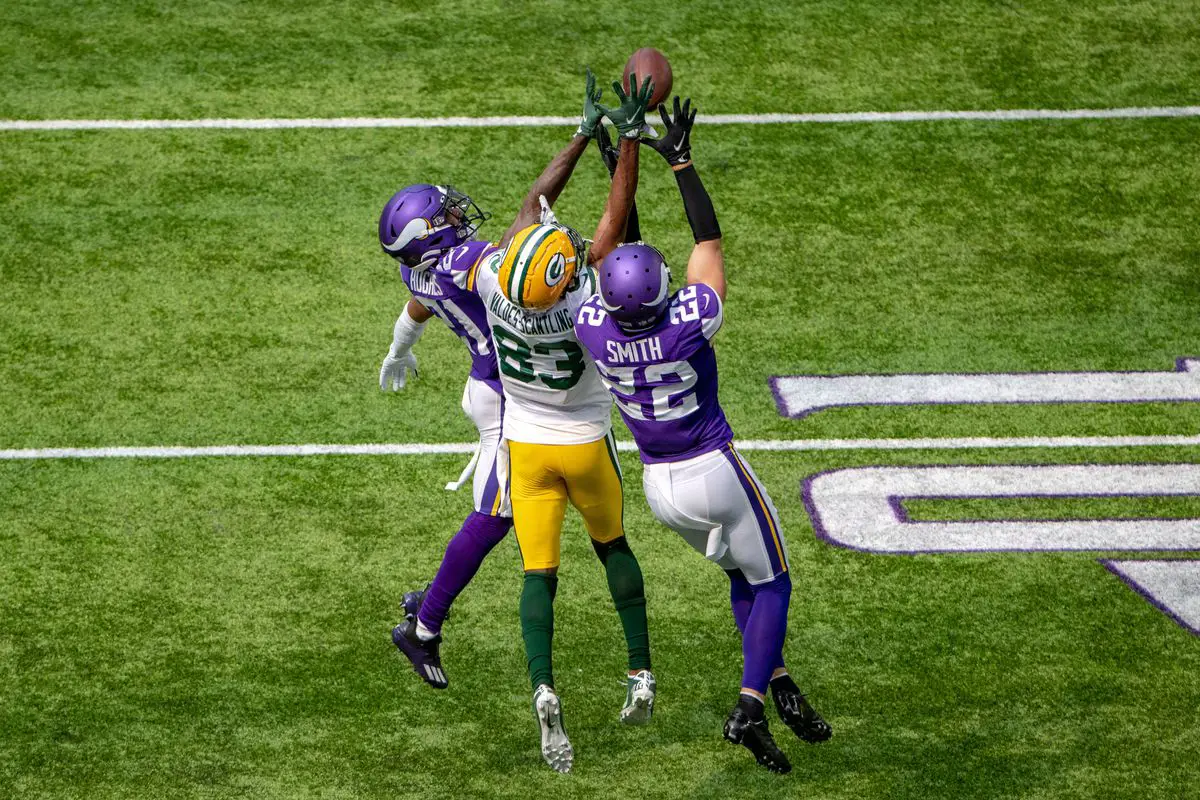 Secondary
The secondary was pretty stable this offseason not seeing too much movement or change, but is the biggest question mark defensively. Minnesota brings back its core veteran leaders in Patrick Peterson, Harrison Smith, and Cameron Dantzler Sr. The Vikings also went out and signed former Packer Chandon Sullivan to help provide some depth.
Cornerbacks
Starting cornerbacks will be Cameron Dantzler Sr. and Patrick Peterson. This should come as no surprise that the two cornerbacks with the most experience retain their starting jobs. Backing them up will be Chandon Sullivan, Akayleb Evans, Andrew Booth Jr., and Kris Boyd. Sullivan or Booth look to be used at slot corner (though no official announcement has been made on who will be the starter yet).
Saftey
Starting safeties will be Harrison Smith and Camryn Bynum. While many were thinking Cine would take the other spot opposite Smith, the Vikings depth chart shows Bynum to hold the starting job. The other back up with Cine will be Josh Metellus. 
Summary
All-in-all, the Vikings defense looks pretty good. The defensive line and linebackers look to be in great shape (especially the linebackers). Hunter and Smith look to be a formidable duo and Kendricks and Hicks seem to be a perfect fit to work together. The addition of Phillips up front looks to be good and should help complement Tomlinson. The biggest issue is the secondary. While Peterson and Smith are back, both are old. The rest of the secondary compared to them is very young, being either rookies like Andrew Booth Jr., or going into their third year like Cameron Dantzler. Hopefully with a strong linebacking core and good defensive line, they should feel good about the front seven being able to do their part, hopefully making their job easier.