After agreeing to terms with a couple of players on the first day of legal tampering, the San Francisco 49ers has restructured the Charvarius Ward contract. Ward was picked up by the team during the 2022 free agency and now has helped the team make more room on their cap space. Here are the details on the restructured Charvarius Ward contract and how it will help the team.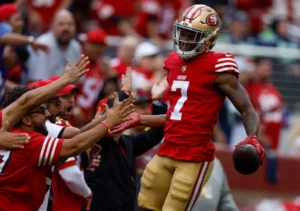 49ers Restructure Charvarius Ward Contract
The 49ers restructured Charvarius Ward's contract by adding three void years, which will be from 2025 to 2027. His cap hit for 2023 will now be $6.42 million. By restructuring Ward's contract, the 49ers moved to $6.54 million in cap space. The details of this contract restructure were released before the official Sam Darnold numbers.
The #49ers have reworked Mooney Ward's deal, saving $9.984M against the salary cap in 2023.

The 49ers added 3 void years from 2025-27 to spread out the bonuses.

New cap hits:
2023: $6.42M
2024: $17.9M
2025: $12.29M (void)

— Akash Anavarathan (@akashanav) March 14, 2023
According to David Lombardi on Twitter, the team has saved nearly $10 million in cap space. Lombardi states that the signing of Darnold should bring the team down to about $2.9 million. This makes the San Francisco 49ers cap compliant ahead of the league year beginning tomorrow.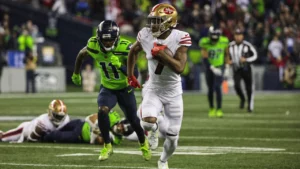 It was the day before the start of the league year in 2022 that the team restructured major contracts as well. In 2022, the team restructured tight end George Kittle and defensive tackle Arik Armstead's contracts. There is a chance that the team will restructure more as the day goes on.
By restructuring Ward's contract, the team could leave more room for the team to sign other players. A key player that the San Francisco 49ers are looking to re-sign is fellow cornerback, Emmanuel Moseley. It has been reported that multiple teams have shown interest in Moseley, and the team is looking to match any other offers he may get.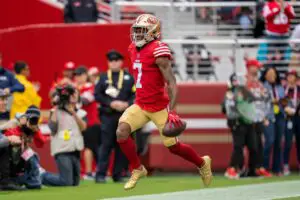 The restructuring of Charvarius Ward's contract may be just the first of the day, but it has already helped the team.
For more 49ers Content:
Check out the full list of the 2023 49ers free agents, and their finalized Salary Cap here.
Read here about the 49ers agreeing to a deal with Hargrave. Read here for this news regarding a 49ers player Gipson re-signing with the team, and also here regarding Kevin Givens re-signing. Also, read here for a rumor regarding Javon Kinlaw.
Also, here is news regarding former 49ers quarterback Jimmy Garoppolo heading to the Las Vegas Raiders.
For More Great Football Content
Follow us on Twitter at @GridironHeroics for more great content. We appreciate you taking time to read our articles. To interact more with our community and keep up to date on the latest in Football news, JOIN OUR FREE FACEBOOK GROUP by CLICKING HERE
Checkout our latest podcast!
[powerpress_playlist limit=1]