With the NFL free agency just a couple weeks away, it is time to look at the upcoming 49ers free agents in 2023. It is important to discuss the odds that they return or head somewhere else. The team has a lot of players that they will either need to re-sign or replace. Here is a look at the list of the 49ers free agents ahead of the new league year.
49ers Free Agents in 2023
Already extended
As of now, the 49ers have already extended long snapper Taybor Pepper to a three-year deal. Pepper was expected to be an unrestricted free agent and the team was able to work out a deal ahead of the league year.
Also set to return is wide receiver Jauan Jennings, who was set to be an Exclusive Rights Free Agent. The 49ers officially tendered Jennings, meaning the wide receiver cannot negotiate with other teams. With two 49ers free agents taken care of, the team still has a lot of work to do.
Unrestricted Free Agents
Jimmy Garoppolo – QB
The return of quarterback Jimmy Garoppolo will not happen this season. This was essentially confirmed by 49ers General Manager John Lynch while in attendance for the 2023 Combine. Lynch stated that the teams' time with Garopollo has run its course, and Garoppolo will be moving on. The quarterback is one of the 49ers free agents expected to leave. Read here for some of the teams that Garoppolo could end up in free agency.
Josh Johnson – QB
While the team does need a quarterback behind Brock Purdy and Trey Lance, it does not seem likely that veteran quarterback, Josh Johnson will be returning. Johnson came in during the NFC Championship, and while he had to leave the game with a concussion, he did not do well for the team while playing. In addition to a costly fumble, Johnson completed just seven passes, according to ESPN. The team will likely move on from Johnson in the new league year.
Jake Brendel – OL
Jake Brendel is one of the many offensive linemen that are 49ers free agents. Brendel has been with the team for a while now, and will most likely not cost the team too much. With that, there is a chance Brendel will re-sign if the price is low enough. The reason the team is likely to keep Brendel is that he played under center for San Francisco in 2022. The team may sign him to a smaller deal, and still draft a younger player.
Daniel Brunskill – OL
Dan Brunskill is a player that could re-sign with the 49ers, but on the depth chart, he was second behind Aaron Banks for the left guard position. Behind Brunskil was Jason Poe, who may have not gotten his shot this season, but will be with the team next year. Brunskill may want to move on and try to be a starter somewhere else.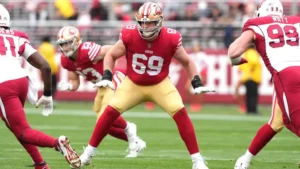 Mike McGlinchey – T
Mike McGlinchey has been with the 49ers for five years since he was drafted. As time has gone on since the 49ers season ended, it has become clear that McGlinchey will probably not be returning to the 49ers next season. This was another player that John Lynch discussed in regard to the 49ers free agents. Lynch heavily hinted that McGlinchey's time with the 49ers is over, and this will be a position that needs to be filled in the offseason.
John Lynch doesn't seem optimistic that the 49ers will be able to afford a Mike McGlinchey re-signing.

"So that stinks, but could he miss his market? Sure. And then would we be interested? Of course we would. But I don't see that happening. I see him being a coveted player."

— David Lombardi (@LombardiHimself) March 1, 2023
Ross Dwelley – TE
Despite being a solid player for the 49ers in the past, Dwelley became a healthy scratch for many games in 2022. Tight end Tyler Kroft continued to get the edge over him, which may mean that Dwelley's time with San Franciso could be ending if he wants more playing time. Dwelley is one of the 49ers free agents that will most likely be leaving.
Tyler Kroft – TE
With the 49ers having three tight ends hitting free agency, they will likely be drafting a younger one. Kroft has a chance to come back, but the team will most likely opt to take a rookie as the cheaper option. Still, he could be a cheaper depth option.
Jordan Matthews – TE
Jordan Matthews has barely played for the 49ers after facing multiple injuries. This is a player many may have forgotten was on the team if it were not for him being among the list of 49ers free agents. Matthews will more than likely have to search for another team in 2023.
Samson Ebukam – DL
The 49ers have a strong second team when it comes to their defensive line. Ebukam is one of those players who is able to come in and make tackles, despite not being the top guy. This is a player that will most likely depend on the price if he comes back. The team could use him, but needs the money to re-sign multiple players.
Maurice Hurst – DL
Hurst is similar to tight end Jordan Matthews. He never played this season, and will most likely look to another team if he wants to continue to play.
Kerry Hyder Jr. – DL
Kerry Hyder Jr. is an interesting player when it comes to the 49ers free agents. In 2020, the 49ers were devastated by injuries, and Hyder had a strong year. He then hit free agency and played with the Seahawks in 2021, where things did not quite work out, resulting in his return. Hyder may want to stay with the 49ers for less money as a depth player if the team wants him to.
T.Y. McGill – DL
The team has many defensive linemen that they will either need to re-sign or let go. McGill did not really play for the team this season, being active for just nine games, according to Pro Football Reference. Maybe McGill will return to the team as the 2023 season gets closer, but he will not be a player the team looks to prioritize over the other 49ers free agents in 2023.
Charles Omenihu – DL
Charles Omenihu had a strong season for San Francisco. There was one off the field issue that raised questions, but the team let it play out. Omenihu may look to play for a team where he could start for more money, but the team may try to work something out with the defensive lineman.
Hassan Ridgeway – DL
Ridgeway is another player that the team may want to return in 2023 as they are set to lose a couple of players. Depth is needed on the defensive line and could be a cheaper option to keep.
Jordan Willis – DL
Jordan Willis is in a similar situation as Omenihu. If the team feels that he could return for a cheaper price, it is likely that they will want to keep him. Willis may want to look to start for another team, but there is a chance he will be one of the 49ers free agents to return for the right price on both sides.
Azeez Al-Shaair – LB
Lineback Azeez Al-Shaair has been a valued player for the 49ers, but as a pending free agent, it does not look like he will be returning. Linebacker Fred Warner has said that it is Al-Shaair's time to be the number one guy somewhere. Al-Shaair has also mentioned in an interview that the NFC Championship felt different, indicating that it was his last game with San Francisco, and one of the 49ers free agents leaving.
Tarvarius Moore – DB
Tarvarius Moore has been a big special teams player for the 49ers. Moore may want to move on from San Francisco so he can get more reps, but the team may also look to keep him for the right price.
Jimmie Ward – DB
Jimmie Ward is one of the more valued players on the 49ers defense. When Ward broke his hand this season, he lost his position as a safety and moved to play as a cornerback. Ward has stated multiple times that he was against it at first, but after time he understood that it could also be seen as the team still wanting him on the field.
Ward will most likely be searching for more money in the offseason, and as the 49ers still need to extend Nick Bosa. The price of re-signing Ward just may not work out. As one of the 49ers free agents in 2023, Ward's time may be up in San Francisco, after spending his career with the team since they drafted him in 2014.
Emmanuel Moseley – CB
Cornerback Emmanuel Mosely was having a great season with the 49ers before he tore his ACL in a game against the Carolina Panther. For San Francisco, this may be leverage to get him for a little cheaper, but Mosely is one of the 49ers free agents the team will look to get back. In the closing press conference following the NFC Championship loss, John Lynch did say that Moseley was working hard and he hopes to be able to bring him back in 2023.
Jason Verrett – CB
Jason Verrett is another player that has lost most of his career to injuries. Just as Verrett was going to make his first start in 2022, he got hurt again. While when healthy the cornerback is a good player, it is not looking like he will be one of the 49ers free agents to return. San Francisco is faced with too many injuries to spend the money on Verrett.
Tashaun Gipson Sr – S
Gipson was a surprising player this season. He was picked up by the 49ers following injuries at the safety position and ended up being a crucial player this season. Gipson has expressed his interest to return to San Francisco in 2023, and the team has also had high praise for him. Gipson may very well be one of the 49ers free agents to return in 2023.
Robbie Gould – K
Veteran kicker Robbie Gould will be one of the 49ers free agents in 2023. Gould has posted on Instagram that the team has unfinished business after their NFC Championship loss, but the team is acting in caution in case they are unable to re-sign Gould.
John Lynch said 49ers will be taking close looks at kicker prospects here at NFL combine. Robbie Gould, a pending free agent, has himself said that he wouldn't expect contractual movement until around the combine. Sounds like SF is at least arming itself w/ knowledge of options

— David Lombardi (@LombardiHimself) February 28, 2023
Restricted Free Agents
While the restricted free agents will most likely remain with the team, there are just three and still important to mention.
Demetrius Flannigan-Fowles – LB
Flannigan-Fowles has been a solid depth piece in the dominant linebacker crew with the 49ers. With Azeez Al-Shaair one of the 49ers free agents most likely leaving, the odds are the team will retain Flannigan-Fowles.
Kevin Givens – DL
There are many 49ers free agents in 2023 that are defensive linemen. That being said, expect Givens to stay as the team needs depth there.
Colton McKivits – OL
Similar to the defensive line position, there are many free agent offensive linemen in 2023. The team will likely keep McKivits as they need depth in that position.
There will be many pending 49ers free agents, and it is safe to say it will be a busy offseason for the team.
For More Football Content:
Read here for ideas on where quarterback Jimmy Garoppolo will end up.
For More Great Football Content
Follow us on Twitter at @GridironHeroics for more great content. We appreciate you taking time to read our articles. To interact more with our community and keep up to date on the latest in Football news, JOIN OUR FREE FACEBOOK GROUP by CLICKING HERE
Checkout our latest podcast!
[powerpress_playlist limit=1]