The Chicago Bears lost a hard-fought game to the Miami Dolphins on Sunday, but the hopes could not be higher for the future, here are 4 takeaways from the Chicago Bears game last Sunday.
1.  JUSTIN FIELDS HAS ARRIVED!!
All the questions leading into the season were surrounding Justin Fields.  New Chicago Bears general manager Ryan Poles was brought in to try and fix the issues from the previous regime.  Matt Eberflus was brought in to coach up a young roster that Ryan Poles was providing, but through all of that change, Justin
Fields has persevered and became a quarterback that you win because of instead of one you can win with.  Chicago Bears fans weren't sure if he was the guy or not, and early in the season the new offense installed by offensive coordinator Luke Getsy had growing pains, but in the last 3 weeks this offense has averaged 31 points per game, & Sunday Justin Fields broke a regular season record with 178 rushing yards, but he got it done through the air as well with 3 TDs.  Ladies & gentleman Justin Fields has arrived & the Chicago Bears have a legitimate QB1.  I don't know if I've ever been able to say that.
2.  This defense needs a lot of work
Prior to the season, Ryan Poles had a lot of work to do with an aging defense on big contracts (Thanks Ryan Pace) in order to go forward he had to go backward a few steps, that started with trading away Khalil Mack & his exorbitant contract to the Los Angeles Chargers.  Allowing Akiem Hicks, Danny Trevathan & others walk in free agency & last but not least trading away Roquan Smith & Robert Quinn at the trade deadline.  The Chicago Bears did draft Jaquan Brisker & Kyler Gordon in the second round of the draft to help rebuild the secondary, but there are a bunch of young guys that aren't paid a lot in the front 7.
Through Ryan Pole's work the Chicago Bears have the most cap space in the league going into next year & extra draft picks to help rebuild a defense in Eberflus' image.  We may just have to suffer through a year waiting for the payoff as Bears fans.  There is essentially no pass rush on this defense & young linebacker play behind it.  That will test the coaching staff to see the development on the defensive side of the ball this season.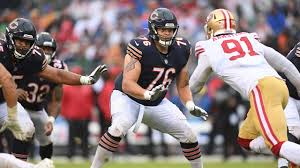 3.  Offensive line is a work in progress
The Chicago Bears came into the season with a mess on the offensive line.  Ryan Poles threw a bunch of picks at that line, LT Braxton Jones a 5th round pick from Southern Utah stepped in right away & held onto that position even after signing veteran Riley Reiff.  LG Cody Whitehair is the most veteran player on the Chicago Bears & looks to bounce back after an injury landed him on IR for a month.  Sam Mustipher a former UDFA from Notre Dame has been the starter at center.  The bears signed Lucas Patrick from Green Bay, but he has dealt with injury all season.
Mustipher could be a good depth piece, but he isn't good enough to be the starter.  The somewhat hidden gem has been Tevin Jenkins, who was originally drafted & plugged in at left tackle, the new regime moved him to right guard & he has been a bright spot on an otherwise mediocre offensive line.  At Right tackle Larry Borom was struggling, but after missing time with a concussion Riley Reiff has come in & filled in well.  In my opinion he should be kept in place & Borom should be relegated to the bench as a possible swing tackle.  They also claimed former first round pick Alex Leatherwood from the waiver wire 1 year after the Las Vegas Raiders drafted him, we've yet to see where he fits in on this line.
4.  The weapons around Fields just haven't been good enough
If there's one thing that Fields has been criticized for it's his passing yards, but you have to look at his pass catchers.  Darnell Mooney came into the season as WR1, but he was the only one dictating coverage & he just hasn't been good enough at getting open.  He also had some issues early on with mental lapses from last year's offense to this one.  The bears traded a 7th round pick from next year to the New England Patriots for former first round pick N'Keal Harry.
After dealing with an ankle injury out of training camp he has been ok the last couple weeks, he's an excellent blocker & has caught a TD from Fields, but he needs to be better if he wants to be a part of the future of the Chicago bears.  At the trade deadline the Chicago Bears traded for Chase Claypool from the Pittsburgh Steelers for a second-round pick, beating out the Green Bay Packers in the process.
After 3 days of preparation he played Sunday & should've gotten a pass interference call on the final drive, but alas it wasn't called and they have to move on to the next week, Cole Kmet has finally started getting used in the offense which is a positive for the offensive line as he stayed in to help block a lot early in the season, he caught 2 touchdowns Sunday & was even used in a QB sneak type play.
he Chicago Bears have used some of the Baltimore Ravens' playbook & that's paying dividends for Kmet & Justin Fields.  Other than those guys there are a bunch of WRs that are good blockers, but not great catchers.  St. Brown has been excellent blocking in the run game but has had some ill-timed drops in the year including one on 4th down Sunday with the game on the line.
Byron Pringle was brought in as a free agent from the Kansas City Chiefs but hasn't done anything in a Chicago Bears uniform.  The running game on the other hand has been historically good, between Justin Fields, David Montgomery & Khalil Herbert they have a 3 headed monster that can run out of the backfield very well.
For More Great Football Content
Follow us on Twitter at @GridironHeroics for more great content. We appreciate you taking time to read our articles. To interact more with our community and keep up to date on the latest in Football news, JOIN OUR FREE FACEBOOK GROUP by CLICKING HERE
Checkout our latest podcast!
[powerpress_playlist limit=1]