If you're a Bears fan, as frustrating as another Bears loss has been, today was another perfect Sunday. You just watched your Bears take on the third best team in the AFC and damn near snuck out of Soldier Field with a win. The Bears defense did an okay enough job against an offense headlined by Tyreek Hill and Jaylon Waddle – those guys can take the top off of any defense and Chicago eventually locked in enough to give the offense a chance to make it's run. If the punt protection is worth their salt today the Bears may end up winning this game.
It's nearly impossible to not sound like a cry baby when blaming the refs in a loss, but today was the epitome of bad officiating that cost a team a chance. The NFL will ignore it, and it will be forgotten about by season's end, but today it mattered to a team that played more than well enough to win Sunday's ballgame. But, that's only one of a few things that stood out to me.
Stick with me for a bit and a Bears loss making me so happy today will make sense.
This Ain't Your Daddy's Bears Defense
It's a mixed bag if I'm being honest. The Bears got their doors blown off in the first half of the game allowing several big plays. You expected that coming into today's game knowing that Hill and Waddle simply weren't going to be shut down by a defense deploying two rookie defensive backs. The lack of pass rush has been an issue all season and asking inexperienced defensive backs to cover two of the fastest receivers for lengthy periods of time was going to be a big ask.
Tua and the Dolphins took advantage of the Bears lethargic pass rush and came out guns blazing, scoring on four of their first five drives of the game. Chicago finally made some key stops in the fourth quarter, including two fourth down stops in their own territory. That "Monsters of the Midway" pride finally showed up and it gave the Bears a puncher's chance to pull the win out. Make a team one-dimensional late in a close game and you have a shot.
Chicago only allowed 77 yards on the ground for 3.3 yards per carry — a vast improvement from last week, and one of their better performances on the year. Miami being a bottom five rushing offense certainly helps, but Chicago trading the likes of Roquan Smith last week figured to be a big hole to fill, so that in itself was impressive. Miami wasn't able to salt the game away properly and that helped turn this game from blowout to a three point ball game.
When Will The NFL Hold Officials Accountable In Real Time?
This is basically the only thing that left a bad taste in my mouth today. The offense was absolutely cookin' and the defense honestly performed better than I expected. A blocked punt for a touchdown will make anyone squirm, but it does happen every now and then.
Somehow Chicago managed to be on the wrong side of two pivotal pass interference penalties on consecutive drives. First on the defensive end for the Bears Eddie Jackson got called on a PI that was questionable at best — Jackson was a step behind Waddle on a deep ball and as Jackson turned and located the ball, him and Waddle bumped each other as Waddle was coming back to the ball. As I understand the rule, the defender has a right to the ball, and there is such a thing as "incidental contact".
Watching so many of these games come down to one possession or one play it is really crazy how Pass Interference is called so inconsistently. Bears were penalized on a questionable call in the 4th Qtr but didn't get this one?? pic.twitter.com/tHU5RiiMmC

— Tony Dungy (@TonyDungy) November 6, 2022
But that's not even the worst call, or no-call, of the game. Bears have the ball and are driving with a chance to tie or take the lead in the final minutes of the game. Fields takes a shot deep to newly acquired receiver Chase Claypool on third down and gets bear-hugged from behind before the ball was remotely close. The most obvious pass interference since call missed since the Nickell Robey-Coleman no-call in the 2018 NFC Championship game.
If the refs do their job, Chicago has the ball in field goal range with a minute and a half. At worst that call prevented the Bears a shot at tying the game. With how Fields was cooking that Miami defense all game who knows what could have happened.
No flag 😂 pic.twitter.com/CVmh7dPCiM

— Dan Le Batard Show with Stugotz (@LeBatardShow) November 6, 2022
About two minutes after the Bears loss due to a blatant no-call, the same thing happens to the Buffalo Bills. Watch:
never turns around and obviously touches him.

Is that DPI? pic.twitter.com/5s3ljQLWmL

— Timo Riske (@PFF_Moo) November 6, 2022
Again, another situation in which Buffalo is in field goal range almost immediately if that is called. Just awful officiating all around today. Something has to be done, and a generic apology letter by the NFL tomorrow morning, if either team even gets that, isn't enough.
Most NFL games aren't blowouts, most are one to two score games that a call like that can undoubtedly change the outcome. For that reason NFL officials need to be held accountable. Here's how you do it:
New York calls in during pivotal moments like that, inside of the two-minute warning and tell the official he missed a call or made the wrong call. New York can call in for review of any other play inside of two minutes – correcting officials should be no different.
Coaches should also be allowed to challenge pass interference calls outside of the two-minute warning. Again, if a coach can challenge the spot of a ball or if a player stepped out of bounds then he should be able to challenge if his receiver gets tackled while the ball is still in the air.
Officials, at least the head judge should be mandated to participate in post-game pressers just like players and coaches are. Officials are just as much part of the game as the players are, in some cases, even more-so. They should have to face the questioning of a bad call just the same as the quarterback or head coach has to.
The NFL will never do this though because they don't want full transparency and know that people will soon forget the bad officiating shortly after the game has concluded. Just the nature of the beast as frustrating as it is. Roger, feel free to get ahold of me for anymore pointers on how to clean up your growingly sloppy league.
Justin Fields Is A Superstar
This is my favorite part. When was the last time a Bears quarterback was the best player on the field? The answer is never – Chicago has their guy and it's about damn time. For three weeks now he has grown exponentially and he has done so against two top-10 defenses and a unit that only allowed 30+ points to the Ravens and Jets before Sunday. Today he had the Miami defense in an absolute blender and it was the most fun I've had as a Bears fan since 2018. Justin's greatness wasn't lost on the opposing sideline:
"Dude is a baller."

Watch this reaction from Miami Dolphins quarterback Tua Tagovailoa when told how many rushing yards Chicago Bears quarterback Justin Fields had.

(Video via @MiamiDolphins) pic.twitter.com/7nwoUkdQr0

— Daniel Greenberg (@ChiSportUpdates) November 6, 2022
A big player in that progression has been coordinator Luke Getsy unleashing Fields and allowing him to play to his strengths along with the offensive line's strengths. In the Washington loss you could see glimpses of the offense turning the corner, but ever since that mini bye week following the offense has averaged over 30 points per game.
The Bears have been balanced in the run and pass with Getsy pulling all of the right strings. It's been a combination of explosive plays mixed in with long, methodical drives that finish in the endzone. Fields has been the engine behind this offensive "juggernaut" over the past month. His reads have been quicker, his footwork has been quiet, his passes have been on the money, and his confidence grows by the game.
He still hasn't had that 300+ yards and 3+ touchdown pass game this year, but he's been a more accurate version of Lamar Jackson as the season has moved along. After his record-breaking performance today of 178 rushing yards he is now 10th in the league in rushing yards. I'm not talking among quarterbacks, I am talking he is only six yards behind Dalvin Cook with 40 less carries.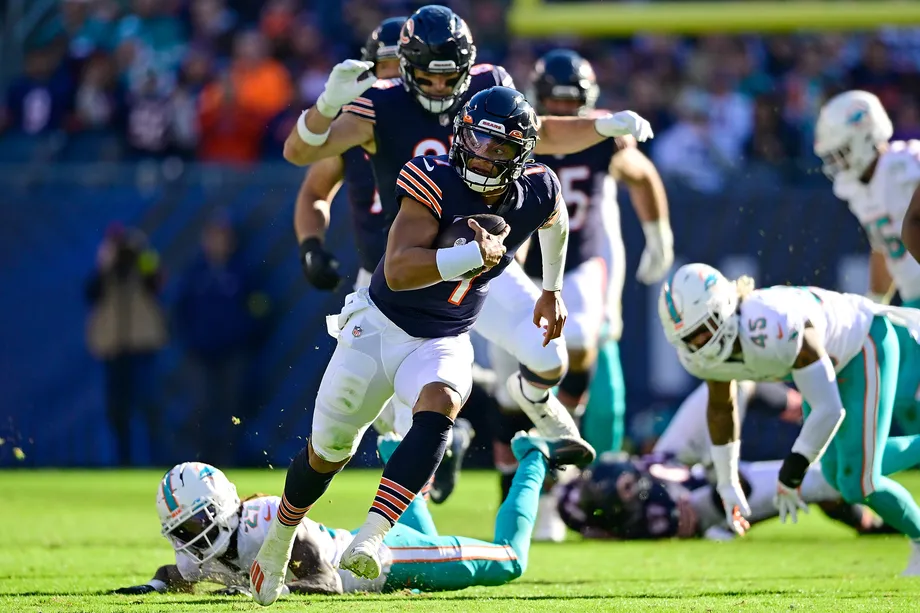 The passing numbers have been skewed by lack of volume, but that has picked up as well. In his first four games he only averaged 16.75 attempts, 117.75 yards, and threw two touchdowns to four interceptions in those four games. In his last five games he's averaged 24 attempts, 170.2 yards, and has thrown eight touchdowns to two interceptions. It's incremental growth in the stat sheet, but in terms of affecting the game with a lacking supporting cast I don't know how Bears fans couldn't be excited. Amy game the Bears have won and will win, will be because of Fields. Chicago, we have a quarterback.
If the Bears had half a lick of defense the past two weeks they'd have rolled to easy victories over very good football teams. But they don't, so we will have to soak in these losses like they're wins because QB1 is getting better and proving to not only the Bears he's the guy, but the rest of the league as well. And all at the same time Chicago has improved their draft position. That's a win-win in my book.
For More Great Football Content
Follow us on Twitter at @GridironHeroics for more great content. We appreciate you taking time to read our articles. To interact more with our community and keep up to date on the latest in Football news, JOIN OUR FREE FACEBOOK GROUP by CLICKING HERE
Checkout our latest podcast!
[powerpress_playlist limit=1]