The Las Vegas Raiders didn't pick until the 3rd round of the 2022 NFL Draft.  The first two picks were traded for some guy named Adams.  However,  the Raiders has 3 rookies ready to make an immediate impact.  With expectations raised after a wildcard birth the Raiders are a few pieces away from taking the next step. With training camp finally underway it's time to highlight 3 rookies ready for immediate impact in silver and black.
Dylan Parham- Memphis- G/C- (Round 3 )
The 3rd round selection and first of the Ziegler/ McDaniels era has starter written all over him. While at Memphis Parham showed the versatility the new coaching staff treasures. Experience playing at a high level at both Guard and Center create multiple opportunities for Dylan with the Raiders.  Offensive line is a big question mark for the silver and black and Parham being ready to go immediately is a great sign. Both guard spots are open for Las Vegas and Parham should easily win one in camp.  The Center position can't be ruled out, but for now Parham's intial path should be guard.
Zamir White- Georgia-RB (Round 4)
The 4th round selection from Georgia, Zeus is going to be an immediate contributor.  A bruising back with breakaway speed White is the perfect mix for today's NFL.  Coach McDaniels loves to feature a strong rushing attack in his offense.  A solid group is available with Jacobs, Drake, Bolden and White.  All of backs offer something a little different but a solid rotation will help guys stay fresh.  The best opportunity for White should be late in games grinding out wins and wearing the defense down. McDaniels always seems to have a specific role for each RB and White will have a role early in his Raiders career.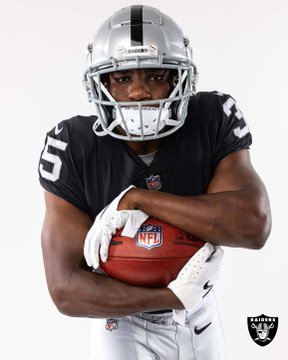 Matthew Butler – Tennessee-DT (Round 5)
The 5th round selection out of Tennessee got drafted into a perfect situation to make an immediate impact.  The 5th round seemed late for a talent like Butler but sometimes is where not when you are drafted.  At the start of training camp the Raiders placed Jonathan Hankins and Bilal Nichols on the PUP list. Already thin at the position the Raiders have a great opportunity for someone to take the position over. With a strong camp and preseason Butler has an opportunity to do exactly that. The Raiders desperately need a dominant force in the middle of their D line and Butler will get a long look this summer to earn that spot.
The Raiders have multiple opportunities for their class of drafted and un-drafted  rookies. July and training camp is the perfect opportunity to earn a spot. The Raiders have 3 rookies ready for immediate impact . Once the pads go on they could have a few more ready their chance in silver and black
Thank you for reading my article and for more Raiders talk follow mehttp://@BrianRobert85  and you can also read my previous article here https://gridironheroics.com/all-eyes-on-raiders-offensive-line/a
For More Great Football Content
Follow us on Twitter at @GridironHeroics for more great content. We appreciate you taking time to read our articles. To interact more with our community and keep up to date on the latest in Football news, JOIN OUR FREE FACEBOOK GROUP by CLICKING HERE
Checkout our latest podcast!
[powerpress_playlist limit=1]