The Indianapolis Colts are yet to recover from the retirement of one of their key players. No, not Andrew Luck. No, not Khari Willis either. I'm talking about the retirement of elite offensive tackle Anthony Castonzo.
Castonzo's career is one for the history books. He came into the league as an NFL-ready player in one of the most sought-after positions. He spent the entirety of his tenure with one organization, the Colts. Through the highs and the lows of this team's recent history, Castonzo was there, day in and day out putting in the work to perfect his craft and help his team.
Across his decade-long career, Castonzo amassed 9,607 snaps at the left tackle position and 64 more lined up at inside tight end, per PFF. In ten seasons played, he allowed a minuscule 43 sacks on 5,605 pass-blocking snaps. In comparison, the 2022 Colts' offensive line has allowed 16 sacks through 375 pass-blocking snaps.
Looking at Castonzo's total pressures compared to that of the current offensive line is eye-opening. Again, across TEN seasons he allowed 361 QB pressures. Sure that seems like a big number, but it equates to him allowing pressure on less than 7% of his career snaps.
Since his departure, after the 2020 season, the team has been scrambling to fill his position. Their final option of veteran swing tackle Dennis Kelly has kept the team afloat when all seemed lost. This is not a long-term solution.
3 Elite Offensive Tackles The Colts Wish They Had This Season
While many great collegiate tackles have taken some time when adjusting to the level of play in the NFL, these three elite offensive tackles could help the Colts out immensely.
1. Paris Johnson Jr., Ohio State
Paris Johnson Jr. currently sits at 18th pick on Pro Football Focus's 2023 NFL Draft Big Board. He is projected to be the second elite offensive tackle taken off the board, and he has only played nine games in this position.
The 6'6″, 310-pound true junior has shown huge potential at left tackle after making the switch from right guard. Even though RG was the position he played when earning second-team all-Big Ten honors by the conference coaches for the 2021 season.
Johnson Jr. has allowed eight Qb hurries through 286 pass-blocking snaps, but he has not allowed a sack or a hit. Johhnson Jr. received high praise from CBS Sports NFL Drat analyst Josh Edwards:
"Johnson has exposure playing both guard and tackle during his career with the Buckeyes. He is quick out of his stance and does a good job of sealing backside blocks. Johnson blocks with good leverage in the run game and uses his hands well to forklift defenders. He can do a better job of dropping anchor and absorbing contact. The Cincinnati native looks for work when disengaged and drives his feet on contact."
With holes at both the RG and LT, the Colts should be keeping an eye on Johnson Jr. for the remainder of this season. Although he may be much too high of a pick for the Colts to snag him, especially if they go "all chips in" on a franchise QB.
2. Anton Harrison, Oklahoma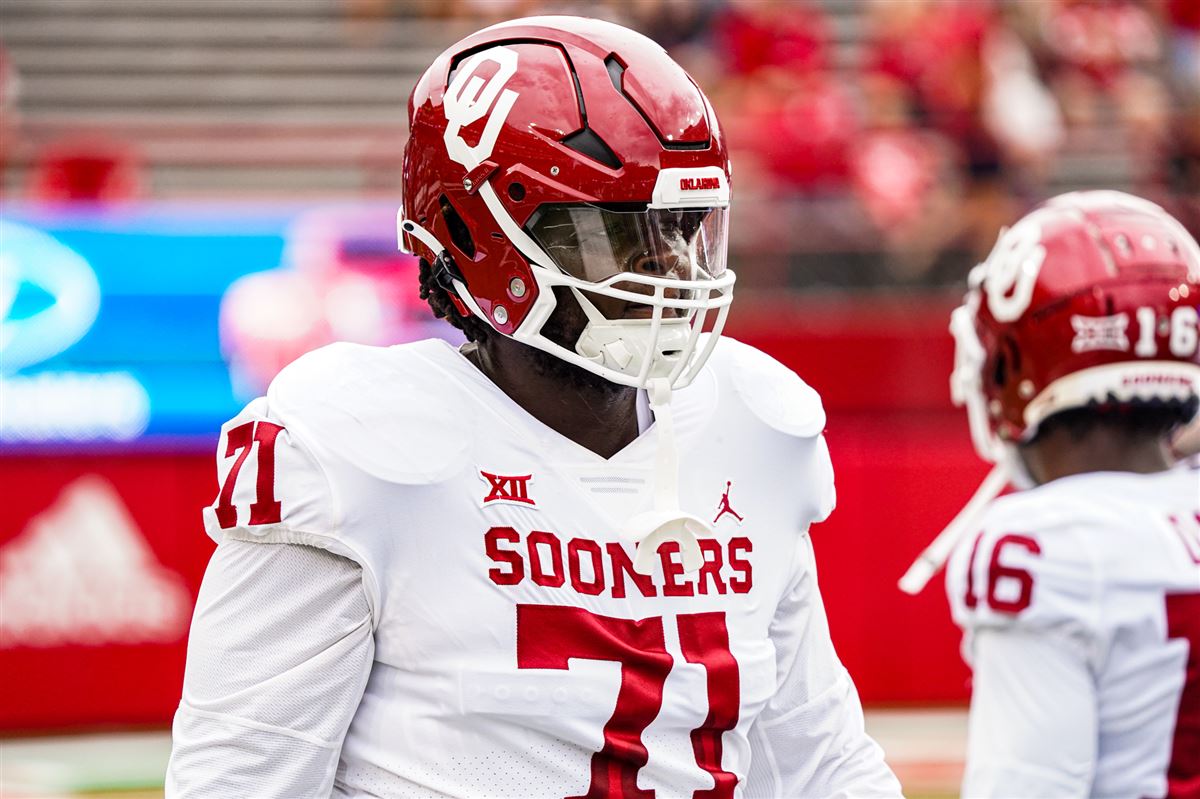 Elite offensive tackle Anton Harrison is starting to climb his way back up the draft boards during his third season at Oklahoma after his stock took a recent nose-dive. This lowered value could prove to be key for the Colts this off-season. Sitting at the projected 30th pick in the 2023 Draft he is much more in their range, compared to Johnson Jr.
Harrison is another big-bodied tackle, according to PFF, "Harrison's mirroring ability at 6-foot-5, 315 pounds is what earns him this spot on the list. You see the natural athleticism in every pass set he takes, even if his technique isn't quite dialed in yet. He earned an 85.6 pass-blocking grade last season and is at 79.8 in 2022."
This season Harrison has allowed seven pressures on 317 pass-blocking snaps. He has all the potential to be an NFL-caliber LT. If his stock continues to drop the Colts could find him in the later 2nd or early 3rd round for some great value.
Harrison has the potential to become another elite offensive tackle to come out of Oklahoma University and join the likes of Jammal Brown, Trent Williams, Lane Johnson, and Orlando Brown.
For an in-depth look at Harrison check out: Anton Harrison, OT, Oklahoma | NFL Draft Scouting Report by Ian Cummings
3. Olumuyiwa Fashanu, Penn State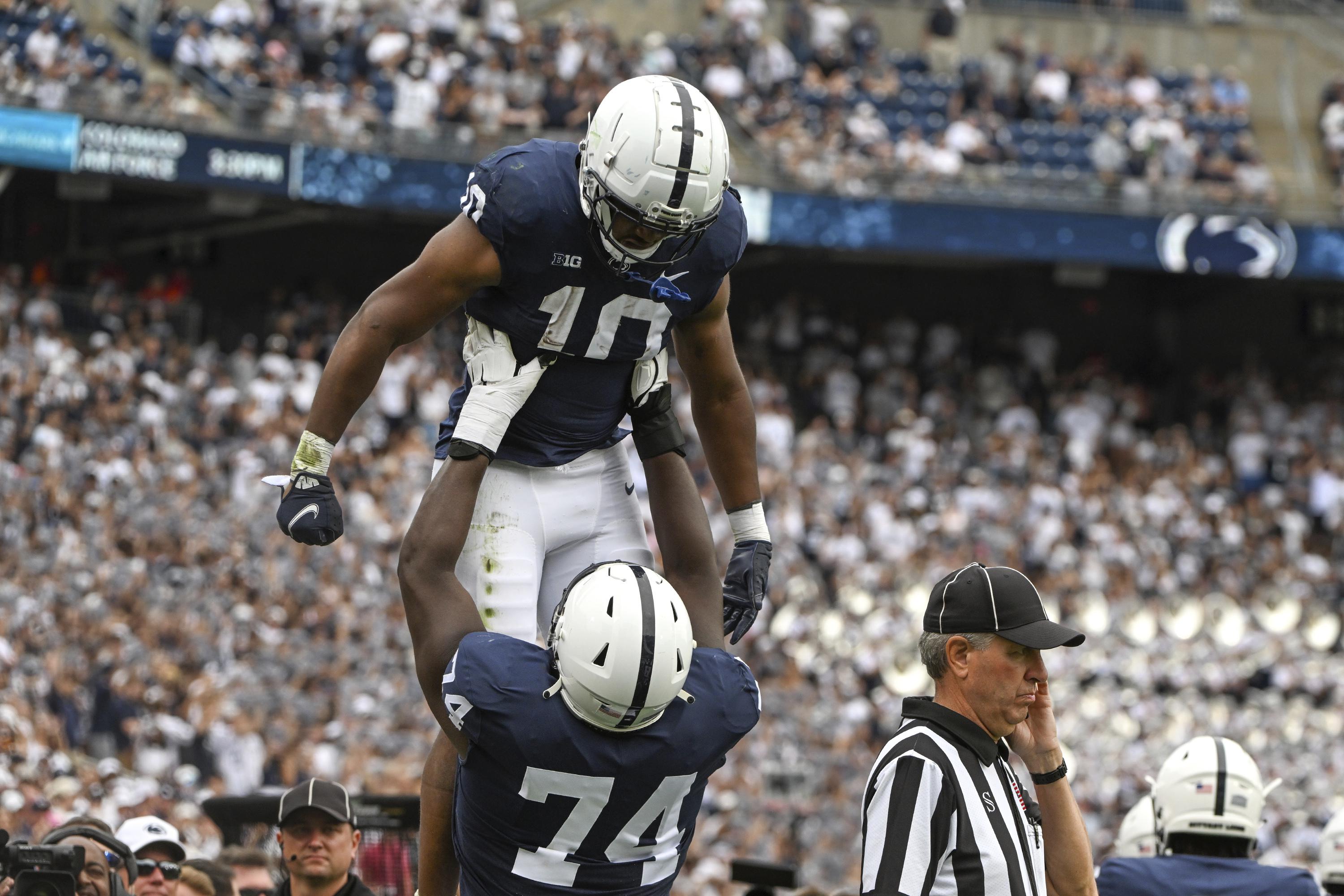 Olu Fashanu is the youngest player on this list. If Fashanu were to declare for the 2023 NFL Draft he would be a 20-year-old rookie through December. He has a tall build with excellent length but does not lack the strength needed for his position.
Fashanu is no slouch when it comes to the explosive side of athleticism. "Fashanu shows off easy athleticism in space when he has room to open up his strides, but his short-area athleticism is even more appealing for his NFL projection," said Ian Cummings, he continued. "The Penn State OT is an amped-up mover for his size with excellent foot speed, and he gets out of his stance very quickly. He has the foot speed and corrective athleticism to adjust blocking angles heading into contact and adequately square up defenders in space. Moreover, he has the lateral athleticism and range to respond to delayed blitzers and cover ground in recovery."
Fashanu is young and may choose to stay another year at Penn State, but for many, the draw of an NFL pay-check can be too much to turn down. The implementation of NIL has allowed students to support themselves and their families while continuing their collegiate experience. But if he does choose to try his luck in the draft, his current projection at 35 has him within the reach of the Colts' front office.
For More Great Football Content
Follow us on Twitter at @GridironHeroics for more great content. We appreciate you taking time to read our articles. To interact more with our community and keep up to date on the latest in Football news, JOIN OUR FREE FACEBOOK GROUP by CLICKING HERE
Checkout our latest podcast!
[powerpress_playlist limit=1]