Although the Arkansas Razorbacks face one of the most demanding football schedules each season, the team's current non-conference schedule is the most challenging in recent memory. The Hogs have non-conference games against Cincinnati, Missouri State University, Brigham Young University, and Liberty University. These opponents are talented and well-coached. With Arkansas only losing one significant player, Treylon Burks, its wide receiver drafted in the first round by the Tennessee Titans, the Hogs return almost all core players responsible for last season's success. Arkansas finished last season 9-4, including a 24-10 Outback Bowl victory over Penn State. The Razorbacks proved they could dominate with a dynamic running game and win without Treylon Burks. The 2022 Arkansas Razorback football schedule will prove less daunting than many think.
Their SEC and non-conference opponents must contend again with arguably the nation's best rushing attack, finishing last season seventh in the country in rushing yards (2,961 total rushing yards). The Hogs averaged 5.04 yards a carry and 227.8 rushing yards per game, scoring 26 rushing touchdowns. They ran the ball 588 times, losing only six fumbles. Arkansas was the only SEC team to finish in the top ten in rushing yards. Without question, the Razorbacks have an impressive rushing attack with four returning starting offensive linemen. Arkansas accomplished these rushing feats in the country's toughest division (SEC West) and conference (SEC).
The Razorbacks Will Face No Cupcakes in 2022
A person who is not a serious student of college football will look at the Razorbacks' non-conference schedule and say, "Well, Missouri State University and Liberty University are two cupcake games for an SEC team." Bobby Petrino, former head football coach at Arkansas, coaches Missouri State University. Petrino is an offensive genius. Given he was terminated for behavior violating university conduct expectations, Petrino will have his players ready for a massive upset. Arkansas will win convincingly. This game will not, however, allow Arkansas to rest players, which doesn't qualify it as an actual cupcake game.
Liberty University will threaten the Hogs more than Missouri State University. Led by offensive guru and former Ole Miss head football coach Hugh Freeze, the Hogs' defense will encounter an authentic challenge. Freeze's team, however, doesn't have enough talent to compete with the Razorbacks for four quarters. Again, Arkansas wins convincingly. This game, too, doesn't permit the Hogs to rest players, indicating it's not a real cupcake game.
The Razorbacks battle Cincinnati at home, and they will travel to Brigham Young University. Both games will be genuinely competitive. Although both games will likely end in close finishes, the Hogs should win them.
With the SEC West's schedule already a gauntlet each season, Arkansas head football coach Sam Pittman deserves significant credit for preparing his team to confront such a challenging schedule. Although such a brutal schedule will naturally wear on the Hogs' bodies, it can keep them focused and motivated to play their best each week. Arkansas fans will witness their team play quality games each week. The players will relish the intense competition.
2022 Razorback Football Schedule Yields Doubters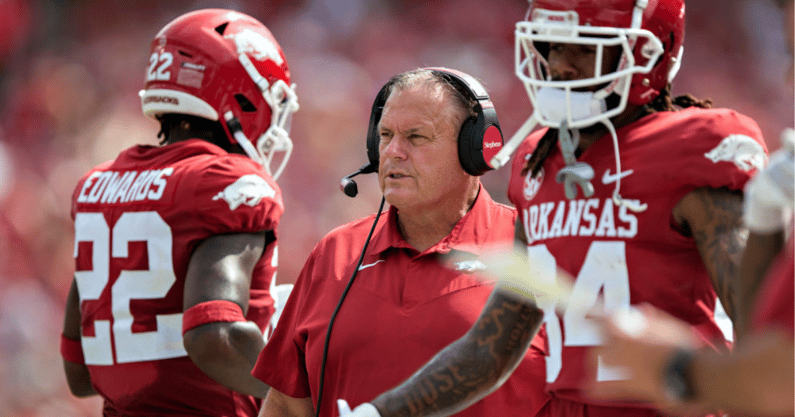 In "Good luck Arkansas," Joe Hoefling contends, "…I don't think it's absurd to predict the Razorbacks going 4-8 or even 3-9. They're better than that. They shouldn't, but it's not out of the realm of possibility." Hoefling obviously didn't watch the Hogs defeat Penn State in the Outback Bowl. With some important new additions, especially Jadon Haselwood and Drew Sanders, the Hogs are poised to have another excellent season. Even with this demanding schedule, which is nothing new for Arkansas, it is "absurd to predict the Razorbacks going 4-8 or even 3-9." Before the season is over, Hoefling will eat humble pie.
An Arkansas win against Alabama in Week 5 would certainly force many to eat crow. The Tide only defeated the Hogs by 7 points last season in Tuscaloosa. Alabama travels to Fayetteville, Arkansas, this season.
One thing is certain: it's a mistake for any team to overlook Arkansas.
For More Great Football Content
Follow us on Twitter at @GridironHeroics for more great content. We appreciate you taking time to read our articles. To interact more with our community and keep up to date on the latest in Football news, JOIN OUR FREE FACEBOOK GROUP by CLICKING HERE
Checkout our latest podcast!
[powerpress_playlist limit=1]